Posts tagged
wedding ideas
0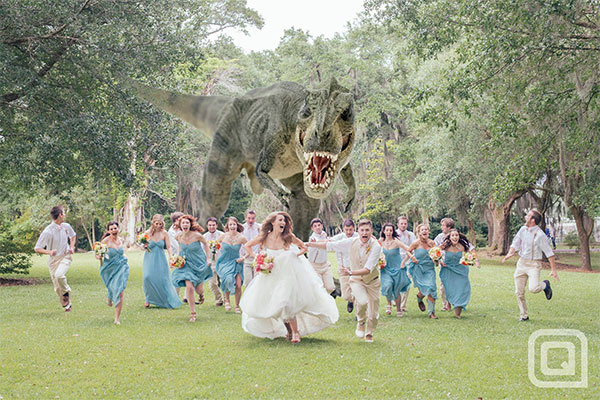 If you're planning a wedding, you know how stressful it can be to put the celebration together. There are a million things to do and it's easy for things to slip through the cracks. Well we're here to help you in two ways today! First, check out this photo-shopped wedding photo we came across on Pinterest at left. Hilarious, right? Hopefully that made you smile and laugh and you were able to forget about wedding plans – even if it was only for a second

.
Now that we've helped you de-stress a little bit, we're here to help you with one of the items on the wedding planning to-do list that is often over looked – the wedding favors!
If you visit our Wedding & Anniversary Gifts Store you'll see we have an entire Wedding Favors Department that is full of great favor ideas.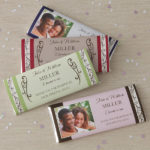 Our collection of Personalized Candy Bar Wrappers are one of our most popular Wedding Favors, especially the Filigree Wrapper design, which comes in different colors and can be personalized with or without a photo of the bride and groom. You can leave one at every seat or decorate a display table that features a sign saying "Love is sweet, please enjoy a treat!" and have your guests take one as they leave the reception! We love the idea of tying in the "Love is sweet" theme – it's cute and perfect for all wedding celebrations! The personalized candy bar wrappers will not only add a personal touch to your wedding, your guests will LOVE the treat, especially because they're sure to be pretty hungry after a night full of fun and dancing at your wedding! If you're a big fan of the candy idea but don't want to limit yourself to just chocolate bars, create a sweet table and personalize the Elegant Monogram Custom Favor Boxes that your guests can fill up with an assortment of goodies!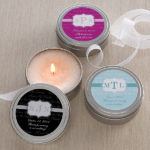 If you're looking for a favor that isn't edible but is a gift that everyone can use, you may be interested in our Personalized Candle Tin Favors - especially the Wedding Monogram design which has become a favorite among PMall fans. They're the perfect size for people to use when they're traveling or at home and they'll be able to think of you and how much fun they had at the wedding every time they use it! Plus, since you can pick out a design to match your wedding colors, you'll be adding a personal touch to the centerpieces or tables at your reception that could otherwise seem stale.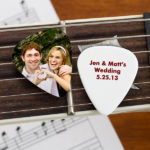 Brides and grooms who are looking for a wedding favor that will really leave an impression on their guests will LOVE some of our unique wedding favor gifts. Whether you or your future spouse are musicians or just love listening to music, our Personalized Guitar Picks are always a big hit! You can pick a design that lets you upload your favorite photo and a personalized message, or pick a simple design that will feature your own special words on either side! They come in all sorts of colors and fonts so you can customize the guitar picks exactly to your liking. Have your wedding band toss them out to the crowd while they're preforming or leave them spread out as confetti to decorate the tables at your reception. It won't matter how you display them – all of your family and friends will love the unique touch and will be talking about them for years to come!
As you can see, our Wedding Favor Department is full of great ideas that you can put your own spin on … we have everything from personalized mini frames to photo playing cards and golf balls! And the good news is if you head over to PMall now and place your order before June 30th, you'll save big thanks to our Wedding Gifts Sale! So make your way over to our Personalized Wedding Gifts Store now so you can save big, stay within your budget AND check another thing off your wedding planning to-do list!
0
In this edition of A Personal Touch's "Wedding Party Gift Guide" we're talking all about your flower girl (and be sure to keep reading for a coupon code that will help you save big on your personalized flower girl gifts)!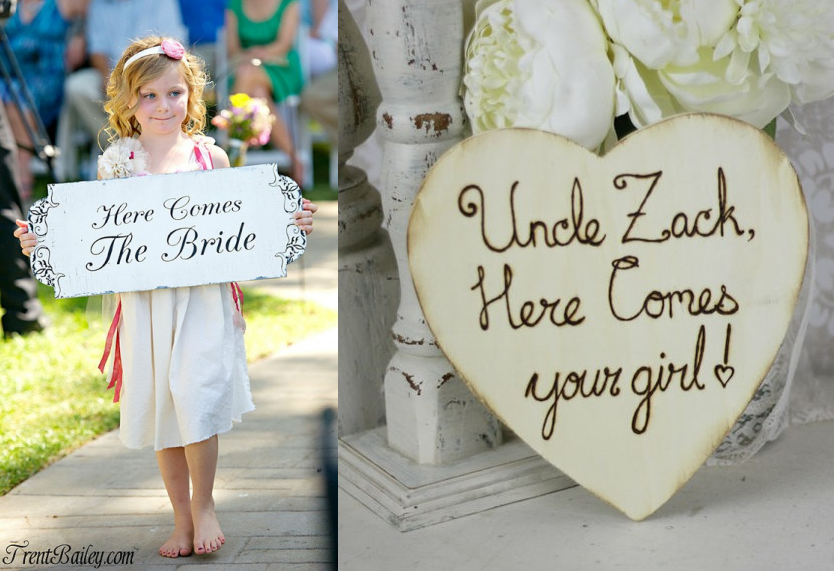 From what we've been seeing on the Pinterest Boards, the flower girl's job requirements seem to be evolving and we love the new creative ideas brides are coming up with!
Instead of dropping petals as they walk down the aisle, some brides are having their flower girls carry signs with cute sayings (like the ones pictured at left).
We think it looks adorable and is a great way to add a personal touch to your wedding, and since it's so unique, it's sure to be a moment everyone will always remember!
If you're a fan of unique wedding details, you're going to love all the gift ideas that PMall.com's Wedding and Anniversary Store has to offer!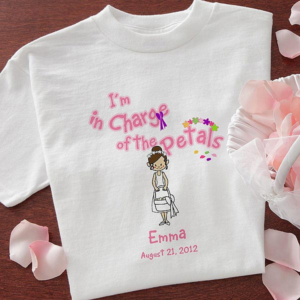 The Our Flower Girl© Youth T-Shirt is a great gift idea that offers an adorable photo op, too!
You can personalize this cute design by picking out the character's skin, hair and clothing color so it matches your flower girl perfectly.
Then you add her name and your wedding date or any 2-line message below the character all for just $14.95!
This one-of-a-kind shirt is perfect for her to wear to the rehearsal dinner, engagement parties, and even the reception after the formalities!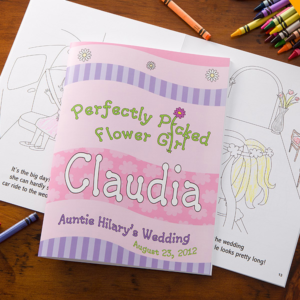 The Perfectly Picked Flower Girl© Personalized Coloring Activity Book & Crayon Set is not only a great gift to pair with the t-shirt, it also helps keep your flower girl happy and occupied during your wedding rehearsal and ceremony! The activity book has many wedding-themed pictures to color, as well as games, puzzles and mazes. It features your flower girl's name on the front cover and on many of the inside pages, which also feature your choice of two flower girl characters. You also get to add your own name and wedding date to the cover for a gift she'll love and actually get to play with – all for just $12.95!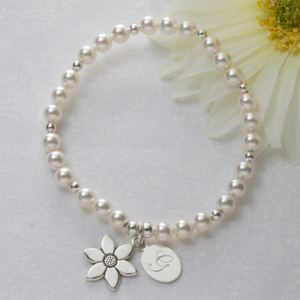 When it comes to bridal party gifts, some brides prefer to give gifts that her friends and family will use or wear during the ceremony itself. If you're looking for a great ceremony gift, make sure to personalize the Flower Girl Personalized Bracelet for your little helper!
This pretty bracelet features a sterling silver flower charm and faux pearls that stretch to accommodate most children's wrist sizes. The bracelet is custom engraved on the sterling silver oval medallion with any initial on one side and optional year on the reverse.
It's a beautiful and thoughtful flower girl gift that she'll be able to wear during your wedding and long after – all for just $24.95!
Now we know that wedding costs can cause a lot of stress, especially in these hard economin times … that's why we'd like to help and and show our appreciation to our blog readers by offering 25% off these three flower girl gifts! All you have to do it use coupon code "FLOWERGIRL" at checkout before May 1st, 2012 and you'll save 25% off the Flower Girl T-Shirt, Activity Book and/or Bracelet just for being A Personal Touch reader!
We hope you enjoyed our Flower Girl Gift ideas! Have you or are you planning to have your Flower Girls do something out of the ordinary when they walk down the aisle at your wedding? Which gift idea did you like best? Please comment below – we love to hear your opinions and ideas!
And be sure to explore all of PMall.com's Flower Girl and Ring Bearer Gifts that we didn't get a chance to write about in this post and check back here for the next edition of the Wedding Party Gift Guide!
Happy Gifting!