Posts tagged
wish list
0
With PMall's Christmas in July Sale going on this week I was looking through all of the beautiful Personalized Christmas Ornaments and started to realize just how special some of these ornaments can be!
There are a few unique PMall designs that are extra special because they help you capture a specific moment in time so in the future you'll be able to use the ornaments to remember some of your favorite Christmas moments!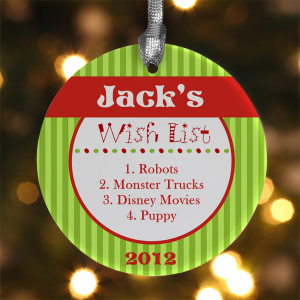 The My Wish List© Personalized Ornament, which you can personalize with any name, year and 4 items, can act like a mini scrapbook that helps you preserve some of your favorite holiday memories without all the mess! In the future you'll look back and be thankful that you personalized the My Wish List design for each of your children year after year, because you'll be able to reminisce about what toys and gifts they loved most each Christmas while they were growing up!
This adorable ornament can help you look back and remember some of their funniest and sweetest memories like when your son was going through his superhero phase and only wanted Spider-Man action figures and clothes (by the way, if your son is going through that phase now, you should check out our brand new line of Personalized Spider-Man Gifts!), or when your daughter asked Santa for a little brother or sister.
The ornament is usually only $12.95 but thanks to the Christmas in July Sale it's marked down to just $10.35 from now through Sunday! Start your new tradition now and you'll love having the opportunity to share all the fun stories with your kids when they're older (especially when your daughter is older and fighting with her new younger sibling you can pull out the ornament and remind her that this is what wanted!

)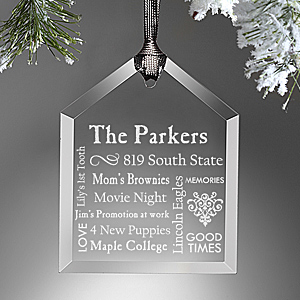 PMall's exclusive designs not only help you capture your kids' precious moments, but your whole family's favorite moments, too! With the Our Family© Engraved Message Ornament you can create your own mini scrapbook that can display an entire year's worth of family events. You can have this elegant glass ornament laser engraved with up to 9 lines of personalization – those 9 lines can include your family's name, address or your favorite family highlights of the past year, such as your vacation spots, activities, inside jokes and anything else you can think of! This beautiful ornament is usually $14.95 but is currently 70% off and can be personalized for only $4.48! Now that's a deal you can't pass up! Just think you'll be able to start a new tradition where every year when you're decorating the tree, you'll be able to look back as a family and remember each year's fun vacations and important accomplishments and help decide as a family what you'd like to include on the following year's ornament!
But you don't need to have kids to create one of these "scrapbook ornaments."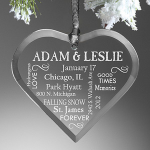 The Our Life Together© Personalized Couple's Ornament is the perfect way for newlyweds to remember the details of their wedding while also starting their own ornament collection as a married couple! The stunning glass ornament is usually $14.95 but is on sale for only $4.48 until Sunday and can be engraved with the couple's names and up to 9 lines of personalization. If you're personalizing it as a wedding keepsake you can include the ceremony's location, date, the first song you danced to, the flowers you used and more.
However, I think this design is a perfect way to celebrate your anniversary year after year – after all, who says you have to save this beautiful gifts for Christmas!? Each year you can personalize it with all your firsts (vacation, purchasing a home, adopting a pet, etc.), triumphs (promotions at work, buying a new car, getting pregnant) and struggles that you went through and overcame together (losing a job or loved one) so you can look back and be proud of what you have made it through together as a team.
Whether it's for your anniversary, your kids or your entire family, you are sure to find the perfect PMall Personalized Christmas Ornament for you! So put down the glue stick, close the scrapbooks and stow the memory boxes … forget about all of the fuss and head over to PMall to create a one-of-a-kind keepsake before the Christmas in July Sale ends Sunday, July 8th!
It may only take you a couple minutes to create your gorgeous personalized ornament, but you're sure to enjoy your little time capsule for many years to come!
0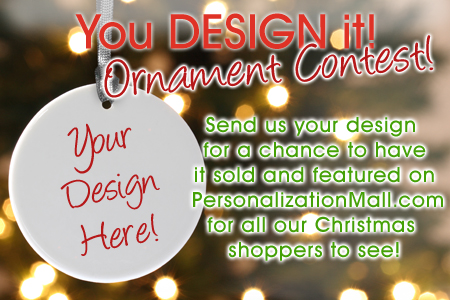 Christmas is so close we can already hear the jingle bells! That's why PersonalizationMall.com kicked off the Christmas Ornament Sale this week! The exclusive 2011 personalized ornament collection is on sale for up to 40% off this week only, which is why we here at A Personal Touch thought it would be a great time to launch the 2011 You Design It Ornament Contest!
That's right! We're asking all our fans to submit their OWN Christmas Ornament design and the winner, who will be selected by PersonalizationMall.com staff and based on originality and creativity, will have their design featured and sold on PersonalizationMall.com for hundreds of thousands of our Christmas shoppers to see!
Whether it's a little kid's crayon drawing of Santa that was scanned and sent in, an experienced artist who is looking to gain a wider audience for their work, or a graphic artist wizard who wants to see their masterpiece hanging from their tree – you're all eligible to win!
To enter, send an email with your attached design image and the subject line "Ornament Contest"  to Social@pmall.com with the following information:
Your full name and age
The email address where you'd like to be contacted at if you are named the winner
A brief description of the design and what inspired you to create it
We're giving you complete artistic freedom so you can come up with any concept your heart desires! The only thing to keep in mind is that the winning design will be featured on a circle porcelain ornament that measures 2 3/4″ in diameter.
What is the prize you ask? The winner will have their name proudly displayed next to their ornament design which will be featured and sold on PersonalizationMall.com for the world to see! The winner will also win 6 ornaments – 1 for themselves and 5 to give out to their family and friends. Just think – if your design is selected as the winner, you'll be able to tell all your family, friends, coworkers, and anyone else you can think of to go to PersonalizationMall.com where they'll see YOUR NAME next to YOUR DESIGN which they can actually buy themselves!
All submissions must be submitted by midnight on Monday, November 14th 2011, and the winner will be announced here on the A Personal Touch blog that week!
It's time to put on your favorite Christmas music and turn on your favorite Holiday movie to get in the Christmas mood so you can begin coloring, painting, photo shopping, drawing or an your ornament design!
If you have any questions please post a comment here and we will get back to you with an answer as soon as possible.
We're so excited to see what you come up with – good luck!
*Contest terms and conditions: By entering this Promotion, entrant agrees to release and hold harmless PersonalizationMall.com and any promotional partners, each of their related companies, and each of their respective officers, directors, employees, and agents (collectively the "Released Parties") from and against any losses, damages, rights, claim or cause of action of any kind arising, in whole or in part, directly or indirectly, out of participation in the Promotion or resulting directly or indirectly, from acceptance, possession, use, or misuse of any prize awarded in connection with the Promotion, including without limitation personal injury, death, and/or property damage, as well as claims based on publicity rights, defamation, and/or invasion of privacy. You must be the sole owner of the copyright of any image submitted. Your submission of the design is your guarantee that you are the author and copyright holder of the design. By entering the contest, entrants agree to have their submitted design displayed and sold on the PersonalizationMall.com website, the PersonalizationMall.com Facebook Page, and PersonalizationMall.com Twitter account and used by PersonalizationMall.com for any purpose, at any time, without any fee or other form of compensation. PersonalizationMall.com reserves the right to make changes to the submitted design or its size before selling it as an ornament on PersonalizationMall.com.