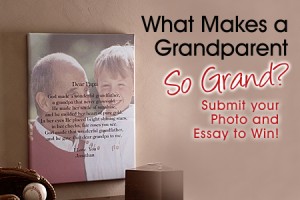 First off, we at PersonalizationMall.com want to say a big "Thank You" to all our readers who sent in submissions for our "What Makes Your Grandparent So Grand" contest and to all of the wonderful grandparents out there who inspired all of the beautiful essays!
We feel so honored to be able to read your touching stories – we pinch ourselves every day!
We don't want to keep you in suspense any longer, so here are our contest winners:
Our first place winner, who won a 16″ x 20″ Photo Sentiments© Canvas personalized with her own photo and contest entry, is Kenyon.
Here is the contest-winning entry she wrote about her grandfather Sylvester or "Ves":
During Gran's courageous 10-year battle with Alzheimer's, Papa stood faithfully by his "sunshine's" side. And even when she no longer recognized us, his was the one face, the one voice, the one touch Gran always knew. I thank Papa for taking such wonderful care of my Gran, and for being the most devoted and loving husband in the world.
Our second-place winner and proud new owner of her own Photo Sentiments© Personalized Tabletop Canvas Art is Dena.
Dena wrote about her grandparents, Carroll and Joyce:
"GRAND"parents are: nourishing, loving, helping, outgoing, smiling, uplifting, supportive, affectionate, devoted, caring, adoring, playful, loyal, sympathetic, encouraging, compassionate, kindhearted, considerate, hopeful, faithful, authentic, truthful, honest, friendly, warm, selfless, committed, admired by all, plus words that just don't do them justice. My "Grand"parents are Grand not only to me but to all those around them and that's why they are "Grand"parents!
Finally, our third-place winner, who won a Photo Sentiments© Coffee Mug personalized with a photo and the text from their contest entry, is Emily!
Emily, who is 5 years old and got help entering the contest from her mom Ashlee, wrote the following about her "Yaya" Cynthia.
My Yaya is special because she loves to do fun things with me. When I visit, we play games, do puzzles and watch movies. My favorite thing to do is to go on trips with her in the motor home. I love her because she gives me lots of neat stuff and because she loves me, too!
Congratulations to all of our winners and thank you again to everyone who entered our contest!
Keep checking back for information on new products, gift ideas, party tips and future contests.
Happy Gifting!