Move over turkey! We're on the hunt for the best Thanksgiving side dishes out there. Send in your favorite recipes for a chance to win.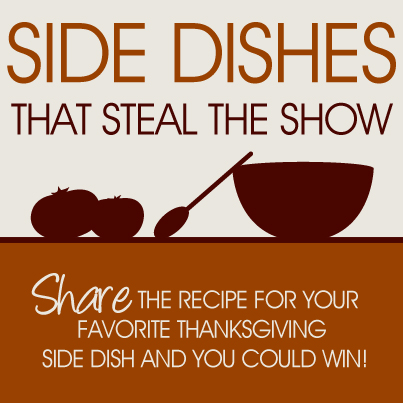 Thanksgiving is just a few weeks away, which means it's time for the Side Dishes That Steal The Show Recipe Contest!
We're once again moving the spotlight over from the turkey to the side dishes as we ask our fans to send in their favorite Thanksgiving side dish recipes.
Feel free to share any recipe you'd like. We encourage you to share your modern twist to a traditional recipe, your family's favorite side dish, or you can even share a recipe for a unique dish that isn't typically served on Thanksgiving — we want to see them all!
And don't think that you'll be sharing your family recipes for nothing – one lucky fan will win a $50 PMall Gift Card!
How To Enter
To enter the recipe contest, send an email to social@pmall.com with the subject line "THANKSGIVING RECIPE CONTEST" with the following information:
Your full name and an email address that we can use to reach you if you are selected as the winner of the contest.
The name and recipe for your favorite Thanksgiving Side Dish with a few words about why you love it or why it's special for you and your family.
Once you've sent the email you're officially entered into the contest!
Please make sure you send in your emails before the end of Thanksgiving Day on November 28th, 2013.
We will read through all of the entries and determine a winner and the winner will be announced here on the A Personal Touch Blog on Friday, November 30th.
Thanksgiving will be here before you know it, so you better get moving because it's time to break out the cookbooks!
Good luck to all of our fans!