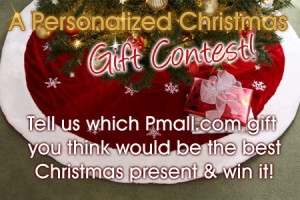 Congratulations to A Personal Touch reader Michelle Shorter who is the winner of PersonalizationMall.com's "A Personalized Christmas" Gift Contest!
Here is the entry Michelle submitted to the contest:
"The Personalization Mall gift that would be the best for my sister-in-law, Denise Shorter, would be the Winter Wonderland tree skirt (product # 6313). I have one of my own and it's already become a favorite part of the holiday decorating for my family. It's a beautiful and classic design and is high quality and I look forward to using it every year and eventually pass it down to my children. My sister-in-law has 5 children…yes 5! Including 2 year-old twin boys. She works very hard to be a great mother to my niece and nephews. A simple item like this would be loved in her home and it would be an item that would be passed down to my nephews to become part of their holiday decorating and will remind them of the wonderful childhood Christmas memories that my sister-in-law helped create for them when they were young. Personalized items such as this are the type of product that become so treasured in families as it is passed down. The quality of the product as well as the timeless design leave me little doubt that this would become a treasured holiday item for future generations in our family.
Thank you,
Michelle Shorter"
We love the idea of starting family traditions and passing down special keepsakes from generation to generation! Michelle has won the Winter Wonderland Personalized Tree Skirt, which you can see in the background of our contest photo, to give to her sister-in-law Denise!
We would like to thank Michelle and all our readers who submitted entries into the contest … we loved each and every entry and were so touched by your kind words for your loved ones! We hope you all have a Happy Holidays!