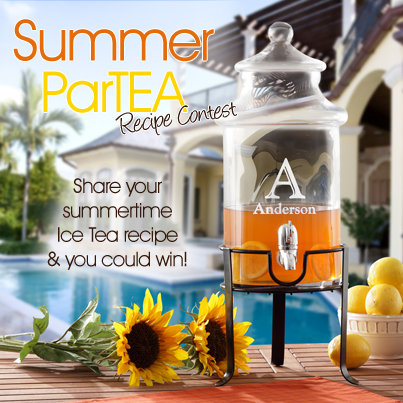 The Summer ParTEA Recipe Contest may be our favorite contest yet! We received several recipes and we couldn't believe how unique each of them were and how delicious they sounded – we have enough recipes to keep our taste buds happy for the rest of the summer!
Thank you to all who participated in our contest, we can't thank you enough for sharing all your recipe secrets. While all of your entries had our mouths watering, there was one particular recipe that stood out from all the rest.
Winning Recipe: Rhubarb Iced Tea
Congratulations to Liga Gorrick who won our Summer ParTEA Recipe Contest with her recipe for Rhubarb Iced Tea!
Thanks to Liga's special recipe, she has won her very own Personalized Beverage Server with Stand that she can use to serve her Rhubarb Iced Tea for many summers to come!
Here is Liga's winning entry for all of you to enjoy:
---
Hello,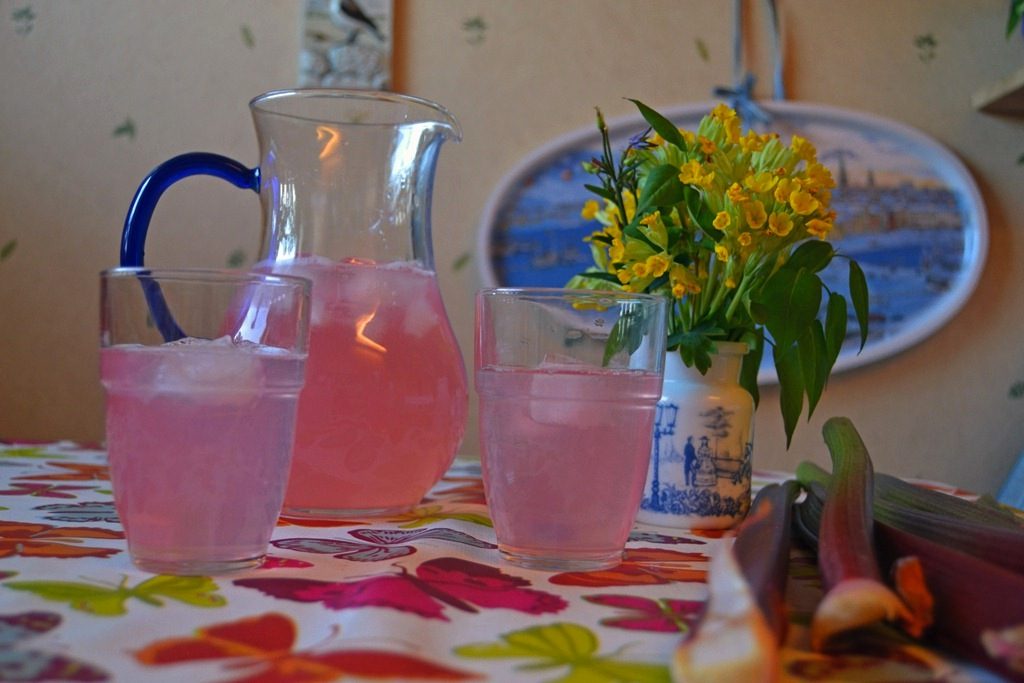 My name is Liga Gorrick and my favorite drink in a hot summer day isn't the regular ice tea everybody serves. It's the amazing Rhubarb ice tea with its freshness and the beautiful pink color. As I grew up there always was plenty of rhubarb in my mom's garden during summertime. Mom was really good making something yummy out of it. One of my all-time favorites is this rosy ice tea (especially accompanied with rhubarb tart or pie). It tastes like summer and childhood to me. My mother made it just with rhubarb alone, but I've been "playing" with the ingredients over the years and have discovered that I like it best with a little bit of ginger or with hibiscus tea.
All you need is:
8-10 large rhubarb stalks
8-10 cups of water (1 cup for each rhubarb stalk)
1 small ginger root (about 2 inches long)
Honey (sugar, Splenda or any other sweetener)
Wash and clean the rhubarb (do not peel- the peel is what gives that lovely pink color), cut into about 1 inch chunks. Wash, peel and cut the ginger in thin slices. Add the rhubarb and ginger to the water in a large saucepan and bring it to boil, then simmer covered for 15-20 min. Take the saucepan off the heat and let it cool for a while. Strain the tea; add honey (sugar/Splenda) to the desired sweetness. Chill the tea completely and serve with plenty of ice. I like large pieces of ice that doesn't dilute the drink so quickly.
For variety you can serve it with a little bit of fresh peppermint, substitute the ginger for a few strips of lemon peel or use rhubarb alone. You can also brew a few bags of hibiscus or green tea in the rhubarb tea while it's still hot. Hibiscus tea makes it brighter pink or even red. It also gives a stronger, more sour taste. Enjoy!
Best regards,
Liga
---
Right away we knew we loved the recipe, but when we saw how tasty and refreshing the Rhubarb Tea looked in the picture Liga included, we knew we had a winner! Congrats again to Liga and thank you to all who participated in our contest.
Make sure you keep checking back here for more contests and tips and tricks to make your parties and personalized gifts extra special!
Below are some of our other favorite fan entries for you to enjoy. They may not have won the contest but they've won a place in our hearts and cookbooks!
---
Katie Kitterman's Pineapple Iced Tea
1 quart water
7 tea bags
1 cup unsweetened pineapple juice
1/3 cup lemon juice
2 tbl sugar
Brew tea, stir in the rest then let it sit (overnight if possible).
"It's delish!"
---
Jennifer Jonas's Ice Tea Recipe
3 Family Sized Lipton Tea Bags
Pot of water
1 1/2 cups of Sugar
1 Can Frozen Lemonade Concentrate
Cold water
Place tea bags in pot of boiling water & steep about 10 minutes. Put sugar in gallon tea pitcher. Pour warm tea over sugar & stir to dissolve completely. Pour lemonade concentrate in & top off with cold water. Stir well & refrigerate for delicious sweet tea (makes 1 gallon).
"What I love most about it: This recipe has been shared with me by my mom. We love this Lemonade Sweet Tea on hot summer days here in Texas. It's very thirst quenching & refreshing (especially when it's 107 degrees here)."
---
Juliet V's Blended Masala Iced Tea
6 to 8 tea bags
4 cups water
4 cups cold water
3 pods cardamom
1/4" ginger diced
2 cinnamon sticks
6 cloves
1/2 cup sugar or 1/4 cup honey (optional)
Lemon/lime to garnish (optional)
Combine all ingredients except honey or sugar and cold water. Boil for 10 minutes. Strain. Put the cold water into a pitcher. Pour the hot tea over the cold water. You put the cold water in first, because the hot tea could melt the pitcher because it is hot. Add sugar or honey to sweeten it, stirring till dissolves. Put the pitcher into the fridge to cool. You can add slices of lime or lemon to the pitcher to give it a refreshing taste.
"I love this tea because it gives me the essence of different spices and soothing/calming effect, which embodies the full flavor of a tea."