Attention all new mommies and daddies: Owls are in! That's right — owls are the hottest new trend for all things babies and baby nurseries.
It's pretty easy to see why they've become so popular … just take a look at this cute birth announcement photo we saw on Pinterest and try not to say "awww!"
Adorable, isn't she? We don't know if it's the fun colors or those big, round eyes – everything about them is so cute that they just melt your heart! That's why PMall has introduced a whole line of personalized gifts that feature an adorable owl design called "Owl About You." We have all different types of gifts that feature this soft and sweet design and we think it's the perfect way to decorate the new baby's nursery!
We think you'll love our "Owl About You" 12″ x 12″ Personalized Canvas Print!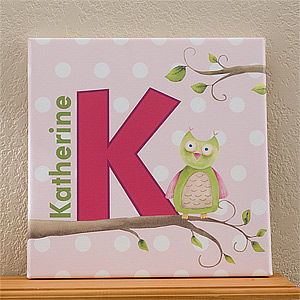 The walls are usually the best place to start when you're decorating a room and after painting the wall a soft shade of pink, this exclusive owl art will look lovely hanging on the wall above the baby's crib. Our talented artists created this exclusive design in watercolor artwork that we reproduce on a piece of canvas.
The design features an adorable owl sitting on a tree branch with a subtle background of pink with white polka dots and it can be personalized with any initial and your baby's name. It adds a nice personal touch to the room that people will see the moment they walk in.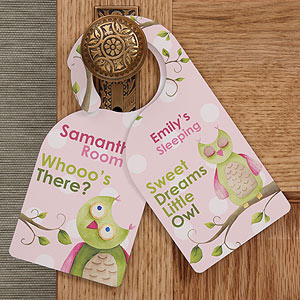 Speaking of "hanging," we added our exclusive owl design to one of the most important things every new mother and father needs to have in their home – the "Owl About You" Personalized Door Hanger! This little thing can be a life saver – just ask any parent. With this little sign, you can prevent your baby being woken from her peaceful nap. When you place the door hanger on your front door, the delivery man and your family and friends will know that they need to knock instead of using the doorbell because your little angel is taking a nap! The door hanger is crafted of durable plastic, measures 4″ x 9″, and features a convenient display hook. We customize the door hanger with any name and optional line of personalization that will appear just above the phrase "Whooo's There" or "Sweet Dreams Little Owl" (you pick one of the two design options).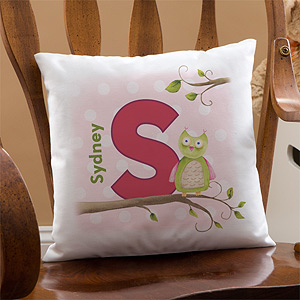 When your family and friends do come over to visit and see the baby, it's a good idea to have the "Owl About You" Personalized Keepsake Pillow around. This precious pillow is a beautiful decoration all on its own but it can be used to prop up the arm of whoever is holding the baby, too! That way they can hold the baby for longer and their arm won't start to tire! The pillow features the same exclusive owl design and can be personalized with the baby's name and initial. The keepsake pillow measures 14″ sq. and has a removable white poly/cotton cover and perfectly complements the other owl decorations in the room.
So what do you think about the Owl trend – are you a fan?
If so, be sure to check out all of our "Owl About You" Gifts – there are plenty more baby gifts and nursery decorations for you to add to your adorable nursery!