See the top 10 baby names for boys and girls chosen by parents in 2008.
One of the most important gifts you give your child is their name. The process of choosing a baby name should not be taken lightly – after all, a child's name can make or break them on the school playground!
For some parents, there's a simple solution – a name is selected to carry on a family tradition or to honor a relative, like a grandparent. For others, they want a name that is trendy and popular, such as Jacob, which has been the most popular baby boy name for 10 years in a row! Still other parents feel that there's something to be said about having a name that is, well, unpopular. It's unique, it's cool. Not just another Tom, Dick, Harry… or Jacob.
Where does your baby's name rank? Below is the listing from the U.S. Social Security Administration, which came out this May, ranking the top baby names for 2008:
Top Boy Names For 2008
Jacob
Michael
Ethan
Joshua
Daniel
Alexander
Anthony
William
Christopher
Matthew
Top Girl Names For 2008
Emma
Isabella
Emily
Madison
Ava
Olivia
Sophia
Abigail
Elizabeth
Chloe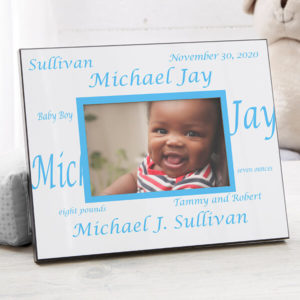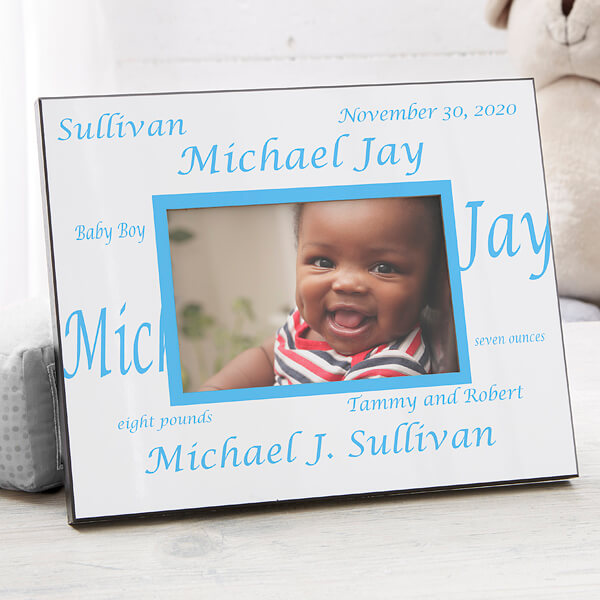 Regardless of what name you give your baby, or how you spell it, you can fill their world with personalized items One of our most popular baby gifts is this personalized New Arrival Photo Frame, showcasing all the important details of baby's birth, including their new name.
So whatever name you decide on, take pride in it, and show it off with a personalized item!
Happy Name Hunting!