Celebrate baby's special "first" moments, like first birthday, with unique gift ideas and keepsakes to make the day more memorable.
A baby's first birthday. A couple's first anniversary. A family's first pet. Each of these moments holds special meaning in our lives. What a great concept, if we could grab hold of that time and never let go!
But as we all know, time slips by us all too quickly. We must pause to enjoy the moment before it's gone. Babies grow up too fast. A wedding couple soon becomes a family. A puppy becomes a dear, old friend.
Hold tight to every milestone in your own special way. Write your thoughts down in a journal. Record the moments with photos and videos – lots of photos and videos. Create a time capsule with special mementos – just a simple shoebox will do. Save the newspaper or Life Magazine published that day.
It's truly amazing how quickly life changes. My children love looking at photo albums of when they were babies. They laugh at our funny hair styles and fashions. They enjoy listening to stories of how they came into this world and all the silly things they did growing up. I don't know where the time went, but we can't go back. We can only go forward, enjoying those brief moments and precious memories with all our hearts.
Nothing beats the smile of the first birthday boy or girl when they're "wearing" their birthday cake! A personalized baby bib or outfit makes the celebration even more special (and helps with clean-up too!) You can also commemorate the day with an engraved keepsake or picture frame to place baby's first birthday photo inside.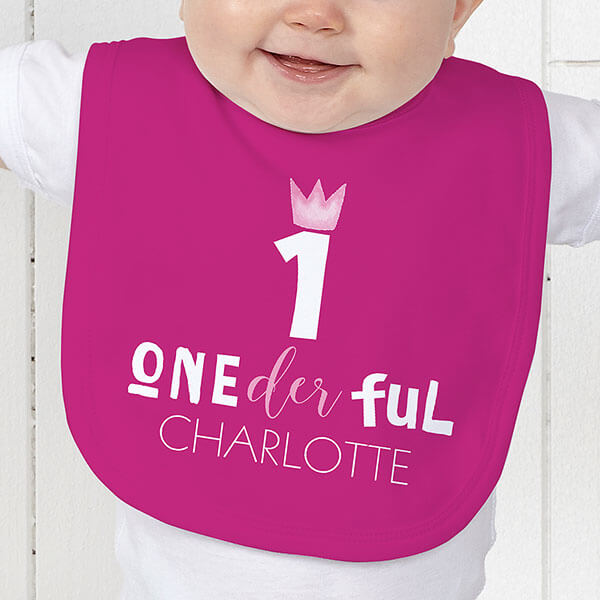 Check out first birthday gifts and party accessories to make baby's special day more memorable. And don't let another precious "first" memory slip by!