October is Breast Cancer Awareness Month. Did you know that every time you personalize a gift from our Breast Cancer Awareness Store we donate 20% of the purchase price to BreastCancer.org?
It's true! Thanks to our loyal fans we were able to donate $5,600 last year and we look forward to your support again this year in the fight to find the cure!
You can join the fight by personalizing one of our beautiful designs on t-shirts, tote bags, coffee mugs and more!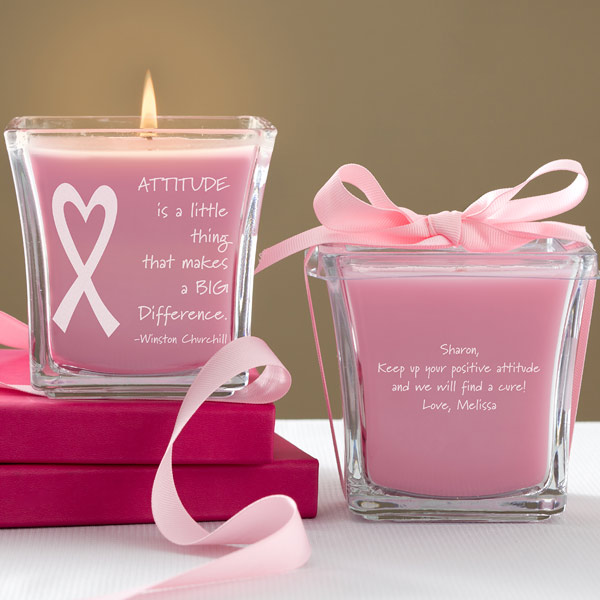 One of our unique breast cancer awareness gifts is the Courage & Strength Spa Candle which has a lavender & white linen scent and can be personalized to show your friend or family member that you're there for support!
The front side of the pink candle features your choice of five lovely quotes or you can write your own message and on the opposite side you can write any 4-line sentiment you choose so she can enjoy your words and 65 hours of pure bliss!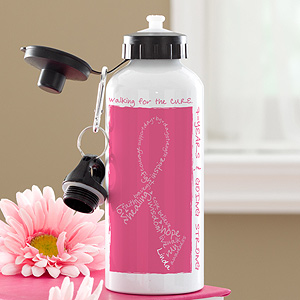 The I Will Never Give Up Personalized Water Bottle is a great gift that you can use every day but especially on your next Breast Cancer Awareness Walk!
This beautiful design features a collage of inspiring and supportive words, such as "Courage, Strength, Love, Faith, Hope" and many more that are displayed in a soft pink font and arranged to form an awareness ribbon. We will custom personalize the bottle with any 2-line message and any name for you to support the fight for the mothers, sisters, daughters, and others in your life.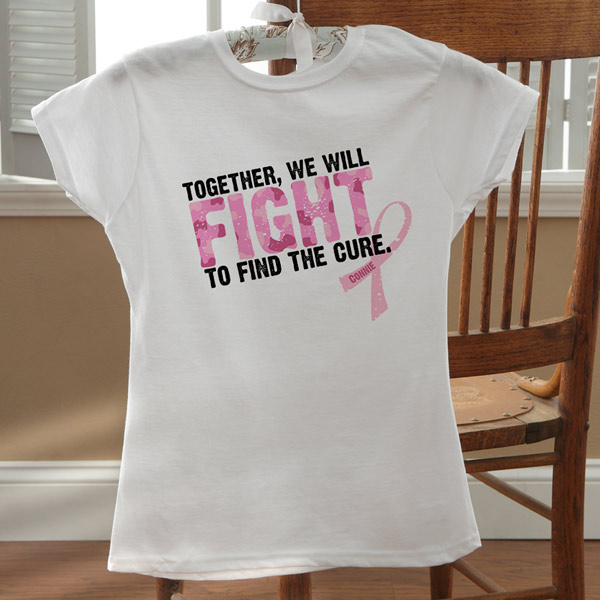 Another great gift idea for your next Awareness Walk is one of our personalized t-shirts, such as the Fight To Find The Cure design! There is no better way to show the world you support your friend and the fight against breast cancer than by wearing the Fight To Find The Cure© personalized apparel for everyone to see.
The design, which features the words "Together, We Will Fight To Find The Cure," and a pink awareness ribbon that we will personalize with any name that you choose, will help raise awareness and be a symbol of hope for everyone you know who is battling breast cancer every time you wear it!
Check out all these gifts and more at PMall.com's Breast Cancer Awareness Gifts Store. With your continued support we hope to be able to make a big donation again this year!