Have you explored our Mother's Day Gifts Store yet? You better get to it – Mother's Day is May 12th!
Our store is filled with perfect gifts for moms with all sorts of hobbies and personality types but today we thought we'd focus on gifts with a specific theme – flowers!
After seeing this unbelievable Mother's Day Cupcake Bouquet (at left) on Pinterest (at first look we thought they were real hydrangeas!), we were inspired to put together some flower and garden themed Mother's Day gift ideas that any mom with a green thumb (or who just enjoys flowers) will love!
If you're brave and crafty enough to try and create your own cupcake bouquet for your Mother's Day dessert, we have the perfect way for you to present your masterpiece – with our Garden Of Love Engraved Flower Pot!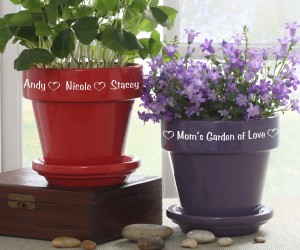 You can choose from a rich red or purple ceramic pot and have it engraved with any special title or message you'd like, such as "Mom's Garden Of Love," on the front surrounded by our precious heart design. On the back of the flower pot you can feature all of her children's names, each separated by a heart. Celebrate Grandma this Mother's Day by personalizing this beautiful gift with each of her grandchildren's names, too! Not only will this flower pot add a personal touch to your cupcake bouquet, it will be a treasured gift that she can actually use to store her favorite flowers and plants. Now when she's bragging about her kids or grand kids, she can brag about her beautiful flowers, too!
A Personal Touch Tip: Go one step further and add another personal touch by having the kids hand paint the flower pot base with colorful ceramic markers or paints!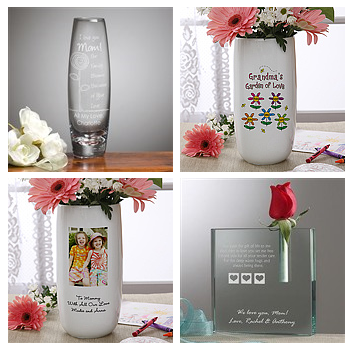 If your mother loves flowers but doesn't have the best track record of keeping plants alive, we suggest personalizing one of our beautiful Personalized Vases that you can fill with her favorite fresh cut flowers. The Blooms For Her Personalized Glass Vase is a popular design among PMall customers and offers your choice of 7 beautiful verses (or you can write your own) that will be engraved, along with a closing sentiment and all of the children's names, next to the sweet floral design. Another one of our popular vases is the Photo Sentiments Personalized Vase. This vase is made of fine-quality, chip-resistant stoneware and features a contemporary square design with rounded corners but what people love most about it is that it can be personalized with any photo and 3-line message! Create a vase with the first photo you have of your mother holding you in her arms in the delivery room, or a photo of a memorable vacation or trip. No matter which photo you choose she's sure to think of you and how much you love her every time she uses her treasured vase.
If your mother has a green thumb and loves to spend her time working outside in her garden, she's sure to love everything in our Personalized Garden Gifts & Accessories Department.
From an Embroidered Garden Tool Bag & Kneeling Pad to Personalized Garden Flags – we've got it all!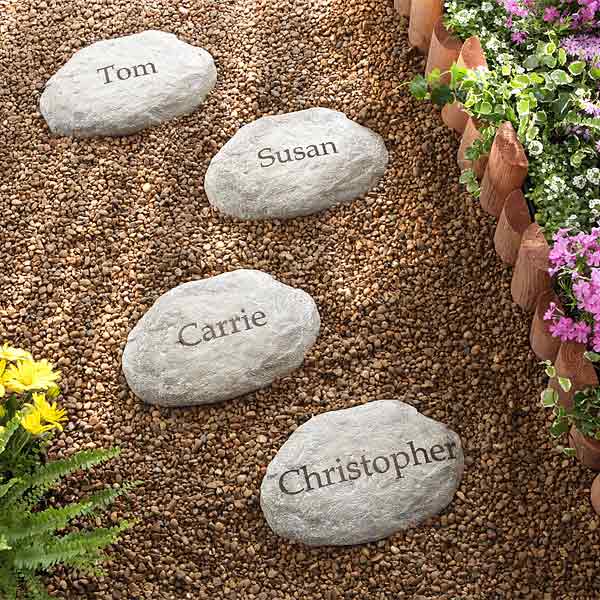 But our most popular garden gifts for Mother's Day are the You Name It Personalized Garden Stones and the Our Loving Family Engraved Garden Stone .
With the You Name It Garden Stones you can select a large or small stone and have it engraved with any family name or first name in your choice of 6 different font styles. One of our personalization suggestions is to have a large stone engraved with "Mom's Garden" (or any message you'd like) and then personalize a small stone with each of her children's names to create a beautiful path around her garden. With the You Name It Garden Stones you have the ability to create any masterpiece you'd like!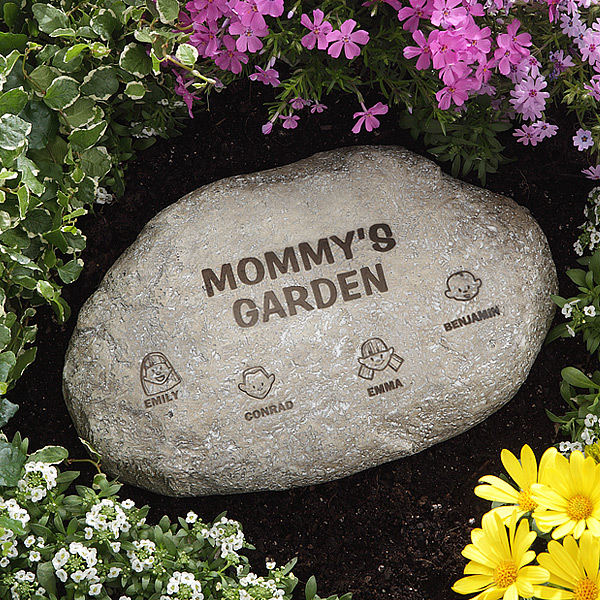 The Our Loving Family Garden Stone is a unique gift that you can have engraved with any 2-line message at the top plus a personalized character and name for each of her children below it! You can choose from all sorts of characters, including adult, youth or baby figures – even pets! Create a character for the whole family and she'll love displaying this unique piece of art next to her beautiful flowers.
We hope you enjoyed our gift suggestions for green thumbs! We'd love to hear your personalization suggestions for our vases. Did you come up with a sweet poem that you could share with our fans that have writer's block? We'd love to hear all of your suggestions and feedback – just comment below! And don't forget to explore all of our Personalized Mother's Day Gifts – we really do have a gift for moms with all sorts of hobbies and style tastes!