Don't give Dad just any ol' picture frame this Father's Day – make it special by creating a personalized frame just for him!
We have a wide selection of Personalized Father's Day Frames for you to choose from, including a bunch of brand new designs that were just added to the Father's Day Gifts Store!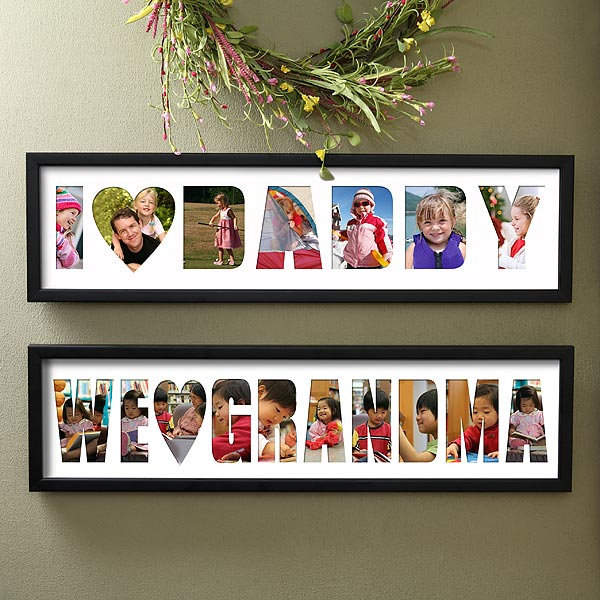 There are photo frames that are perfect for dads with all kinds of hobbies such as, fishing, golf, hunting and even Rock N' Roll! But today I wanted to share an outside-the-gift-box idea on how to personalize this unique Loving Them Collage Frame so that it's tailored specifically for your Dad (or husband, if you're helping your little ones).
The collage frame can be personalized to say "I" or "We" love Dad, Daddy, Papa, Grandpa or any other name you'd like. The message will be cut out on a white matte board so that you can uniquely display your favorite family photos! But since we like to think outside the gift box, I have a creative way for you to fill your frame so that it's truly one-of-a-kind … after all, Dad deserves the best.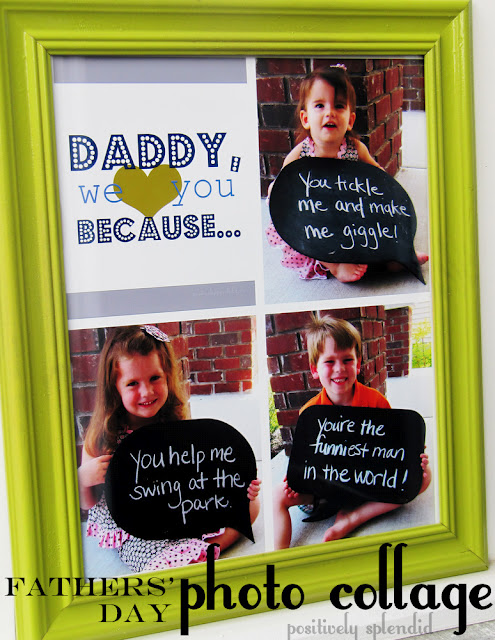 Instead of having the kids pose for staged photos to display in the frame, take individual pictures of each kid holding up a sign that says what they love most about their dad like the photo we found on Pinterest .
Have your kids sit down and think really hard about what they love most about their dad. It could be because he watches cartoons with them Saturday mornings, or helps them with their homework or any fun thing your little ones can dream up. Then write down their answers on individual chalk boards, white boards or posters and have each child smile for a photo while holding up their sign!
The result is a beautiful frame personalized with all the cute little things that your children love most about their father. Your little ones will love being able to actually help create a Father's Day Gift instead of just going to the store plus their Dad will love the personal touch his kids left on his gift!
If you're short on photos and need help filling out the extra letters in the frame, another great outside-of-the-gift-box idea is to display your children's colorful artwork like the little girl is doing in another photo we found on Pinterest !
Dad is sure to love this thoughtful gift and will have fun proudly displaying it at home or at work so he can show it off to all his coworkers!
Hurry over to our Father's Day Gifts Store now so you can place your order and have it in time to wish Dad the best Father's Day ever!