Valentine's Day is just around the corner and every parent knows that this holiday is not just for romantic love between partners. Get creative with the best Valentine's gifts for kids and ideas for celebrating Valentine's Day 2023 with your little ones.
If you are looking for something unique to surprise kids with on Valentine's Day this year, you have come to the right place. Whether you're a parent, grandparent, an adoring aunt or uncle, we're confident this top 10 list of the best Valentine's Day gifts for kids will help you find the right gift for each special child in your life.
Get ready for cute characters, delightful designs and fun love puns kids will adore. Then take your Valentines gift to the next level with creative do-it-yourself ideas and customization options that will make each present even more special.
Our 2023 Valentine's gifts for kids selections include a good mix of fun and practical items children can use every day. But we also include kits, activities, and simple ways to celebrate love without the gifting component. Our hope is that this will give everyone a chance to celebrate Valentine's Day with their kids in a fun and memorable way.
Top 10 Valentine's Day Gifts for Kids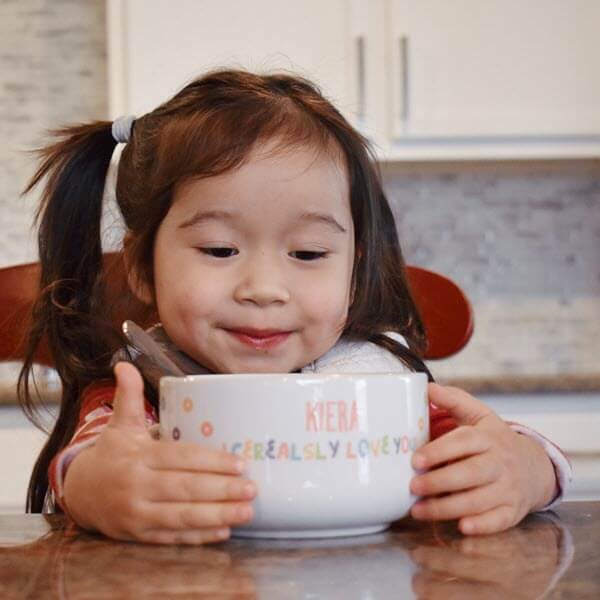 1. I Cerealsly Love You Cereal Bowl
This adorable cereal bowl sold out last year and continues to be a top-seller in 2023. Everything about it – the colorful fruit loops, the cute pun, the custom name – make it the best gift to give for Valentine's Day. Kids of all ages will love using this bowl daily, being reminded that they're so loved.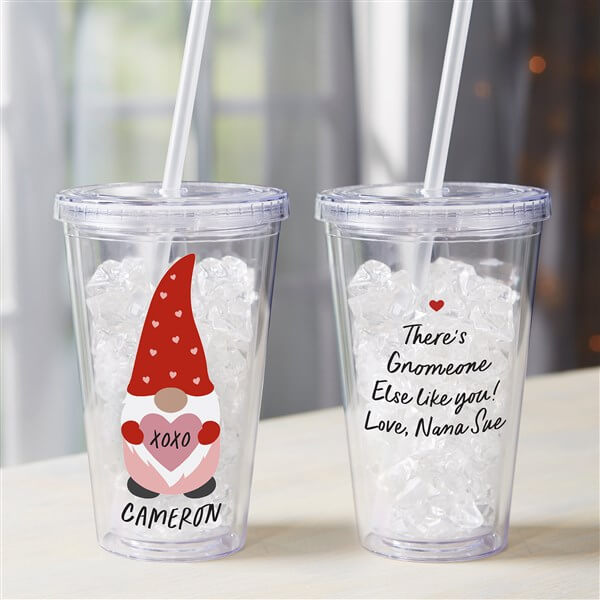 2. Valentine Gnome Tumbler with Straw
If you haven't been paying attention, here's a little secret: Gnomes are taking over the world! These delightful dwarfish creatures are popping up on everything from throw pillows and blankets, to coffee mugs and even tumblers. The Valentine gnome tumblers are perfect for kids and can be customized with any name and message – how fun!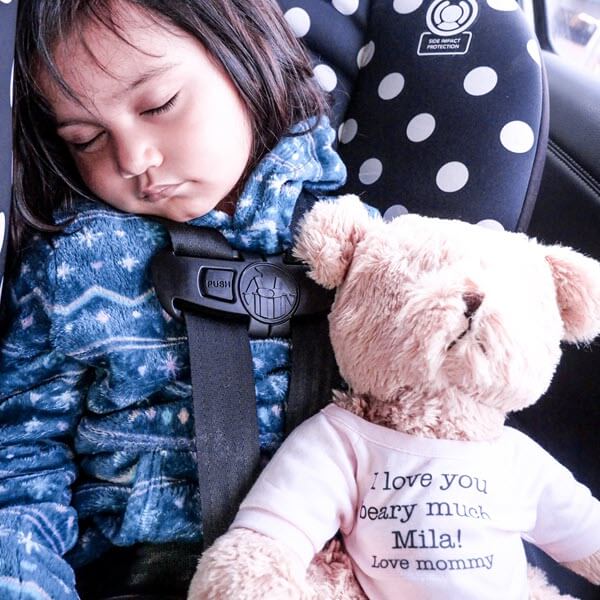 3. I Love You Beary Much Teddy Bear
What better way to say "I love you" this Valentine's Day than with this sweet, plush teddy bear personalized with a cute, punny message. Include kids names and let them know they're loved beary, beary much with, today and always.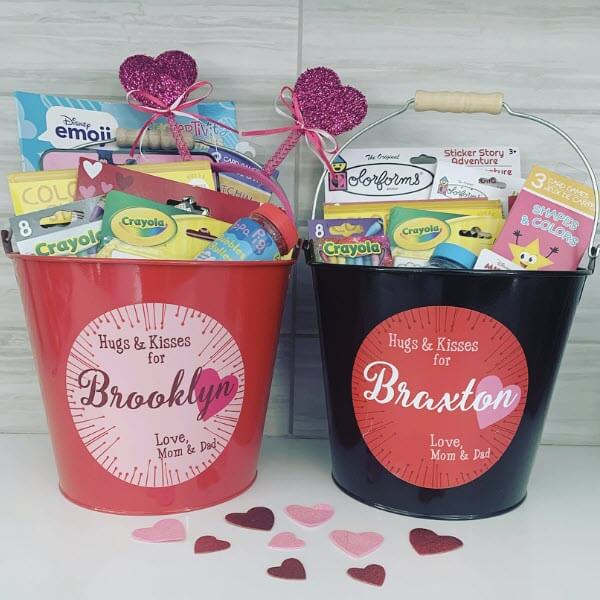 4. Mini Valentine's Day Gift Basket
Instead of one big gift, think about creating a gift basket of small toys and goodies, activity sets, craft kits, art supplies, and other items you know your kids will enjoy. First find a festive container, like a basket, bucket, little metal mailbox or a tote. Then fill it up with crayons and markers, little notepads and coloring books, pop-its and fidget toys, bubbles, stickers and other small, inexpensive items that make great gift basket fillers for kids.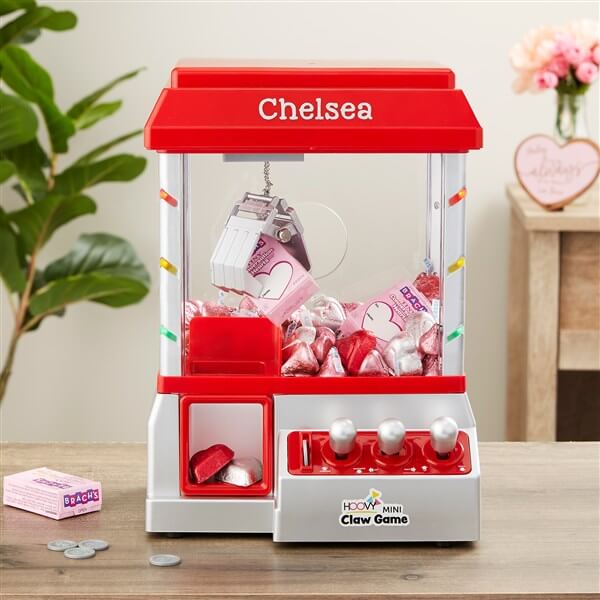 5. Mini Claw Machine
These cute mini claw machines offer a fun way for kids to get their Valentine's Day sweets! Fill it up with their favorite small candies, chocolates or non-edible goodies and prizes and watch your kids enjoy hours of fun. The machine features flashing lights and music, and is activated with real tokens. You can even personalize it with kids' names or your family name.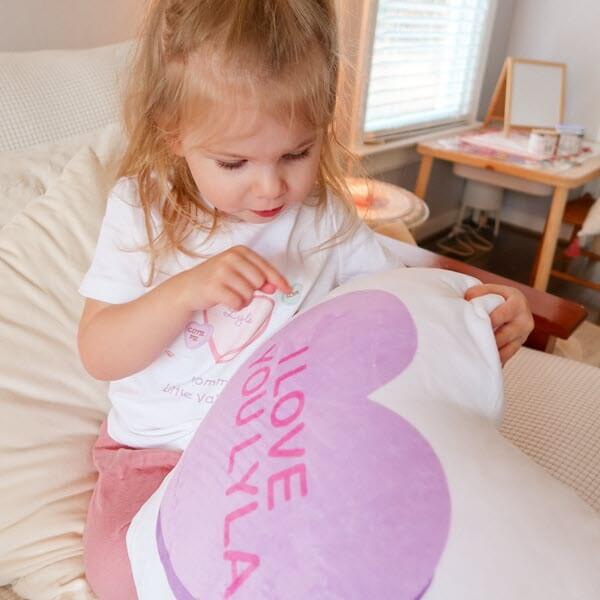 6. Conversation Heart Pillows
Anyone who loves the classic conversation hearts candies will appreciate the nostalgic feel of these plush heart-shaped pillows. You can customize the color and message on the front and back of the pillow heart to recreate your favorite conversation heart sayings or create your own custom ones.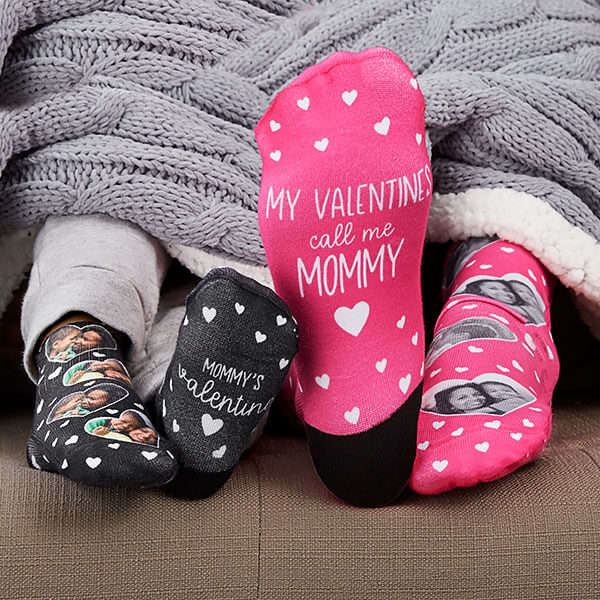 7. Mommy & Me Matchings Socks
If finding matching Valentine's Day pajamas or outfits is too difficult this year, consider customizing matching socks for you and your little ones. This Valentine's Day design includes a photo option that you and your kids will adore.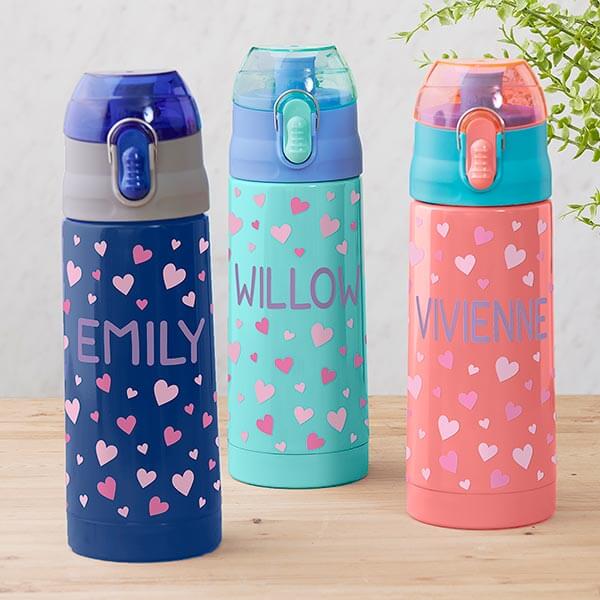 8. Valentine Hearts Water Bottles with Names
These days, every child can benefit from having a reusable water bottle for use at home, school and on the go. Choose a quality, stainless steel bottle with double-wall insulation to keep their drinks cool all day. Adding their name and choosing a fun design will ensure the water bottle will get plenty of good use.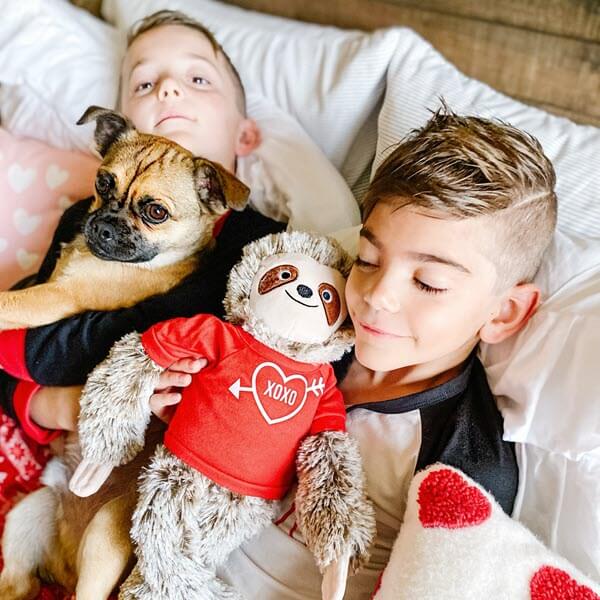 9. Valentine's Day Sloth Stuffed Animal
We're not exactly sure why sloths are so popular with kids these days. Maybe it's their long arm and legs, maybe it's their adorable faces or humorous characteristics, or something else entirely. But the truth is kids are going crazy for plush sloth stuffed animals, and Valentine's Day is the perfect time to gift them.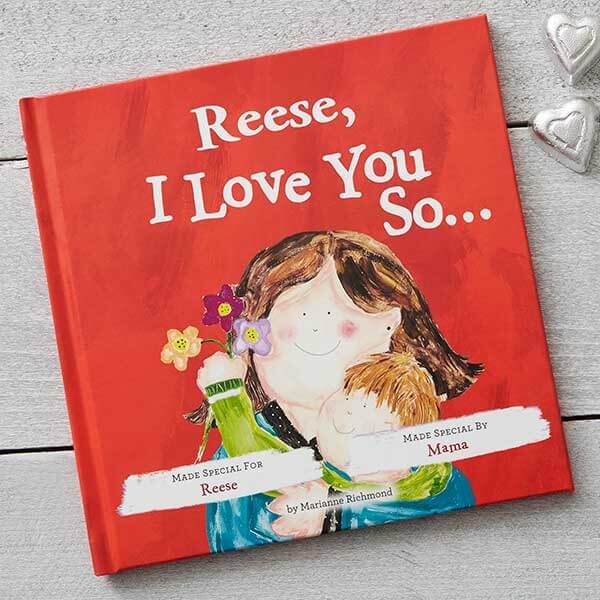 10. I Love You So… Personalized Kids Book
Whether you're searching for Valentine's Day ideas for baby, toddler, preschooler or an older child, a personalized kids book will be a hit no matter what their age. This keepsake gift will become a treasure for you and your child as you read and re-read the book each year on Valentine's Day.
More Valentine's Day Ideas For Kids
Gifts are not the only way to make Valentine's Day special for your kids. Here are a few unique ways you can celebrate love day with your kiddos without the gifting component.
Write Valentines To Each Other
This simple idea is a great way to make memories you can look back on each year on Valentine's Day. All you have to do is make or buy some Valentine's Day cards and then sit down as a family to write each other Valentines. These little love notes can be super simple, with just a few words to say "I love you," so even the youngest of little writers can participate. As you continue the tradition and your kids grow, the Valentines can get longer and more elaborate.
Make A Fun Valentine's Day Breakfast
Treat your kids to all their favorite breakfast items with a cute Valentine's Day themed meal to make it more special. If you're making waffles or pancakes, cut them out into hearts. Use lots of strawberries (also cut into hearts), or spell out "I love you" with bacon, sausage links or fruit pieces. The possibilities are endless and so are Valentine's Day breakfast, lunch, dinner and snack ideas. A quick google search will give you plenty of inspiration and recipes!
Go On A Valentine's Day Date
Take your little sweetheart out on a Valentine's Day date and make lifetime memories you and your child can cherish. Make it extra fun by dressing up and pretending it's fancy. The more of a big deal you make this out to be, the more excited your kids will be! Many schools and community centers will host Mommy & Me and Daddy & Me dances and special events. See what's happening in your local area this year.
Have A Valentine's Day Photo Shoot
Make photo memories this Valentine's Day with a family photo session that has love as its theme. If it's in your budget, hire a local photographer or see if anyone is offering inexpensive mini-sessions in your area. Otherwise, ask a friend or relative to help out, preferably someone who has some photography skills. Then, create a photo album, book or frame a few photos from this day to remember and look back on for years.
Finding unique ways to celebrate Valentine's Day 2023 with your kids doesn't have to be difficult, expensive or stressful. Remember that the time you spend together will be the most meaningful gift you can give your children. Everything else is just the cherry on top.
Share Your Favorite Valentine's Ideas For Kids
What are your favorite Valentine's Day gifts and ideas for celebrating with little ones in 2023? Share your ideas in the comments.