Happy Veterans Day from everyone here at A Personal Touch and PersonalizationMall.com! If you haven't already visited our site, make sure to head over to PersonalizationMall.com today for a coupon code for Free Shipping in honor of Veterans Day!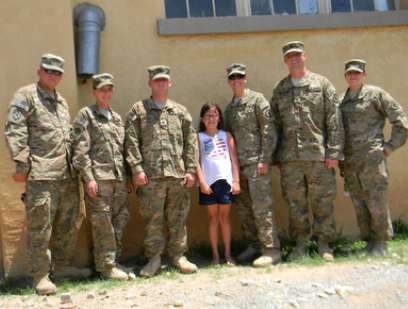 We thought today would be a great day to call your attention to an impressive little girl who is doing something really special.
We first were introduced to Brianna Stutesman when she entered PersonalizationMall.com's Facebook Contest, "How I Spent My Family Vacation." Brianna's mother Leigh, entered a picture she took of her daughter when they were at Ft. Bliss in El Paso Texas. Brianna was visiting the 6 soldiers she wrote to while they were deployed in Afghanistan for the 1st time and she attended their welcome home ceremony. We were so touched by all the votes and comments that Brianna's picture received that when we contacted her mother to tell her how she had won the contest we asked for more information about what Bri was doing. The following is an excerpt from an email her mother sent us: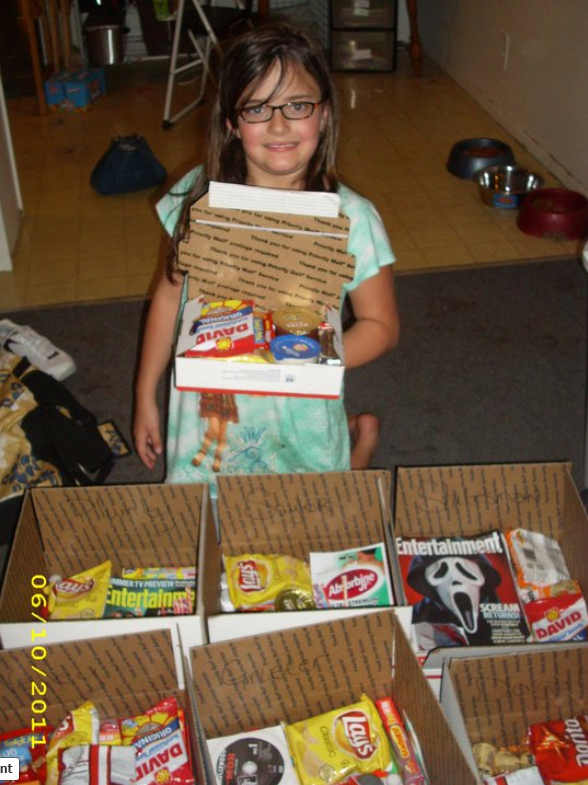 "She spent a year writing those 6 soldiers, only knowing her cousin. She has recently adopted three new soldiers who will be deploying this month & will be sending them weekly letters and monthly care packages. We have bought her address labels & a return address stamp & thank you cards for her project through your website. I have always stressed to herthis is about fun. It's not a chore and if it becomes that way you are done. When we met her soldiers they all talked about how amazing she is and what it meant to her to get her letters and care packages from a little girl they never met. The 6 original soldiers will always be part of our heart and our family and she is extremely excited about doing this for years in the future or as she puts it until there aren't any deployed soldiers that need her. She takes her commitment to them seriously."
Bri has continued to add more soliders to her letter-writing and care package campaign and has called it, "Bri's Project Send A Smile." You can read all about Bri's project and see pictures of her filling and packing boxes and the times she has met the soldiers she writes to on the Bri's Project Send A Smile Facebook Page.
If you read the posts under her Facebook Page's "Notes" tab you will learn that Bri writes 6 letters a week to soldiers plus thank you cards to every single person who sends a donation to her cause, whether it be monetary or even product donations that she can include in her care packages (the thing she needs donations for most is postage … in one month of letters/packages to just 6 soldiers it costs her and her family $233 for JUST the postage). You can also read about what the soldiers like and need most (food, entertainment options), the soldiers' names, and where you can make donations, etc. We would like to say how proud we are of Bri and her project and how honored we are to help her get the word out!
Click here to see a video of Bri making a TV appearance on her local news station. If you are interested in making a donation (whether it's money to help fund her campaign, stamps, or products she can include in her care packages) you can contact her mother by email at: leighstutesman@yahoo.com or you can mail your donations directly to: Bri's Project Send a Smile, PO Box 739, Grand Blanc MI, 48480. All monetary donations can be used for but not limited to: shipping, writing supplies including markers, stickers, envelopes, stamps, ect.. and items to be included in care packages. If you can't make a donation but still want to help, make sure you post an encouraging note on her Facebook Page, we know she would love that!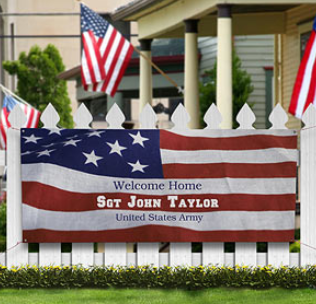 While you're reading about Bri's project on Facebook, make sure you head over to our Facebook Fan Page for a Veterans Day Coupon that we offereing to all our Facebook Fans now through Sunday in celebration of Veterans Day! You can also submit a picture in our "Me & My Military Family" Photo Contest or help us vote for a winner!
Then be sure to check out all the beautiful Military Gifts we have at PersonalizationMall.com! You can personalize the Welcome Home© Personalized Banner for when the next military member you know makes their way home. They'll be thrilled to come home and see their family and how supportive you are of what they do when they see the beautiful banner you had personalized with their name and any special message you choose.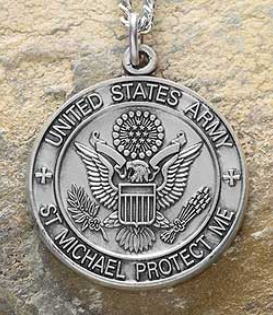 One of our other special military gifts that is also a customer favorite is the St. Michael Military Personalized Pendant. There is a different pendant for the Army, Air Force, Marines and Navy that features their own individual logo and can be engraved with any 3 lines of personalization that you choose on the back side. You can send him or her blessings of love and safety with our handsome St. Michael Military Medallion Pendant. This beautiful silver pendant gives you a chance to give your loved one a loving message and keepsake that will remind them of you and they can wear every day.
We'd like to say thank you to all military members who are fighting for our freedom and for their families who have also made sacrafices in order for our country to stay safe. We hope you all have a wonderful Veterans Day!