September is Library Card Sign-up Month according to the American Library Association, or the "ALA."
This month the ALA wants to remind parents and children that a library card is the most important school supply of all.
Signing up for a library card is like getting a special key that unlocks doors to all kinds of amazing adventures.
But before your children can turn the key, open the book and being their latest quest, they have to bring all those books home … and you may as well do it in style!
Personalization Mall has a wide selection of backpacks for your kids, like our Crazy For Polka Dots Personalized Backpack (above left) – a customer favorite!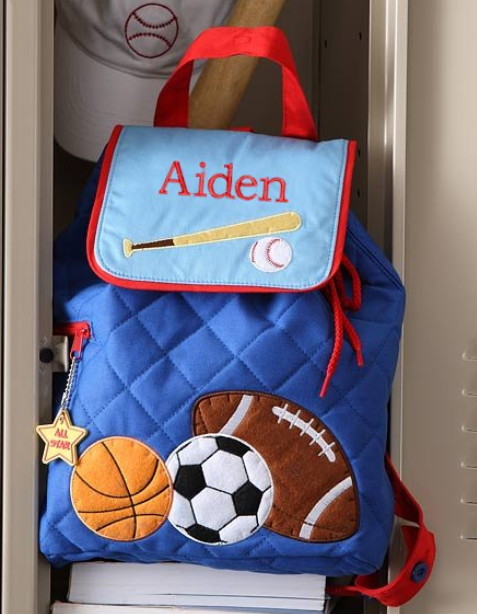 The adorable backpack can be embroidered with your daughter's name and features two front storage areas, a side mesh storage pocket perfect for water bottles and a side storage area that zips up so your little one knows her new library card is safe and sound! And don't forget to personalize the matching Lunch Bag and Pencil Case so she can bring them all to school, too!
For the boys, we have a couple different designs that your little guy will fall in love with.
The All Star Sports Personalized Backpack (at right) is a popular design and comes with a drawstring closure so you can make sure his books will make it home safe with him. And he'll have an ear-to-ear smile when you hand him the matching All-Star Sports Personalized Lunch Bag that you had his name embroidered on!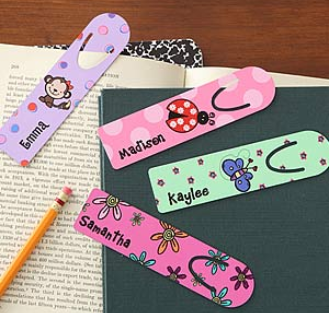 Of course midway through their stories your little bookworms will want to take a break and start their own fairytale which is why you'll need to personalize your own You Choose Personalized Bookmark Set for her (at left) or for him.
When they use the bookmarks you had personalized with their name, you can keep track of who checked out each and every new library book so you can make sure you return them hassle (and fee!) free.
All these fun accessories will help encourage your little loved ones to continue checking out new books and letting their imagination run free!
Do you remember the books you checked out when you first got your library card? What was your favorite book that transformed you to another world?
Be sure to take your kids to get their library cards this month so they can experience their own first literary adventures just like you.
It's also a good idea to keep your eyes open the next time you visit your local library for any special events they may be hosting. You may find a service your library provides that can encourage imagination, learning and quality family time!
Happy reading!