Take time to reflect upon this year's biggest moments through special occasion Christmas ornaments you can personalize for your tree.
A lot can happen in a year. Whether you've celebrated a new relationship, engagement, wedding, milestone anniversary or welcomed a new baby into the world this year, commemorate the special occasion with a unique Christmas ornament you can personalize at Personalization Mall. With custom ornaments you can reflect upon each year's special moments and cherish those memories every Christmas.
Discover our most popular ornaments by occasion so you can start customizing your own ornament collection today.
Ornaments For Happy Couples
If you celebrated an engagement, wedding or a special milestone anniversary this year, you can customize one of our unique wedding and engagement or couple ornaments. You can choose from a wide selection of ornaments to match your style, from sophisticated engraved glass and photo ornaments to adorable character ornaments. No matter what you choose, you'll be able to cherish this year's special moments with your partner in a beautiful way.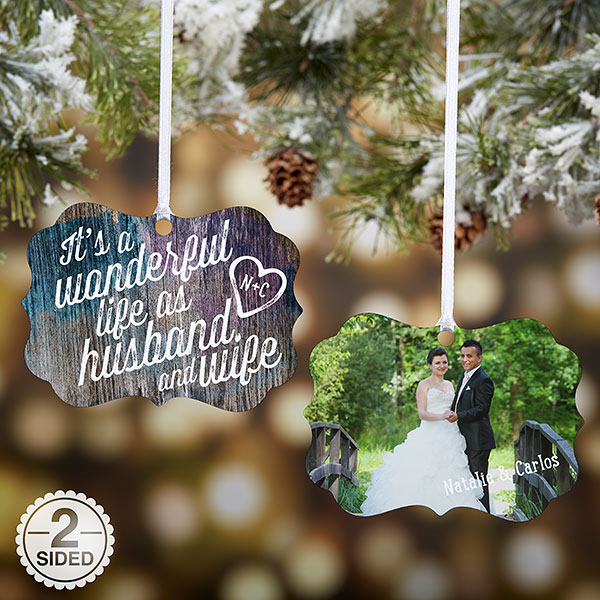 One of our favorite couples ornaments this year is this Wonderful Life As Husband & Wife photo ornament. One side of this metal ornament can be personalized with your favorite photo and names, a date or a short message and the other features your initials inscribed in a heart alongside the words "It's a wonderful life as husband and wife." Perfect for newlyweds and couples celebrating their wedding anniversaries, the ornament can feature a photo from you wedding or a more recent shot of the two of you that you really like.
Ornaments For New Bundles Of Joy
If your little one is brand new to the world and experiencing their very first Christmas, make sure you get a special baby's first Christmas ornament as a keepsake. You'll love hanging it up on your tree each year and remembering just how small they were, and they'll appreciate having it as they get older and have children of their own. Choose from personalized baby Christmas ornaments with photos, cute children's characters and even special metal, wood and glass ornaments.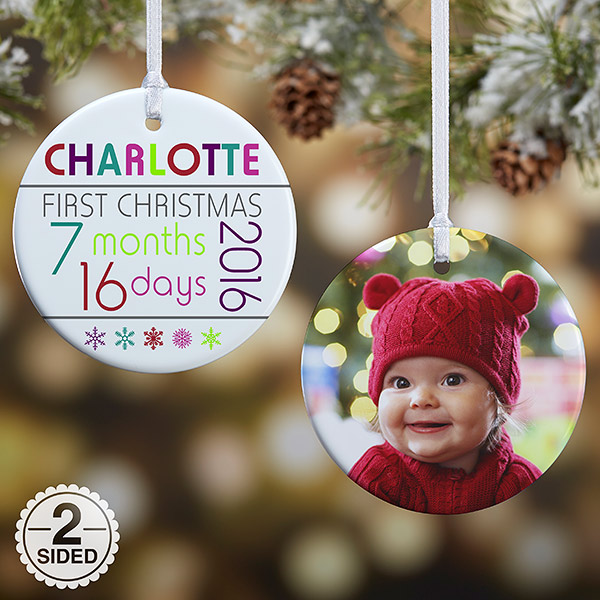 Our favorite baby ornament is the baby's first Christmas photo ornament, which features the baby's exact age in months and days as they celebrate their very first Christmas. All you have to do is enter the baby's birth date and our system will automatically calculate what their age is (or was) for their first Christmas. That's right, our system is backwards compatible so you can get this ornament even if you missed the chance to get your baby's first Christmas ornament the year they actually celebrated it.
Ornaments For New Grads & New Jobs
It's no secret that school is full of challenges – no matter what grade you're in – but a successful graduation makes it all worth it! Whether you're graduating college, or a loved one has graduated from elementary school or high school, celebrate this important life step with personalized graduation ornaments this year. A new job is also something worth celebrating. Whether it's a first job straight out of college, a career change or simply a great new opportunity, you can commemorate it with one of our occupation-related ornaments.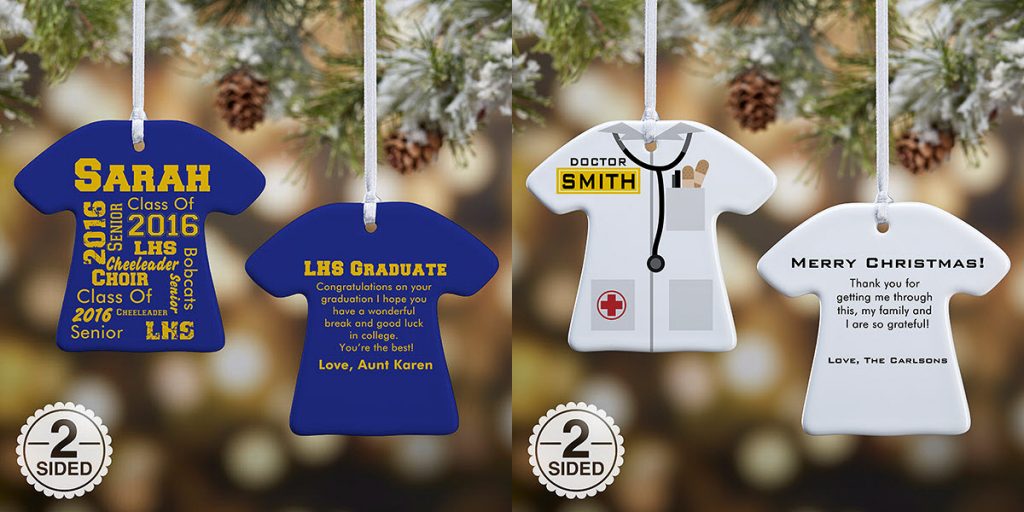 Customize a 2-sided school spirit shirt ornament to show off your school pride or choose a uniform ornament to match your profession. You can also personalize a photo ornament with a picture from the graduation ceremony, or even customize a graduation diploma ornament to represent everything you or your loved one has accomplished in school.
Ornaments Commemorating Lost Loved Ones
If you've lost someone dear to you this year, keep them in your memories by customizing one of our memorial Christmas ornaments. Many of our personalized ornaments let you include a photo of your loved one, so you can reflect on a happy image of them for years to come. Add a special message, their name and memorial dates to remember your loved ones each Christmas.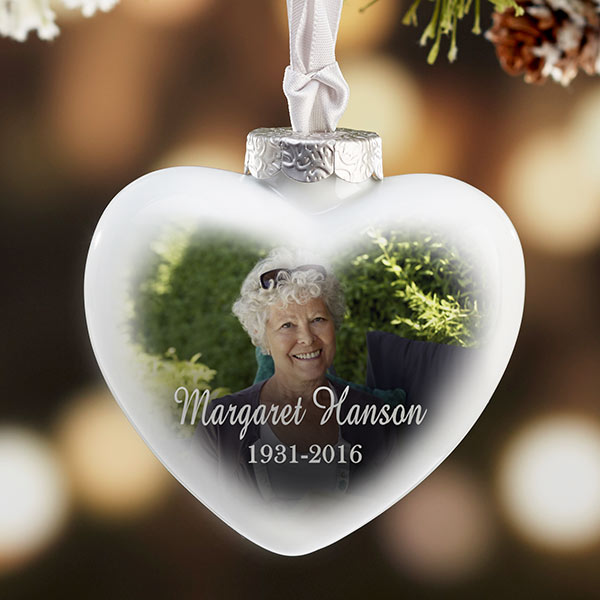 You can even create a memorial ornament to remember your favorite pets. Children dealing with the loss of their first pets might especially find this comforting.
One of our newest memorial ornaments this year is a beautiful heart-shaped photo ornament. This premium quality 3D heart ornament is made from polished porcelain and can be customized with a photo and two lines of text.
Special moments come and go throughout the years. Cherish important life events by personalizing special occasion ornaments for you and your family members. With these personalized keepsakes you can look back through the years together and reflect upon some of the best memories of your lives.
The best part is that Personalization Mall makes personalizing your own ornaments quick and simple. Just choose a design you like, fill in the personalization fields, upload your photos and it's finished. You can review each ornament with our preview tool to ensure that it comes out exactly as you pictured before you order. Get started on customizing your own personalized ornaments today!