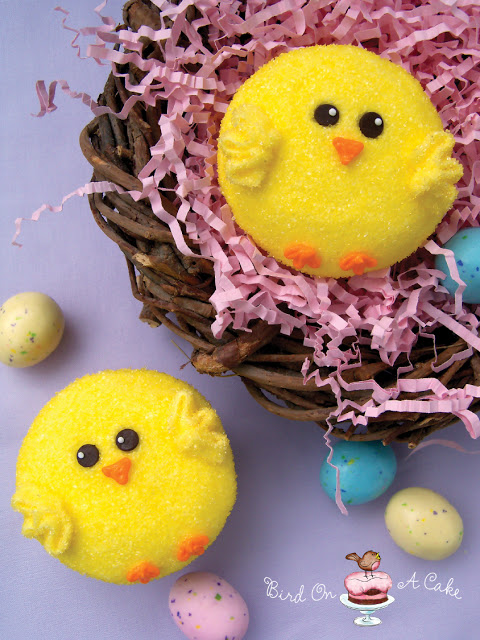 While bunnies are usually the first animal you think of when it comes to Easter, we're here to make an argument for adorable little chicks and ducklings!
You can only eat hard-boiled eggs for so long, which is why these Easter Chick Cupcakes are the perfect sweet to prepare for your Easter celebration. Desserts don't get much cuter than these little treats! If you click the link you'll be directed to the Bird On A Cake Blog where you'll find the recipe for these adorable Easter treats.
The cupcakes would make a great Easter Basket stuffer or you could even display them on a pretty platter and use them as a centerpiece for your Easter brunch. Make it a family affair and have your little ones help you prepare and decorate the cupcakes for a nice break from hunting down all those Easter Eggs!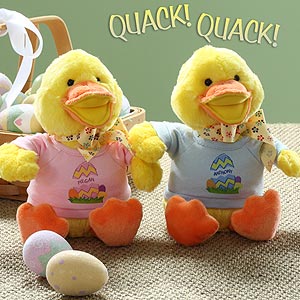 And if you think the chick cupcakes are cute, wait until you see our new Personalized Quacking Easter Ducks!
These soft, yellow plush ducks come decked out for spring in an Easter Egg t-shirt design that you can personalize with any name.
Not only is the little ducking cute – it also quacks! Just squeeze them and you'll hear the "quacking" noise! The duck measures nine inches high sitting with orange legs and bill, sporting an equally bright spring bow which is usually sold for $24.95 but if you act fast, you can personalize one of these cute ducks for only $19.95 while they're still on sale!
Any kid would love to see one of these cuties waiting for them in their basket come Easter morning – personalize one today for each of your little ones so they can treasure them for many Easters to come! We also have the My First Easter Personalized Quacking Easter Ducks which are perfect for the newest addition to the family! Select a duck wearing a pink or blue t-shirt, which features the words "My First Easter" and a cute carrot design and personalize it with the baby's name to create a sweet gift the little one will love to snuggle with.
Check out our Easter Gifts Store for other personalized Easter Basket stuffers, apparel and more that feature Easter Chicks, Ducks and other festive designs that the whole family will love!