Make Christmas morning even more magical for kids of all ages with personalized Christmas stockings they'll love.
Nothing captures the excitement of childhood quite like memories of Christmas morning. From the moment the leaves begin to change colors, the countdown to Christmas begins and kids everywhere dream of all the toys and goodies Santa might leave for them in their Christmas stockings! No festive Christmas décor would be complete without those carefully hung Christmas stockings. For generations, this timeless holiday tradition has been celebrated but the plain old red and white stockings just won't do anymore.
Now you can make your kids' Christmas morning extra special with personalized Christmas stockings made just for them! Imagine the excitement on their faces as they rush over to the mantle to a Christmas stocking with their own name on it. There will never be any confusion over whose stocking is whose – each child will feel special knowing those Christmas gifts were chosen just for them.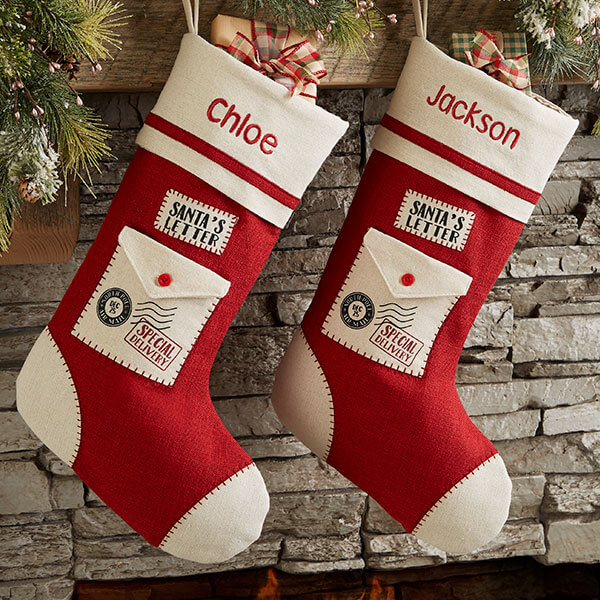 At Personalization Mall, we have a great selection of personalized Christmas stockings with all their favorite holiday designs. From snowmen and angels to snowflakes and elves, you're sure to find the perfect Christmas stocking for your child! Each stocking is customized with top quality embroidery or printing to create a lasting keepsake that they can treasure year after year.
Complement their new stocking with a personalized stocking holder, and they will always have a special place to hang their stocking without ever leaving nail marks on the mantle! Beautifully personalized stocking holders are sure to fit in with any holiday décor.
Find the right personalized Christmas stockings today and one day your little one may hang that special stocking on a mantle of their own and fondly remember the Christmas celebrations of their youth.