For many, happiness is wrapping up in a warm, cozy blanket with a good book (or a good Netflix show) and a cup of a simmering beverage by their side. Make this winter extra special with a customized blanket created by you! Whether you're looking for a custom blanket for your home or a gift for a baby, kid, teen, or adult, we have plenty of unique designs and customization options to create a one-of-a-kind blanket or throw that will keep you and your loved ones cozy all winter long.
Custom blankets for the littles
Our wide selection of high quality blankets will fit any home décor, style preference, and budget. If you're looking for a unique design for a teen, kid, or baby, we have several photo, print, and embroidered options to choose from in a variety of sizes.
For the newest members of the family, we have birth announcement blankets with photo and no-photo options, beautiful keepsake blankets embroidered with a special message, and more practical blankets that can be used all year long. We even have personalized security blankies made from super-soft, plush fabric and embroidered with the baby's name and a special message or date. These personalized baby blankets are perfect for snuggling and come with adorable plush characters the little ones will love.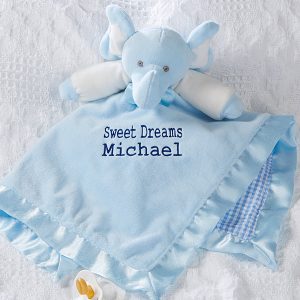 For older kids and teens, personalized blankets with their names or favorite photos are great options. Choose a color to coordinate with their room decor, or personalize a blanket they can use in the family room that will be just theirs.
Personalized photo blankets
Photo blankets are a great option for staying warm and being surrounded by happy memories. With lots of options to choose from, our photo blankets comes in a wide variety of colors, allowing you to add a single photo or multiple photos of your choice. Some blankets allow you to incorporate text as well, including text overlays and unique text designs.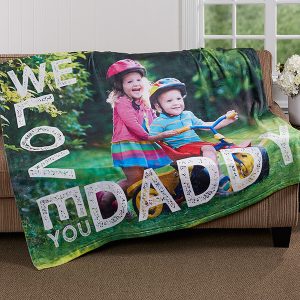 Photo blankets are a great gift for parents or grandparents, in particular, but would make any recipient happy. And although they're ideal during the cold winter months, photo blankets can fit any occasion throughout the year.
Blankets for sports fans
If you have an athlete or sports fan in your life, our personalized sweatshirt blankets featuring their favorite sports are a great idea. The cozy sports blankets can be personalized with their preferred sport, like baseball, football or soccer, along with their name. our NBA blankets can be customized with both their name and their favorite NBA team, with over a dozen options to choose from.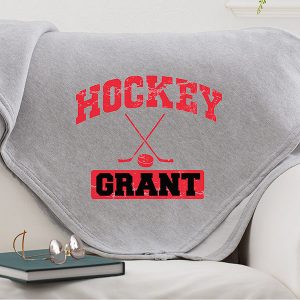 These options are particularly comfy and warm because they're made from soft sweatshirt material. Whether your sports fan is lounging on the couch watching the big game or curled up in a chair by the fire reading a good book, they'll be cozy and warm with their new custom sports blanket.
Unique keepsake blankets
Custom blankets can make great keepsake gifts, too. You can add a special message or a list of special dates to add a bit of meaning to a blanket gift. You can even personalize a beautiful throw blanket with a family blessing or list all of the grandparent's grandkids' names. Once you start browsing, you'll find special blankets for couples, such as our unique romantic travels blanket or our milestone dates design that allows you to add five of the most important dates in your lives together.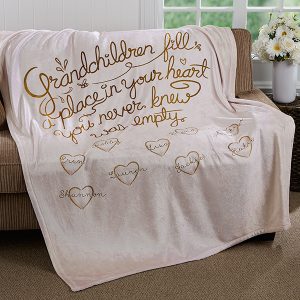 We hope you'll find some inspiration and ideas on how to create a warm and cozy custom photo or personalized blanket that will get plenty of use this winter and will be loved and cherished for years.