The school year is coming to an end and now is the perfect time to pick out something special for your children's teachers to show them how much you appreciated their hard work this past year.
No matter what your budget may be, our Personalized Teacher Gifts Store is sure to have the perfect teacher gifts for the teachers in your life no matter what age they teach. We have designs tailor made for kindergarten teachers all the way up to college professors – after all, teachers at all levels deserve to be shown appreciation!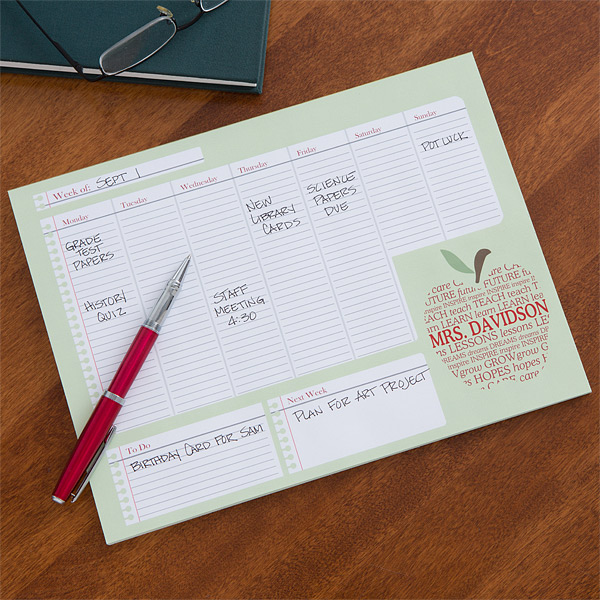 Based on what we've seen popping up on Pinterest, the new popular "thank you" gift for teachers is personalized stationary. It makes sense since teachers often find themselves writing notes for their students to take home to their parents or jotting down reminders about lesson plans.
PMall.com's Personalized Stationary Store is full of notepads and notebooks with all sorts of beautiful colors and patterns for everyday use but we also have an entire department of Personalized Teacher Stationary that's full of great teacher-themed stationary.
You'll find different types of notepads, note cubes, notebooks, note cards and more; including our popular new Calendar Desk Pads (the photo at left features an example of one of our teacher-themed notepads). These calendar note pads come in different sizes, colors and patterns and include colorful weekly schedules that make it fun to organize any busy schedule! They're perfect for teachers who have lots of lesson plans, after school activities, and meetings to plan throughout the week.
Calendar desk pads are becoming more and more popular and any teacher would love to have one, especially if it's personalized with his or her name! So head on over to our Personalized Teacher Stationary department to pick out the perfect design for the teacher you're shopping for and tell us what you think!
We'd love to hear from parents and teachers – which type of stationary do you prefer? Notepads, note cubes, or note cards? Let us know by commenting on this post.
Enjoy the rest of the school year!