It looks like we're going to have to make room in the Customer Favorites Store for the gift that everyone is talking about!
Our Mr. & Mrs. Self-Inking Address Stamper has been making the rounds on Pinterest – so much so that it was featured on Pinterest's Popular Page and has made appearances on the main Wedding & Events Page numerous times.
People have been "pinning" it like crazy onto boards with names like "Wedding Gift Ideas," "Products I Love," and "I WANT!" with brides leaving comments saying the stamp was their "favorite wedding gift," a "time saver and life saver," or their "secret weapon!"
With all the buzz our personalized self-inking address stamp has created, we wanted to make sure we shared the four reasons why people love this item so much
4 Reasons Everyone Is Falling In Love With Our Stamps
1. Cute Designs — We've never seen the word "CUTE" written so much! Brides love the hearts and the "Mr. & Mrs." theme and since it's a PMall exclusive design, they know they're getting a one-of-a-kind gift they won't find anywhere else.
2. Affordable Price — The stamp is only $24.95 so you can save a bundle buying the one stamp instead of paying big bucks for a large amount of return address labels, especially because…
3. It's Self-Inking — You don't have to spend extra money on a separate ink pad–plus you get to pick out which color you want the stamp to be (you have the option to choose 1 of the 5 available colors: black, blue, red, purple and green)! And last but not least…
4. It's A Huge Time Saver — Instead of spending a ton of time writing each return address label by hand, peeling off stickers or licking gross-tasting labels, all you'll have to do is press down once and you'll have a professional-looking stamp that adds a personal touch to your invitations, thank you notes and even Christmas cards.
See for yourself what everyone is talking about by reading the comments people are leaving on just one of several "pins" that we've seen all over Pinterest.
Self-Inking Stamp Designs For Everyone
You don't have to be a bride or wedding guest to enjoy this cute gift idea. We have a variety of options when it comes to return address stamps that will fit everyone's taste and budget. Take a look at all of the design options on our Personalized Return Address Label Stamps page to find one you like.
Here are a few of our favorites.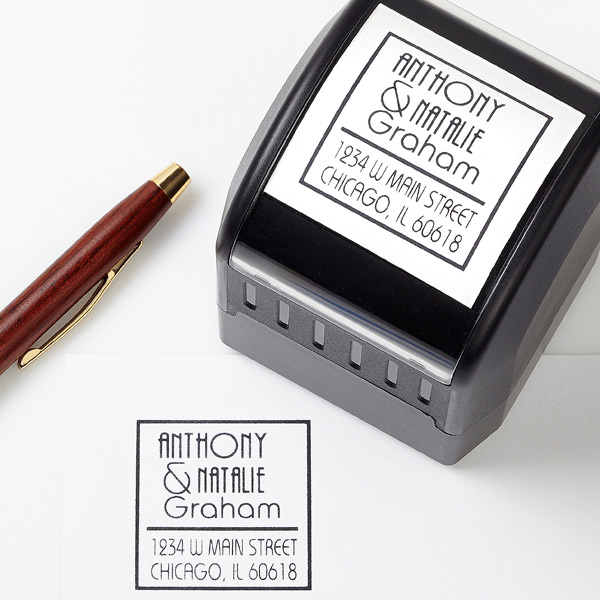 The Your Names Address Stamp is another design that's popular with our Pinterest fans.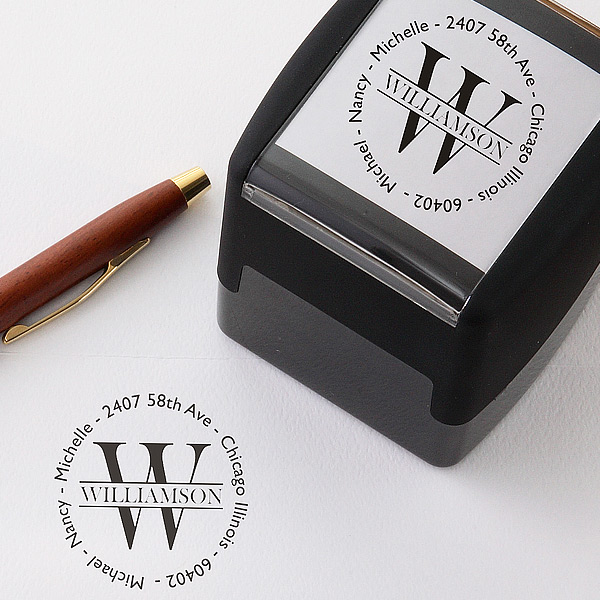 The Namely Yours Address Stamp has also got people talking.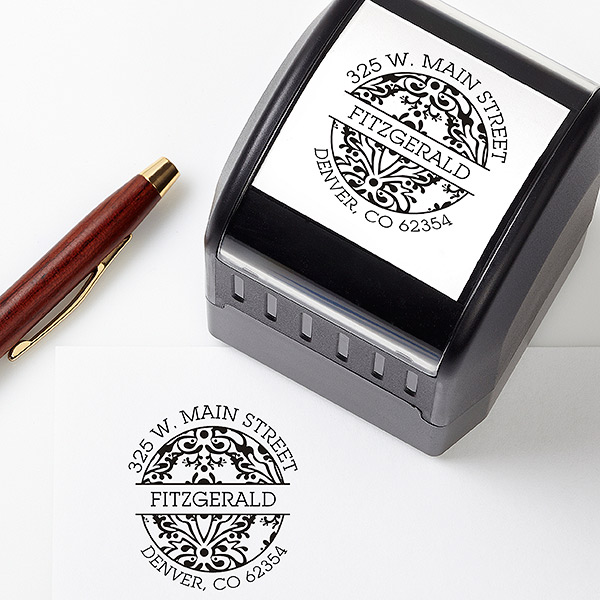 And our personal favorite, the Damask Greetings Self-inking Address Stamp.
Which design is your favorite?