We stumbled upon some adorable vintage Valentine's Day cards on Pinterest and we were instantly inspired to share a cute gift idea for the popcorn lovers in your life. Once you add your own personal touch, this unique Valentine's Day gift is sure to be one of the most memorable gifts ever!
Since this Thursday, January 19th is National Popcorn Day, we knew that this is just the perfect time to share the cute vintage card that we came across and the gift ideas we have to go along with it.
The card features a nostalgic drawing of a bowl filled with popcorn and a cute red heart that displays the clever message: "I'm gonna 'POP' a 'CORNY' question… Will you be my Valentine?" You can easily print this card at home (PDF available here) on card stock. Cut it out, write a note on the back, or simply attach it to your popcorn lovers' gift.
Here are three things that will make your Valentine's Day gift for popcorn lovers fun, original and thoughtful — not to mention, super easy!
1. A Custom Popcorn Bowl
As soon as we saw this irresistible popcorn pun we thought of one of our customer favorites: our beautiful, personalized bamboo popcorn bowls, which fit the theme perfectly. These unique bowls are handcrafted from bamboo and can be customized with any names on top and a short message below.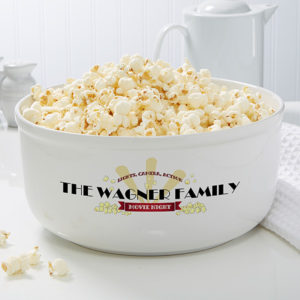 There are other custom popcorn bowls, including ceramic bowls and individual snack bowls, so you can customize what you like best.
2. Yummy Gourmet Popcorn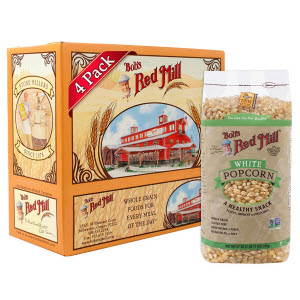 And what would a popcorn bowl be without the popcorn?
Add a bag of your favorite popping popcorn, or a tin of yummy gourmet popcorn for you and your Valentine to enjoy. Here are a few of our favorites, including delicious Moose Munch mixes from Harry & David and Chicago's famous Garrett's popcorn where you can create your own tin.
3. A Movie Or Series
Once you have your personalized popcorn bowl and some delicious popcorn, along with your homemade vintage Valentine's Day card, you can go the extra mile and add your Valentine's favorite movie, TV series or something they've been eager to see. Adding a movie will show how well you know or "get" them, or if it's a movie they've been wanting to see for awhile, it'll show that you are a good listener and that you truly care.
Combine all the goodies, add a bow and you're all set for a low-key evening of popcorn and romance!
This Valentine's Day gift is great for men or women and is something that will keep on giving because every time your Valentine sits down to enjoy some popcorn from their personalized bowl, they'll think of you and the special Valentine's Day you shared together.
We hope this fun gift idea inspired by an adorable vintage Valentine's Day card and a snack that virtually everyone loves will help get the ball rolling for your holiday plans because Valentine's Day will be here before we know it.
Let us know what fun, unique and romantic Valentine's Day gifts you're planning on this year!