Newly engaged couples have lots to do in preparation for the big day. Here's how you can get started with sharing the exciting news with friends & loved ones.
He popped the question. You said, "YES!"
Congratulations! Welcome to the wonderful world of wedding planning! Now, where to begin?
The first step is to share your exciting news with family and friends. If you haven't set a date for the wedding, you can share your happy news through an engagement announcement. You can send traditional announcement cards, share the news through social media or email, or have an engagement party to celebrate your upcoming nuptials.
Once you have your wedding date set, get everyone excited about your big day by sending personalized save the date cards or magnets. Save the dates will give your loved ones plenty of time to make arrangements to share in your special day. And you can easily customize them with your own text, engagement photo, colors, designs and other custom details.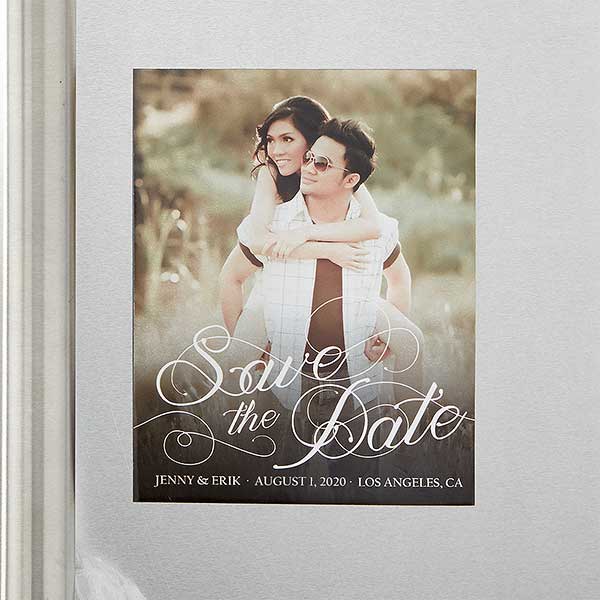 When Should Save The Dates Be Sent?
Think of your Save the Date cards as a preliminary invitation to your wedding. They should be sent at least 4 months before the wedding date. Your wedding invitations should follow about 2 months later.
However, if your wedding date falls on or around any holidays, or if it's taking place at a popular vacation or destination spot, you should consider sending out your Save the Dates at least 5 months in advance. In these instances your guests will likely be thinking of your event as a vacation and will appreciate having the time and information to plan accordingly.
As your wedding plans unfold, don't forget to check out more helpful tips, advice, and ideas on wedding planning.
More Wedding Planning Ideas
Bachelor Party Gift Ideas – Coming Soon!