What some people don't realize about our wide selection of personalized gifts is that they offer more than meets the eye! That's why we're here to help offer some unique and alternative uses for our personalized gifts with the "Think Outside The Gift Box" posts!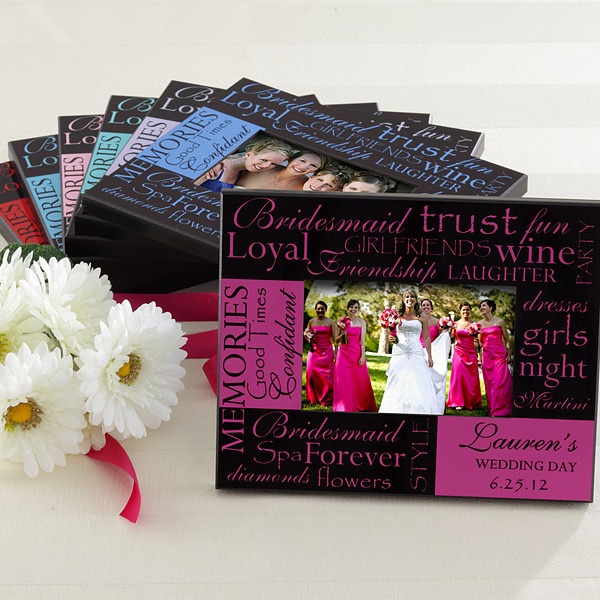 Today, I'd like to show you a great way to use the Bridesmaid Personalized Photo Frame as a tool to accomplish a more unique, intimate and welcoming atmosphere for your bridal shower.
This elegant frame is the perfect bridal party gift for your bridesmaids because the design features a collage of cute "girly" terms like, "Girls Night," "Laughter," "Martini," "Style," "Friendship," and comes with the choice of 7 color options so you can personalize the frame to match your wedding colors! The frame becomes even more memorable when you add your own personal 2-line message and wedding date to showcase the special bond you share. It's a simply DIY wedding idea that will make a lasting impression at your bridal shower.
Now if you're a bargain hunter like me then you're in luck because I have an outside-the-gift-box idea for these personalized frames that will help you get 2 or 3 uses for the price of 1! Not only can you give these frames as bridal party gifts, you can also use them to create a "Meet the Maids" table that you can feature at your bridal shower and wedding reception!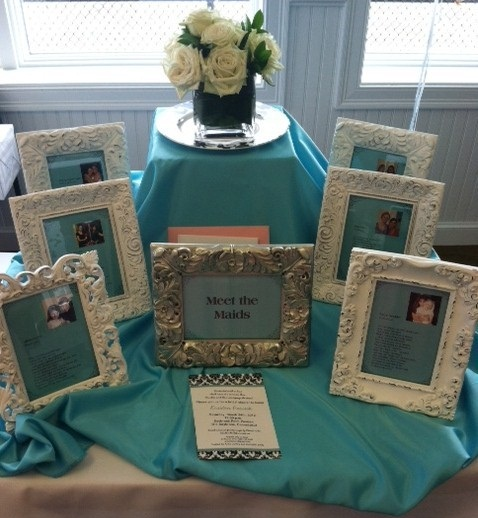 I immediately loved the "Meet the Maids" idea when I first saw the Pinterest Photo you see at left, and after reading Cherry Blossom Events' "Meet The Maids" post I knew that the only thing this great idea was missing was our Personalized Photo Frames!
The "Meet the Maids" idea works as a fun ice breaker at your bridal shower and is a great way for your guests to meet your bridal party. I don't know about you, but I'm always curious about how the bridesmaids and groomsmen came to know the bride and groom and with a "Meet the Maids" table, you can share these sweet stories with your guests and make them feel more included before the big day!
All you have to do is create a personalized frame for each of your bridesmaids and fill them with a mini "profile" that helps your guests get to know them a little better. The mini bios can include anything you can think of, however I recommend at least sharing how you and your bridesmaid met, how long you have been friends, and some of your favorite shared memories. Be sure to include a small photo of your bridesmaid or one of the both of you so your guests can easily recognize them and don't forget to personalize an additional frame that features the words "Meet the Maids" to finish off the display.
Once the shower is over you can gift the frames to your bridesmaids or create frames and bios for a "Meet the Men" display and then feature both near the guest book at your wedding ceremony or by the gifts table at your wedding reception. That way you can give the frames as gifts after the wedding and everyone who may have missed out on the shower will still be filled in with all the bridal party details!
I hope you enjoyed my out-of-the-gift-box idea for your personalized frame! I'd love to hear about the alternative uses you have for any of our personalized gifts! Please share your ideas by commenting below or by emailing me at social@pmall.com.
Click HERE to see the original Pin for the "Meet the Maids" photo