With all of the craziness surrounding wedding planning it's easy to forget the people who have been there for you since Day 1 – your parents!
You may have gotten caught up in finding gifts for your bridesmaids and groomsmen but don't worry, we're here to offer some great gift ideas for your parents and future in-laws, too! We think it's a wonderful gesture to present both parents of the bride and groom with a little something special to show your appreciation for their love, support and help with the wedding.
We love the idea of taking a special photo with both sets of parents on the day of the wedding, like the picture we found on Pinterest at left where all three couples share a sweet kiss. If you visit our Pinterest boards at the above link, you'll see some other great photo ideas we repinned, as well like the idea to take a photo of the bride, her mother and her grandmother together with their wedding rings to show that special bond between mother and daughter (and granddaughter)! Another one of our favorite unique photo ideas was to recreate a wedding photo of the bride and groom's parents – it's neat to see and compare them after the wedding!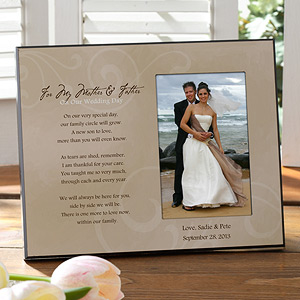 Whether it's a unique photo or just a standard family photo from the wedding, we suggest presenting it to your parents in the "To My Parents" Personalized Wedding Frame (at right). This beautiful frame comes in your choice of 3 colors (tan, sage or blue) and can be personalized for the parents of the bride or groom with any title (To My Parents, Mom, Dad, etc.) and any subtitle (On My Wedding Day, etc) at the top. You can also include any closing sentiment along with the bride and/or groom's names and wedding date at the bottom for a very special touch. The lovely poem and elegant colors aren't the only reasons this frame is one of our most popular wedding gifts for parents … it's because of that added personal touch that makes the gift even more special and meaningful. Both sets of parents will love it and be proud to display it in their homes forever.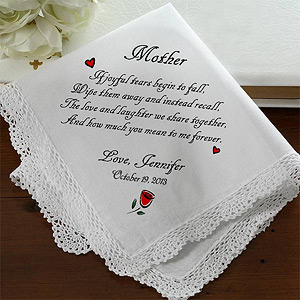 PMall.com's Parents Gifts Department, which is located in the Wedding & Anniversary Gifts Store also has great gift ideas specifically for the mothers and fathers of the bride and groom. The "Tears of Joy "Personalized Wedding Handkerchief (at left) is just one of our personalized handkerchiefs that makes a great gift idea for the mothers of the bride and groom. This handkerchief gives you the option of selecting one of three designs, a rose & hearts, wedding bells or wedding doves, and personalizing it with any name or title at the top, followed by a heartfelt sentiment, and the bride and groom's names and wedding date underneath. This is just a special gift to give your mother or future mother-in-law the morning of the wedding so they can wipe away their tears of joy throughout the ceremony and reception. They will love that you went out of your way and thought of them on your own wedding day and they're sure to be truly touched by the sweet gesture!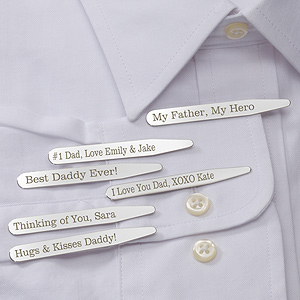 If you're looking for a special gift that you can give your father or future father-in-law on the day of your wedding, we suggest personalizing our new "For Dad" Collar Stays Set. The set consists of 6 silver-plated brass collar stays that are presented in a handsome black velvet box. The collar stays can be engraved with 6 different personalized sentiments, heart felt messages and/or names … anything you'd like up to 25 characters each! Men are usually hard to buy for, but these are such a great gift idea because he'll be able to use them that day with his suit or tux plus he'll be touched that you created a one-of-a-kind gift just for him – it's sure to make his day!
If you're interested in any of these gifts or need some more gift ideas, head over to PMall's Wedding & Anniversary Gifts Store and check out the Parents Gifts Department. You'll find a wide selection of great gift ideas, such as personalized keepsakes, photo albums, photo frames, vases and so much more!
We hope we were able to help you cross off something from your to-do list – happy wedding planning!