In this edition of "Wedding Party Gift Guide" we're talking about your flower girl. From what we've been seeing on Pinterest, the flower girl's job requirements seem to be evolving and we love the new creative ideas brides are coming up with!
Instead of dropping petals as they walk down the aisle, some brides are having their flower girls carry signs with cute sayings. We think it looks adorable and is a great way to add a personal touch to your wedding. And since it's so unique, it's sure to be a moment everyone will always remember.
If you're a fan of unique wedding details, you're going to love all the gift ideas that our Wedding and Anniversary Store has to offer.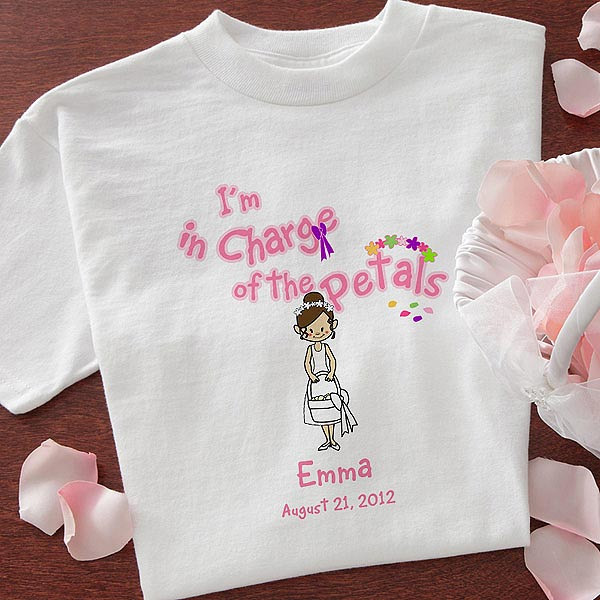 The Our Flower Girl Youth T-Shirt is a great gift idea that offers an adorable photo op, too. You can personalize this cute design by picking out the character's skin, hair and clothing color so it matches your flower girl perfectly. You can also add her name and your wedding date or any 2-line message below the character.
This one-of-a-kind shirt is perfect for her to wear to the rehearsal dinner, engagement parties, and even the reception after the formalities!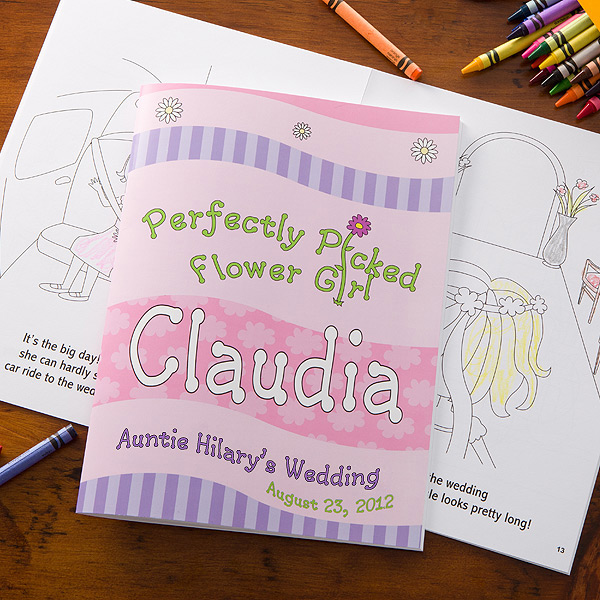 The Perfectly Picked Flower Girl Personalized Coloring Activity Book & Crayon Set is not only a great gift to pair with the t-shirt, it also helps keep your flower girl happy and occupied during your wedding rehearsal and ceremony! The activity book has many wedding-themed pictures to color, as well as games, puzzles and mazes. It features your flower girl's name on the front cover and on many of the inside pages, which also feature your choice of two flower girl characters. You also get to add your own name and wedding date to the cover for a gift she'll love and actually get to play with.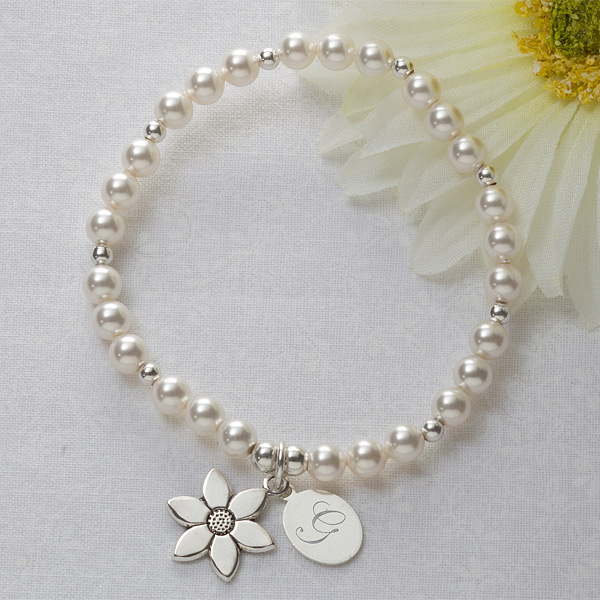 When it comes to bridal party gifts, some brides prefer to give gifts that her friends and family will use or wear during the ceremony itself. If you're looking for a great ceremony gift, make sure to personalize the Flower Girl Personalized Bracelet for your little helper!
This pretty bracelet features a sterling silver flower charm and faux pearls that stretch to accommodate most children's wrist sizes. The bracelet is custom engraved on the sterling silver oval medallion with any initial on one side and optional year on the reverse. It's a beautiful and thoughtful flower girl gift that she'll be able to wear during your wedding and long after.
We hope you enjoyed our Flower Girl Gift ideas! Have you or are you planning to have your Flower Girls do something out of the ordinary when they walk down the aisle at your wedding? Which gift idea did you like best? Please comment below – we love to hear your opinions and ideas!
Be sure to explore all of our Flower Girl and Ring Bearer Gifts that we didn't get a chance to write about in this post and check back here for the next edition of the Wedding Party Gift Guide.