We were so excited to see that the new groomsmen and usher gift trend has a fun, creative and do-it-yourself twist!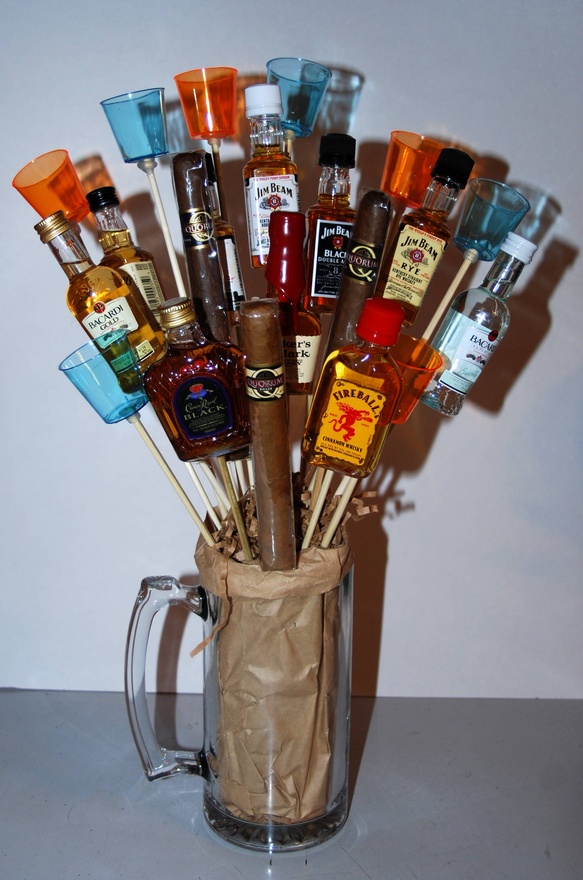 As you can see from the photo we came across on Pinterest, the new gift idea that is becoming more and more popular is creating a "Groomsmen Bouquet" full of man favorites such as mini bottles of liquor, cigars, shot glasses, beef jerky and more. The idea is to arrange the goodies in a way that all the different items can be seen and well presented – just like a bouquet of flowers.
In order to create this gift, all you have to do is attach a wood skewer on the back or bottom of all the different goodies you've gathered by using a strong type of tape or glue (make sure the shot glasses are secure so they don't topple over!). It's an easy DIY wedding idea that will make a big impact.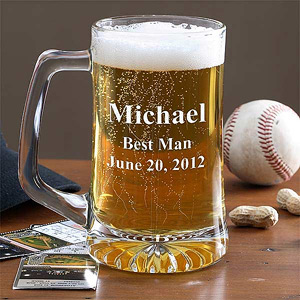 Since we believe that gifts are always better after you've added a personal touch, we love the idea of arranging the manly bouquet in one of our popular Groomsmen Over-Sized Beer Mug, which you can customize with any 3 lines of text! Give the tall 25-ounce mug engraved with each of your groomsmen and usher's name, title and the wedding date.
The personalized mug will help you show the groomsmen and ushers how much you appreciate them celebrating with you and they'll love the added personal touch to the mug, especially because they'll be able to use it again in the future.
Our Groomsmen Gifts Store has a wide selection of personalized gifts that would also make a fantastic addition to the bouquets.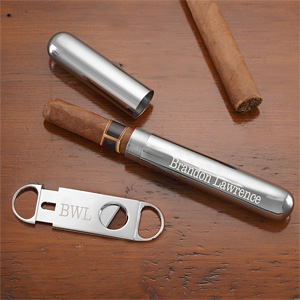 The Engraved Silver Cigar Case and Cutter is a handsome cigar accessory set that would be the perfect gift to arrange in the front of the bouquet so the guys can grab it before taking out their new cigars!
The cigar case will also help the men keep the cigars safe and their tuxedos clean throughout the ceremony and reception before they light up in celebration afterward. The cigar case can be skillfully engraved with his name, nickname, event or message and the cutter can be customized with his single, 2 or 3 initial monogram.
Our Wedding Party Personalized Pocket Flask would also be a great gift to add to the bouquet so that the groomsmen and ushers have somewhere to store the contents of all those bottles! The pocket flask features intricate detail in the brushed finish base with a convenient, attached cap for easy open and close plus a handy funnel so not a drop is missed. We will skillfully etch any name, title and date you choose into the flask. The guys will love their flasks — just make sure they don't "Love" them too much before the actual ceremony! 😉
We hope we've helped you come up with some gift ideas for your groomsmen and ushers. For more ideas, head over to our Groomsmen Gifts Store and check out all the personalized gifts we have to offer. You'll have a blast searching through our personalized shot glasses, bottle openers, baseball bats, can and bottle wraps and so much more!