It's one of our favorite times of the year: Wedding Season! Love is in the air, but so is stress … but we are here to help.
We know that planning a wedding can be a lot of work, especially when it comes to picking out gifts for your wedding party. It can be stressful searching for the perfect gift – a gift that is not only unique and special enough for your closest friends and family, but a gift that also has a personal touch that can truly express how thankful you are that they are taking part in the most important day of your life.
But have no fear – A Personal Touch is here with our new "Wedding Party Gift Guide" blog series which will feature posts that focus on one-of-a-kind gifts ideas from our Wedding & Anniversary Store that are perfect for each of the members in your bridal party.
After we saw this adorable photo on Pinterest (at left) of a ring bearer dressed up as a security guard and walking down the aisle with sun glasses, a fake ear piece and a mini safe, we were inspired to start off the series by offering some gift ideas for your Ring Bearer (If you like this idea and want to do it at your wedding, be sure to check out our Personalized Blue Cash Box, which would be a cute replacement for the mini safe and a gift that your Ring Bearer can use for years to come!).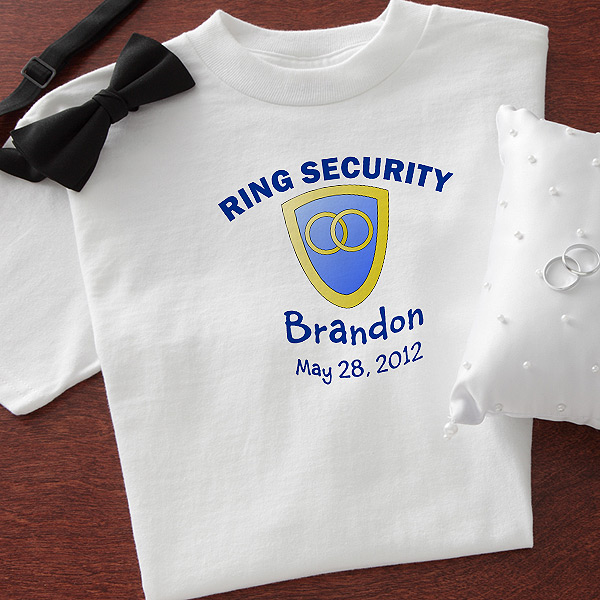 We love the idea of making the Ring Bearer job more fun for little boys by calling them "Ring Security" and we have the perfect gifts to help your little guy look the part!
Our Ring Security Personalized Ring Bearer T-Shirt is a great gift that will make for cute photos and can be personalized with his name and your wedding date. Think of how adorable the pictures will be of him wearing the t-shirt to your engagement party, wedding rehearsal and other wedding events!
He'll love showing everyone how he's a big helper, plus he'll be thankful that you let him change out of his formal wear from the ceremony and into this comfy t-shirt for the reception.
He'll be able to dance and have fun without his mother worrying about him staining or ripping his nice suit, too!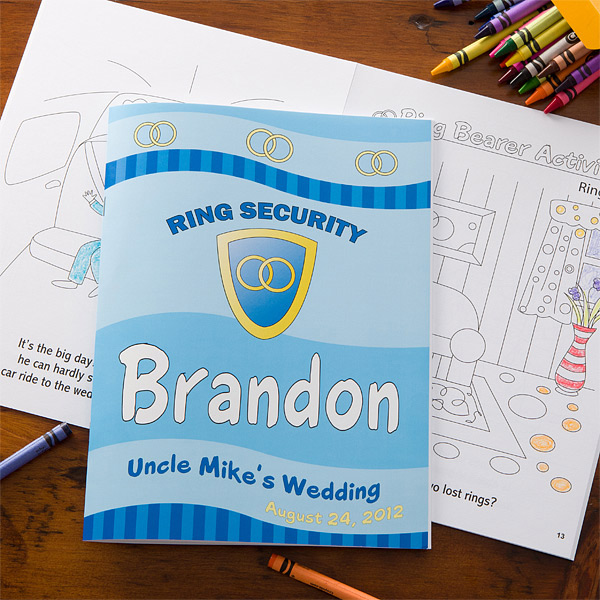 We think your ring bearer also deserves a fun gift that he can actually play with, which is why The Ring Security Personalized Coloring Activity Book & Crayon Set is the perfect item to include with the personalized t-shirt.
He'll enjoy hours of fun with the activity book which is full of wedding-themed pictures for him to color, as well as games, puzzles and mazes.You'll get to personalize the cover of the book with whose wedding it is, the wedding date, your ring bearer's name, and a cartoon character that looks just like him!
He'll be blown away when he sees his very own name on the cover and on the inside pages of the activity book! The personalized activity book and crayon set will also help keep him busy during the rehearsal and on the Big Day so he doesn't get restless and become a distraction during the ceremony.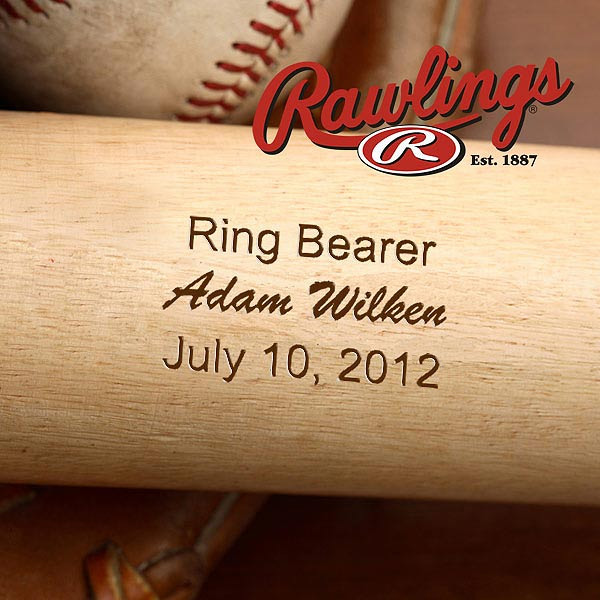 If your ring bearer is a little older, you should also take a look at our Wedding Party Engraved Baseball Bat, which you can have engraved with "Ring Bearer" (or any title if you'd like to also personalize the bat for your groomsmen and ushers), your wedding date and their name.
Each wooden baseball bat is quality crafted by Rawlings, measures 28″ in length with a 2 1/4″ barrel and a 7/8″ handle, is flame treated and is even Little League approved so your ring bearer will be able to use it for years to come! It will also be a great keepsake for him to display in his bedroom so he can remember how he was an important part of your special day.
Check out all of these great gifts and more in the Flower Girl & Ring Bearer Department of our Wedding & Anniversary Gifts Store. You'll find more Ring Bearer t-shirt designs, puzzles, and other fun toys and keepsakes that can be personalized for a special bridal party gift that your little helper will love!
Let us know what you think of our Ring Bearer Gifts by commenting below and be sure to keep checking back for our next Wedding Party Gift Guide post!