Before you walk down the isle and say your "I dos," before you even pick out your wedding dress and wedding cake and all the important wedding details, you need to ask your main girls, your sisters, and your best friends if they will stand by your side while you take one of the most important steps in your life.
Recently, this request has been elevated to new heights with "Will you be my bridesmaid?" boxes that contain gifts and knickknacks for the lucky recipients.
Brides love making them, and bridesmaids love receiving them. The bridesmaid box has become a unique and fun way to honor the ladies who will be dedicating their time and effort (not to mention their own money) toward making your wedding day go off without a hitch. It's a great way to thank your maid of honor and bridesmaids in advance, and make them feel special and excited about your big day. And let's face it, who wouldn't want to open up a cute box of goodies personalized just for them?
If your wedding is coming up and you want to know how to create bridesmaid boxes, here are ideas on how to personalize them, along with some helpful tips and things to keep in mind.
Figure out your budget
The great thing about bridesmaid boxes is that you get to decide what goes in them, which means you can make them as simple or elaborate as you'd like. If you have two or three bridesmaids, you can go with something more substantial, depending on your budget. If you have a larger wedding party, you might want to opt for something more simple.
Once you decide who you're going to ask to be in your wedding party, figure out how much you want to spend on your bridesmaid boxes. Your budget will dictate not only what goes in each box but how much you'll have to do yourself. For example, your budget should help you figure out if you can afford custom printed "Will you be my bridesmaid?" cards or if you should print out or write out your own cards.
Figure out what goes in the box
Once you have the numbers down, you can decide what to put in each box. Ideally, you'll want to include the same gifts for each bridesmaid; however, each box should still be unique. That is where personalized gifts and DIY come in.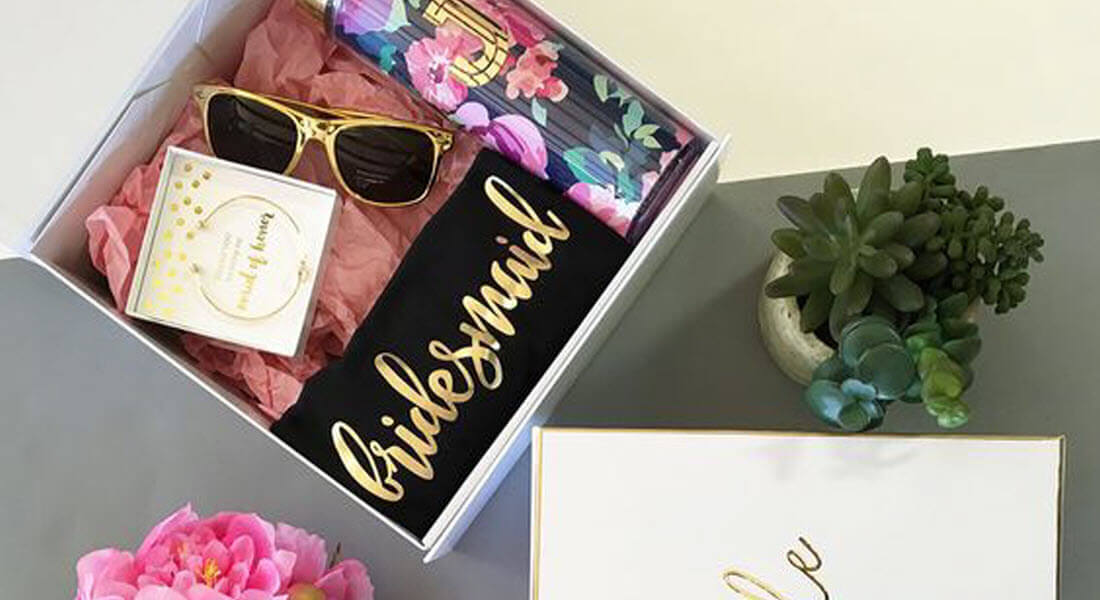 Of course, if you're including boxes for junior bridesmaids and flower girls, you can, and probably should, make them different. You can also add something extra for your maid of honor, if you'd like, or distinguish your main lady in some special way in your gift box.
4 things to put in every bridesmaid box
While you're searching for something old, something new, something borrowed, and something blue, here are four main things every bridesmaid box should include.
1. Something to ask the question
Include a personalized note that asks the big question. These can be custom printed, or you can create them yourself. The cards can be as pretty (or silly) as you want, just as long as the message is one that comes from the heart. Reminisce on a favorite memory from your friendship, or how you two met, and tell her why it's so important to you that she's by your side on your wedding day.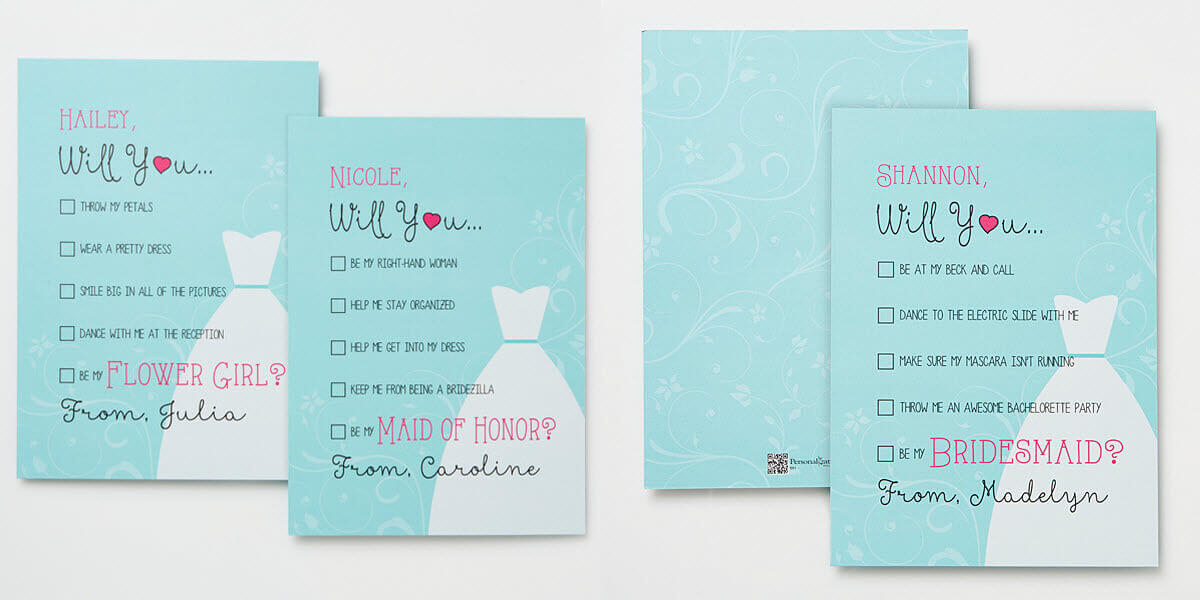 If you have room in your budget, you can choose from tons of cute and clever card designs that are perfect for just this purpose. If you go the DIY route, just have fun with it and remember that what's written on the card is more important than what the card looks like.
2. Something for her to enjoy
Whether it's her favorite bottle of wine or champagne, or a box of chocolates, include something that she can enjoy. Mini alcohol bottles work great, as do full bottles of wine or champagne. If your bridesmaid to be isn't drinking or is too young to drink, include a box of decadent chocolates or her favorite sweets.
You can even get personalized bottle labels to include on the bottles (and even the boxes of chocolate). There's even an option that includes the "Will you be my bridesmaid?" question right on the label!
3. Something personalized
The next bridesmaid box essential is something custom made and personalized. This is where the bulk of your spend will be, as this is really the main gift your gals will get to keep and enjoy. You can go simple and add just a monogram or initial, or go bigger and include their name and even their title: bridesmaid, maid of honor, flower girl, etc.
Here are three of the most popular personalized gifts for bridesmaids.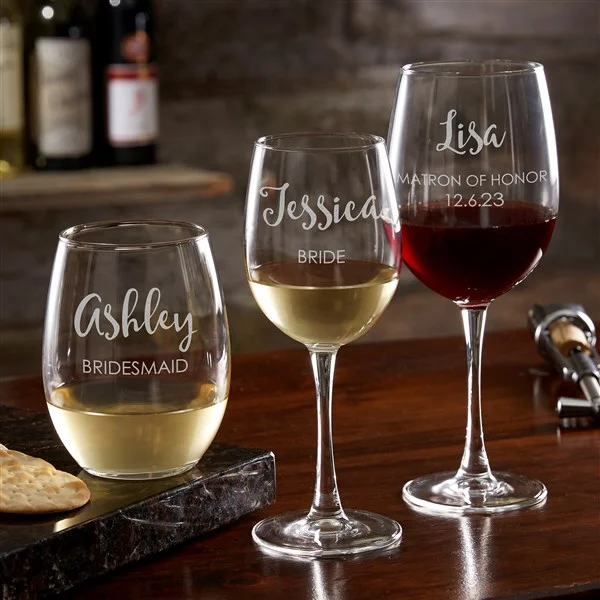 Champagne or wine glasses
Stemless wine glasses are all the rage (as are unique glass mason jar glasses), and these personalized ones will go great with your bottle of spirits, if you choose to include one.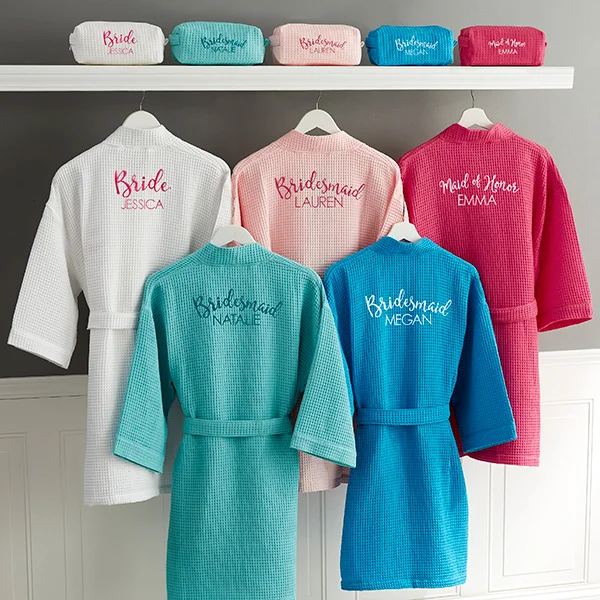 Robe and/or makeup bag
These kimono robes will come in extra handy on wedding day, making for great photo props as you get ready for the altar with your girls.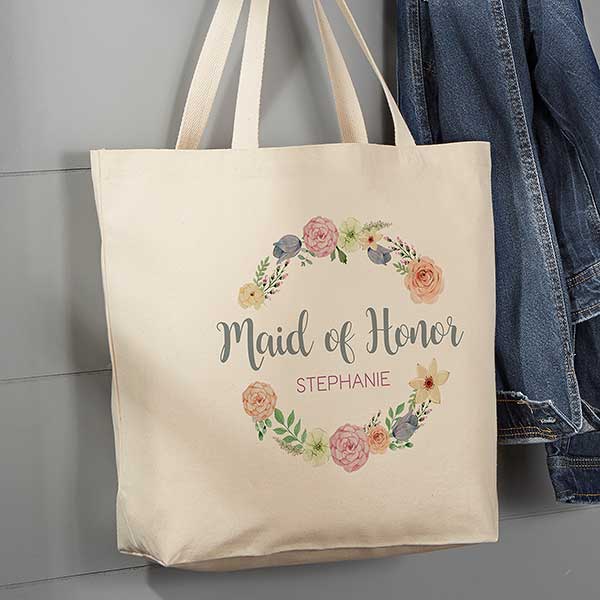 Tote bag
Anyone can appreciate a cute tote bag; it's a gift that your friends will get to use before, during, and after your wedding.
Other thoughtful options include a personalized tumbler (if you're going with something small and simple) or custom jewelry box (if you're opting for something a little more fancy).
4. Something personal
Finally, add something personal that your gals will treasure. Your favorite photo of the two of you is a great option; it will bring back memories and make your bridesmaid box truly special. You can make her a handmade bracelet, print lyrics to a song you both love, or add something with an inside joke that only the two of you know. This final part of your gift box doesn't have to cost a cent (and it probably shouldn't), but it is the one thing that will matter most.
---