'Tis the season to get into the Christmas spirit, and few things do the trick quite like decking the halls with festive home décor that captures the essence of the occasion. To help you make this year even more merry and bright than ever before, we've gathered a few of our favorite festive décoration ideas to enhance your holiday displays.
1. Claim The Mantle

Your fireplace and mantle take center stage in your family room's decorating scheme during the holiday season, more so than at any other time of the year. Of course, personalized Christmas stockings hung above the fireplace are a Yuletide must for any family, while the mantle's ledge provides infinite decorating possibilities. If you don't want to put nails or hooks on your mantelpiece to hang stockings, personalized stocking holders engraved with each person's name are more than a practical solution – they're also a beautiful, custom decoration in their own right.
Try decorating your Christmas mantle with a touch of greenery and a sparkle of string lights or candles accented with holiday figurines, custom shelf blocks, or even a personalized Christmas wood sign featuring one of your favorite holiday quotes.
>> See More Christmas Mantel Décor Ideas
Customize our Santa's Village figurine collection with your kids' names or these adorable Merry Christmas mice keepsakes to add a touch of fun and whimsy to your mantel. Or personalize one of our holiday shelf block sets, like this rustic printed wood design with the famous "There's no place like home for the holidays" saying or our popular Peace, Joy, Love wood blocks, for a totally unique and modern look. If you're looking for something you can display throughout the year, check out one of our custom photo blocks.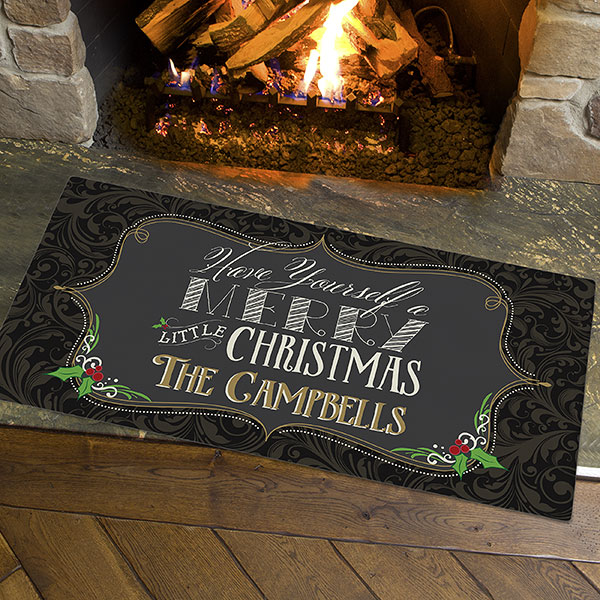 And if you plan on burning wood in your fireplace this season, consider one of our personalized Christmas doormats to add a decorative touch and help protect your floor.
2. Think Beyond The Tree

Of course, no festive family room is complete without the iconic Christmas tree. Your tree is an opportunity to showcase the memories, places, people and events that are special to you and your family in a style that's all your own. From beautifully embroidered tree skirts to personalized Christmas ornaments of all types, there's almost no limit to the ways you can make this year's Christmas tree capture the essence and character of not only the season, but also your family.
But your Christmas tree is just the beginning. Extend the holiday décor to the rest of your family room with Christmas picture frames, where you can feature your cherished family photos, or custom wall art, like this unique holiday family traditions canvas print, which will make a great keepsake as you rediscover your treasured family memories each year. Or create photo throw pillows or a blanket for your living room sofa and display your favorite Christmas photos there.
>> See More Custom Home Décor Ideas
If you want to go a step further, add a set of personalized holiday-themed towels in your guest bathroom, or custom kitchen towels in your kitchen. If you plan on entertaining, customize a set of coasters or cocktail glasses. Some of our favorite holiday bar accessories are these Spirit of the Season stone coasters, which feature different holiday sayings, and these fun frosted mason jar glasses that let you add up to three lines of text.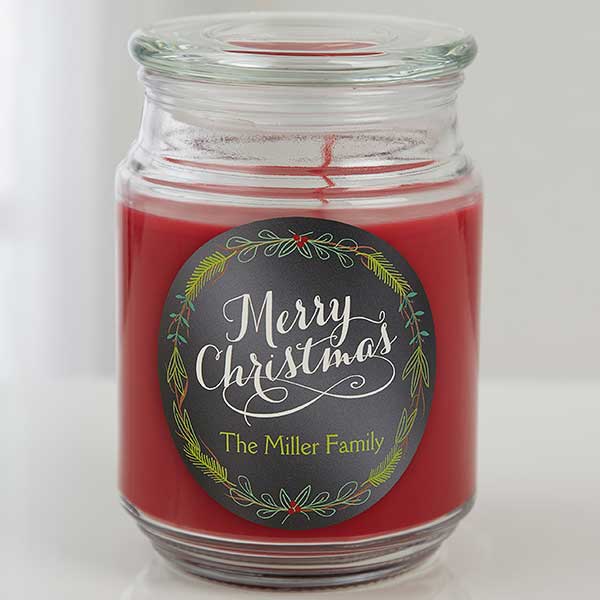 You can also create a warm and welcoming atmosphere in your home with a lovely holiday scent reminiscent of everything that reminds you of Christmas, like delicious apples and cinnamon, sweet peppermint, classic balsam fir, or sweet vanilla, nutmeg and clove. Just light your favorite holiday scented candle and fill your home with warm scents of the season.
3. Create A Warm Welcome

Welcome your family and guests with the holiday spirit by decorating your front yard, porch and foyer with more than just Christmas lights and garland. Add a personalized touch with a garden flag or yard stake customized with your choice of a holiday greeting and your family name. Or decorate your porch with this one-of-a-kind North Pole sign, which comes decorated with an evergreen garland and red bows and can be customized to include two lines of text.
Once your guests are inside the home, greet them with a festive door banner, like this design with a snowman holding a wrapped gift, or our popular Christmas countdown dry erase sign, which is a hit with the kids.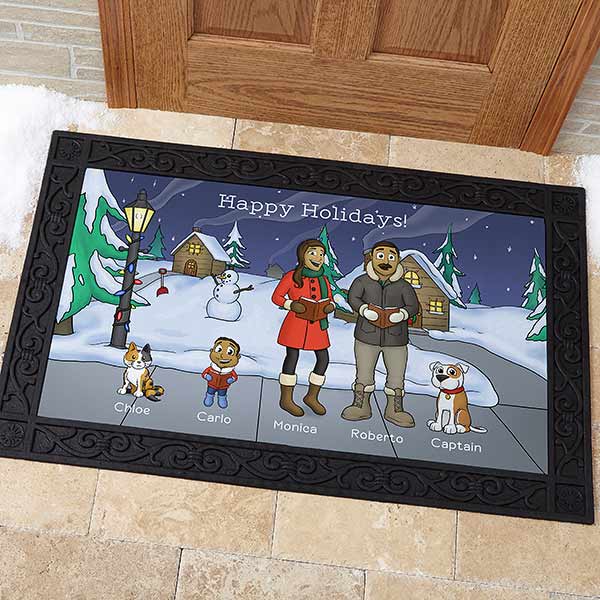 And of course, don't forget a fun and festive holiday doormat for your front door or foyer. One of our favorites is this caroling family doormat, which lets you choose up to six characters — including pets — and customize everyone's look with dozens of options.
4. Bring It All Together
The basics of Christmas decorating are pretty simple — lots of lights, sparkling accents, touches of evergreen and things that remind us of the holidays and winter. What makes the master decorators really stand out is having an identifiable style and a personalized touch. Creating a cohesive look is not about matching the style of the items, but instead incorporating a specific theme that unifies the individual decorations you choose.
For example, you can choose a regional holiday theme like coastal or rustic and add coordinating touches of your chosen theme throughout the room or the entire home. You can go modern and glitzy, traditional and classic, or choose holiday decorations inspired by your family's ancestral culture and homeland.
Whatever holiday décor theme you choose, make sure to add your own personality and style and make it comfortable, warm and welcoming. After all, that's what the holidays are all about.