Make your workspace more functional, enjoyable and conducive to work with these six helpful tips on how to personalize your home office.
With more people working from home, many are taking the time to improve their home office space. Whether you have a dedicated home office all to yourself or work in a small corner of your home carved out as your workstation, you can personalize your space to make it more practical and pleasant to work in. A personalized office can improve your concentration, motivation and inspiration, helping you stay on task and accomplish more throughout your work day.
If your current office space is dragging you down, it's time to organize, decorate and personalize your workspace to get you motivated and energized to get more done.
Here are 6 great ways to personalize your home office space:
Organize and declutter
Get inspired and motivated
Add a touch of nature
Add your personality and passion
Make it comfy and cozy
Accessorize with what you love
Note: These tips will also easily translate to your desk, cubicle or office at your regular place of work.
1. Organize & Declutter
First, clean the clutter and organize your office for maximum efficiency. Adding personalized decor won't help if your space is a mess.
Keeping your desk and workspace clean and functional is key. Organize your papers, notepads, books, pens, cables, gadgets and other things on your desk and shelves. Create a system for organizing your work and home documents and utilize organizers, file cabinets and bins so that everything in your office has its place.
Organize your notes on a multi-purpose memo board that allows you to jot down quick notes, write your daily goals, pin post-its and other things you want to keep top of mind.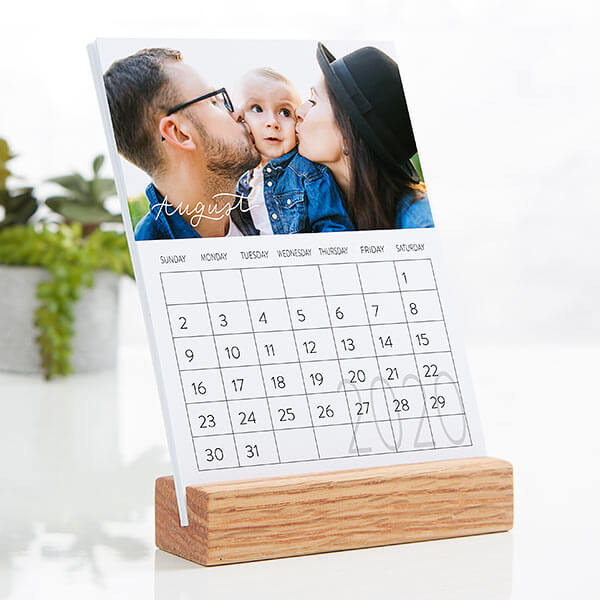 Use a desk calendar or planner to stay on track with projects, deadlines and important events. A personalized weekly or monthly planner and a modern wood easel calendar will add a practical and decorative accent to your desk.
Proper desk storage is key to keeping your workspace clutter free. Use a basket or a small bin to hold cables, extra charging cords, external flash drives, portable chargers and the like, or even function as your charging station. Use a decorative small plate, saucer or bowl for small things like paper clips and extra change. Or find personalized desk storage, like a monogrammed pen and pencil holder for storing your writing utensils.
2. Get Inspired & Motivated
It's interesting how even the smallest, most simple things can get us inspired and keep us motivated. Writing down our daily, weekly and monthly goals and creating daily reminders can be a great way to stay inspired and on track to success.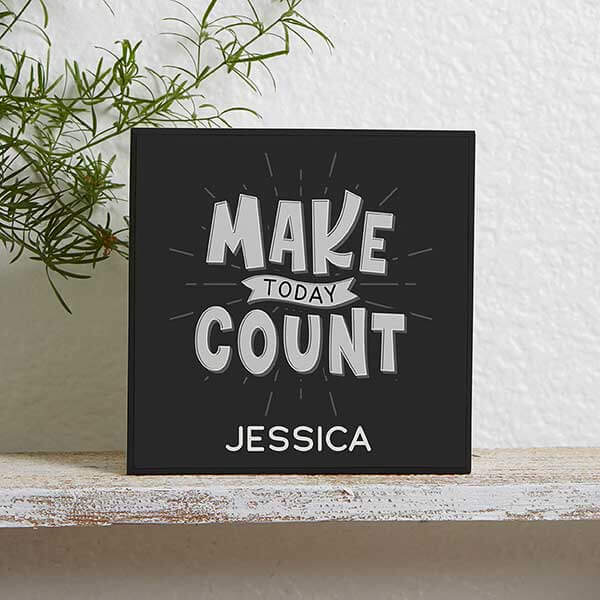 Find inspirational decor, like these fun wood blocks, that truly speaks to you, even if it's just a simple phrase or quote. Or write it down on your memo board or piece of paper and put it up on your wall. These daily reminders can do wonders for productivity, helping you remember your purpose, your true "why."
Become your own source of inspiration with this beautiful changeable letter board and wooden black letter tiles. You can update it whenever inspiration strikes with quotes, favorite sayings, reminders and words of wisdom to keep you going.
3. Add A Touch Of Nature
Natural elements can add beauty and a positive, calming feel to your home office. Whether it's a potted plant, fresh cut flowers or simply a view from your window onto your garden, a touch of green can add a fresh and lively feel to your workspace.
Consider houseplants that are easy to care for and offer air purifying benefits, like the spider plant, snake plant, aloe vera, English ivy and more. If you don't have a green thumb, look for low maintenance cacti, succulents and air plants. If you grow flowers in your garden, bring some color to your desk by placing them in a small vase. Even a fresh sprig of eucalyptus can add a soothing effect to your workspace.
Additionally, try to get as much natural light as possible in your home office to help boost your mood and overall health.
Another great way to bring some natural elements to your office is with an essential oil diffuser or a Himalayan salt lamp. Both can offer great health benefits, including enhanced mood and improved energy levels.
4. Add Your Personality & Passion
Decorative wall art offers an excellent way to bring your own style and personality to your office space. And since this is your home office, feel free to add as much of your personal life as you'd like. There's no need to keep your office looking professional; unless you engage in lots of video conferencing, in which case, just make sure you have a professional background for your video presence.
Include all the things you feel passionate about, all the things that bring you joy. Blow up that amazing honeymoon photo you cherish to remind you of the best days of your life. Put up all those adorable photos of your little ones. Go crazy with the musical band, artist or sports team you love, or display your favorite quirky collection of… whatever it is. If it makes you happy, why not make it a part of your home office?
These LED light shadow boxes custom printed with your favorite photos is an exceptional option. They add just a touch of ambient light while illuminating your cherished photos and can be displayed on your desk, shelf or another surface.
These rustic reclaimed wood photo clip frames are another neat option to bring some personality to your office space. You can personalize them with any text and change out the photos as often as you like.
When turning photos into wall art, consider custom photo canvas tiles instead of stretched canvas. You get the same beautiful textured look and feel of real canvas for much cheaper than traditional options. Custom canvas tiles are made from the same quality canvas material that's been adhered to a lightweight board, instead of stretched onto a frame. They also offer the same gallery wrap edge printing, so you really can't tell the difference.
5. Make It Comfy & Cozy
A big part of personalizing your home office is making it comfortable for you to work in. Start with a comfortable desk chair since you're spending so much time in it. Better yet, invest in a standing desk so you can stretch out your legs, reduce back pain and improve your energy and productivity. If a standing desk is not an option, look into a ball chair to use a few hours during the work day. Both can help improve your posture, circulation and help you move and change your position more frequently than if sitting in a chair all day.
The benefits of getting out of your desk chair are enormous, but if you're stuck with what you have for now you might want to have a comfy lumbar pillow and a throw blanket to keep you cozy while you work. Adding some fabric accents will also allow you to bring in new colors, patterns and textures to your office decor. And of course, to add your personal style as well.
If you find yourself getting chilly while you work, a warm throw or shoulder wrap should come in handy. The advantage of a custom cuddle wrap is that it's just the right size to drape over your shoulders and it includes pockets! You can choose from a number of designs and customize colors, patterns, text and even photos.
Another convenient accessory to help you stay comfortable while working from home is a wooden lap desk. It's perfect for working on your laptop or tablet away from your desk, with a slot on top for holding a tablet and an attachable wooden tab on the bottom for holding a laptop in place. This version can also be customized with any name, monogram or initial.
6. Accessorize With What You Love
Complete your personalized home office decor with functional accessories that show off your personal style and character.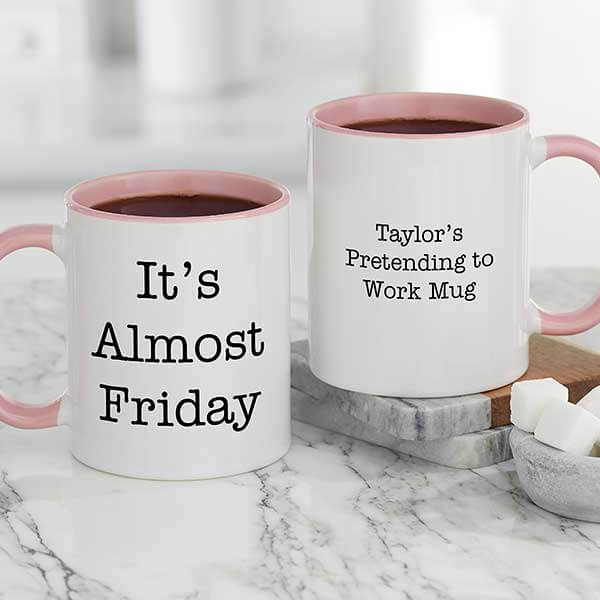 Customize a coffee mug with some favorite photos or phrases to get you going in the morning. Or create a custom mouse pad with photos or your name. Personalize a fun paper note cubes, a paperweight for your desk or a clip holder block for notes and photos. You can even design a jar to hold change, small office supplies, or little slips of paper with the goals and dreams you want to accomplish one day.
What are your favorite ways to decorate, accessorize and personalize your home office space? Share your ideas in the comments.