Now that the new baby is here it's time to share an adorable photo of your new bundle of joy with all your family and friends!
When it comes time to picking out a photo to use, it may be hard since you think every photo of your new little one is perfect :)! We suggest adding a personal touch to your photos, like the hilarious photo we saw on Pinterest that features a baby in a box of packing peanuts with a book titled "Owner's Manual, Model: Newborn Baby." Or you can always go the adorably cute route and sneak a photo of your precious little one taking a nap like a lot of the other photos we've pinned.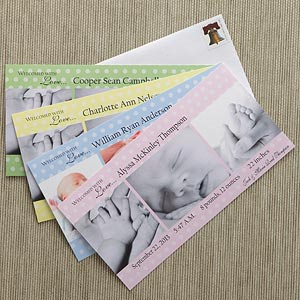 Have fun with your new baby photos and once you've picked our your favorite image, head over to PMall.com's Baby Gifts Store and check out the Birth Announcements Department where you'll find a bunch of cute designs that you can personalize with all of your own information. The Polka Dot Love Photo Baby Announcement is one of our most popular designs and can be personalized in blue, green pink or yellow. This design (at left) features any 3 baby photos and the option to add all of your little one's birth information including his or her's name, birth date, birth time, height and weight! The pastel colors and cute polka dot theme for these announcements are beautiful and serve as the perfect background to your new baby's photos.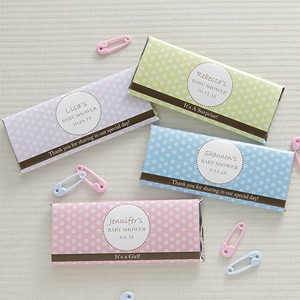 The Polka Dot Baby Announcement design is also wonderful because it matches the Pretty Polka Dot Personalized Candy Bar Wrappers! This and other candy bar wrappers can be found in the Baby Favors & Party Accessories Department. Instead of passing out those old pink or blue gum cigars, add a personal touch to sharing the good news with all of your family and friends by personalizing these candy bar wrappers with all the birth details. If you have other children, the candy bar wrappers are a great way to help your kids celebrate their new sibling. They'll be so excited to bring them into their class and school and hand them out to all of their teachers and friends!
So start working on your birth announcement photos and then head over to PMall.com's Baby Gifts Store where you'll find everything you need to celebrate your new little boy or girl!