Add this fun romantic printable to any picture frame to create a dry erase love note you can update every day!
Looking for an easy, thoughtful and lasting way to show the people you love just how much you love them? With just a picture frame and this free "I Love You Because…" printable you can create a dry erase sign to remind them of how special they are each and every day.
It's a sweet and super easy way to show your partner and even your kids that you're thinking about them. It's also a great opportunity to tell them exactly what you love and appreciate about them most.
"I Love You Because… you protect me from scary spiders."
"I Love You Because… you make the best coffee."
"I Love You Because… you give amazing hugs."
"I Love You Because… you make me smile."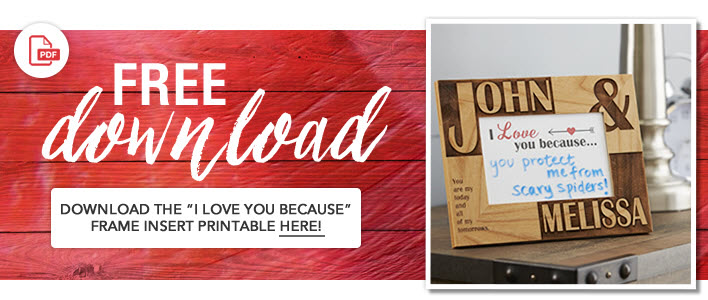 How To Make A DIY Dry Erase Sign
To create this easy DIY dry erase sign, start by downloading, printing and cutting out this "I Love You Because…" free printable. You'll notice that the printable is made for both vertical and horizontal orientation. Next, find a 4×6 picture frame that you'd like to use. We recommend a beautiful, personalized romantic picture frame so you can make it even more special.
Once you have the picture frame, put the printable behind the glass instead of a photo. Now you can use any dry erase marker to write directly on the glass and it wipes clean — it's that simple!
You can hang your dry erase picture frame sign in the bedroom, bathroom or hallway and add a new love note to it every day. Or put it on your sweetheart's nightstand or a side table where you know they'll see it.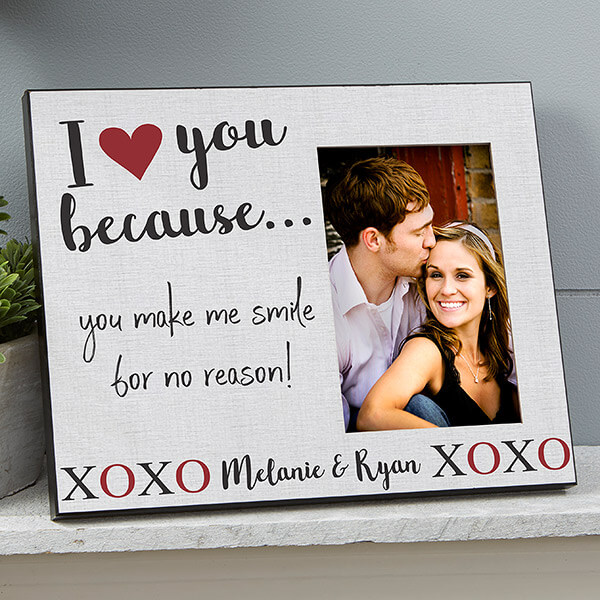 Check out more custom picture frames to find just the right one to create your dry erase board. Choose from hundreds of unique designs and add your names, initials and even a short message to make this cute Valentine's Day DIY project something you'll love and adore for a long time.