Try these 3 homemade hot chocolate recipes and find out the secret to making the best tasting hot chocolate.
During the cold winter months there's nothing better than a mug overflowing with delicious hot chocolate. Topped with dollops of whipped cream, marshmallows, spices or sprinkles, the perfect creaminess of a homemade hot chocolate can make even the coldest days feel cozy and warm. Enjoy your hot chocolate in a custom coffee mug or make one for your friends and loved ones.
Did you know January 31st is National Hot Chocolate Day? I was a bit surprised when I heard that. Didn't we just celebrate hot chocolate day on December 13th? What I didn't realize is that December 13th is National Cocoa Day, not Hot Chocolate Day, and yes, there's a big difference!
What's The Difference Between Hot Chocolate & Hot Cocoa?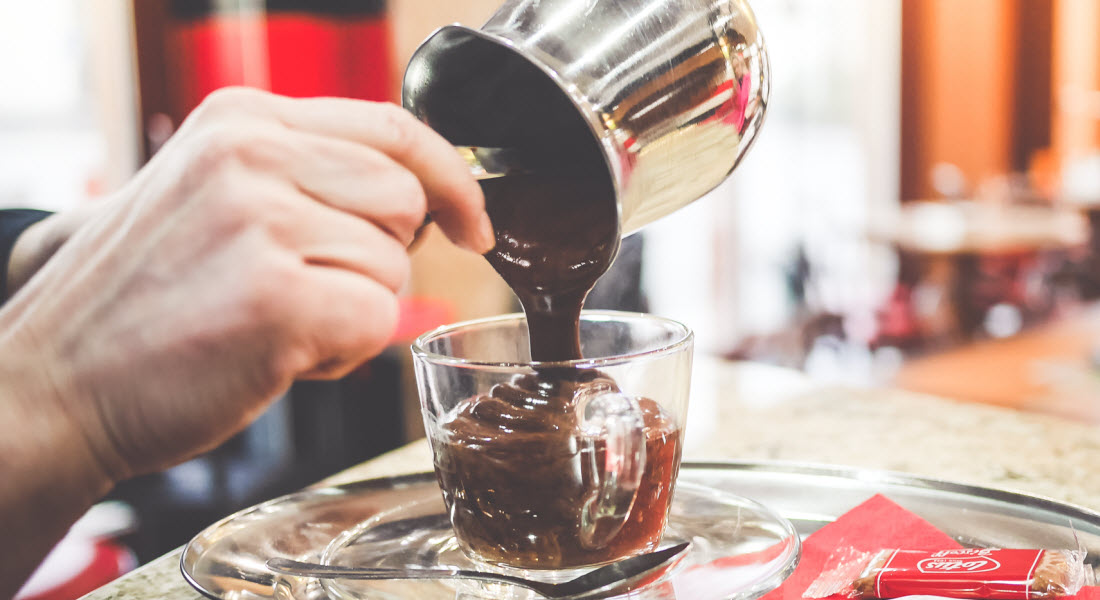 I didn't know this until I looked it up myself, there's actually a big difference between hot chocolate and hot cocoa. Many people use them interchangeably and there's even recipes out there that call hot cocoa a hot chocolate and vice versa. Both a delicious drinks in their own right and while many prefer one over the other, you might enjoy both equally (like me!).
The difference between hot chocolate and hot cocoa comes from the ingredients.
Hot chocolate typically incorporates real melted chocolate and milk, resulting in a rich, creamy, thick drink.
Hot cocoa is usually made with powdered cocoa, sugar and water (and sometimes a bit of milk or cream), creating a less creamy but actually a more chocolaty taste.

How is it possible that hot cocoa has more of a chocolaty taste than actual melted chocolate? We were curious about this as well. According to An Educated Palate, hot cocoa is more concentrated and since it's in a powdered form, it has less natural cocoa butter (less vegetable fat), and fat can minimize flavor.
What hot cocoa lacks is the richness and creaminess of hot chocolate, and as An Educated Palate so wonderfully put it, hot cocoa just doesn't have the " luscious mouthfeel of a cup of hot chocolate." From our experience, hot chocolate is not as sweet as hot cocoa, but definitely more decadent.
How To Make The Best Hot Chocolate (Tip: No Powder!)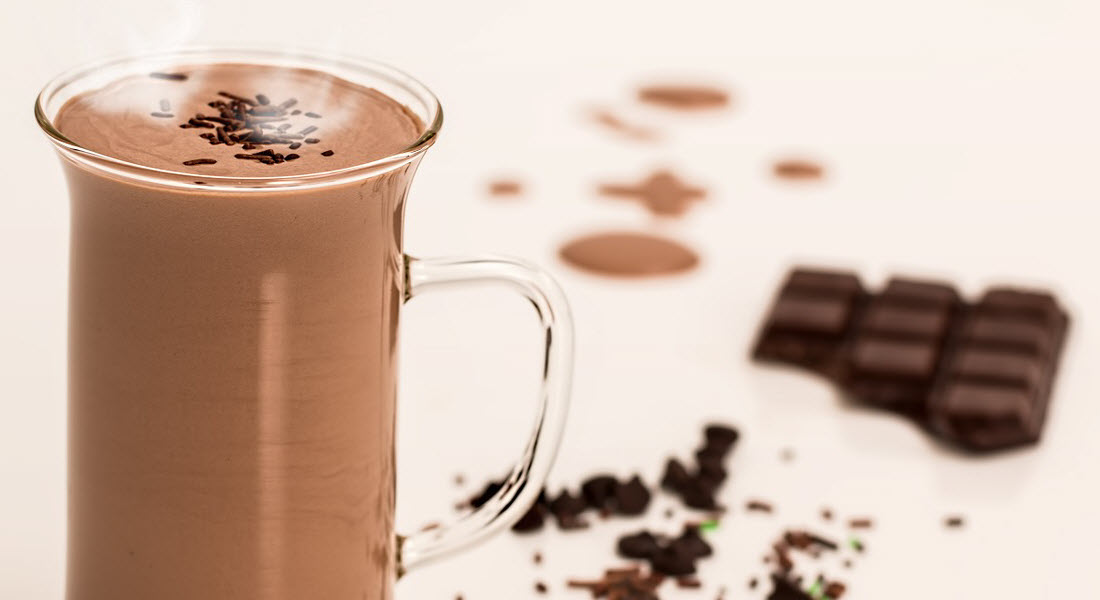 Are you ready to make a cup of real hot chocolate to celebrate National Hot Chocolate Day? Remember, the key is to use real chocolate and no cocoa powder.
Start with good quality chocolate that's either shaved or chopped up into small pieces (or go with chocolate chips) that will be easy to melt in a pan. You can use milk chocolate and even white chocolate, but we've found that dark chocolate (at least 70%) is truly the best.
The other vital ingredient is milk. Some recipes will call for a combination of hot water and milk, and sometimes half-and-half or cream. We suggest trying different combinations and playing around with the recipes until you achieve the taste you want. If you're trying to avoid dairy, you can use soy, almond or coconut milk instead.
Depending on the recipe, you can add spices (like cinnamon or nutmeg), nut butters and spreads (like almond butter and Nutella), liqueurs (like chocolate liqueur, bourbon or rum) and lots of fun toppings (like whipped cream, marshmallows, sprinkles and more).
3 Amazing Hot Chocolate Recipes
Here are three amazing hot chocolate recipes that are simply to die for. The Unicorn Hot Chocolate is the latest sensation and an absolute hit with the kids. it's actually easier to make than you think and the results are amazing. The Nutella Hot Chocolate recipe will appeal to Nutella fanatics out there and anyone who appreciates the sweet, nutty, hazelnut flavor. My favorite is the Dark Hot Chocolate. It's intense, almost intoxicating, and absolutely delicious.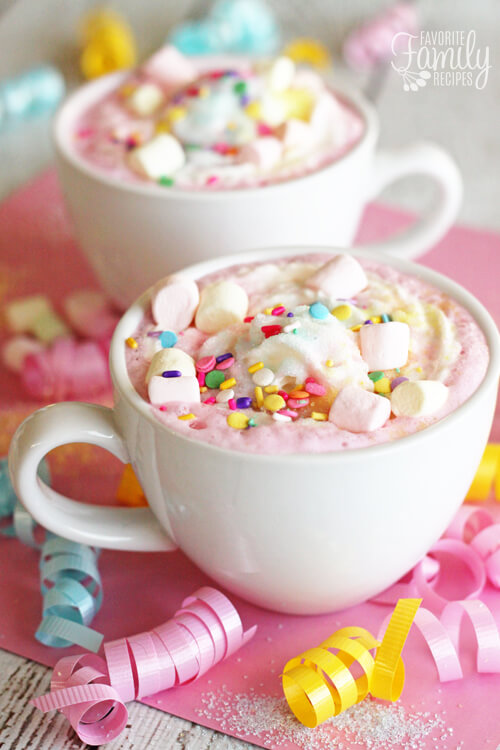 1. Unicorn Hot Chocolate Recipe
This Unicorn Hot Chocolate from Favorite Family Recipes looks like pure magic. It's colorful, whimsical, sweet and tasty.
Ingredients include white chocolate chips, half and half, milk, vanilla extract, food coloring (to make it magical), whipped cream, marshmallows and sprinkles to top it all off. For full recipe and instructions, visit Favorite Family Recipes.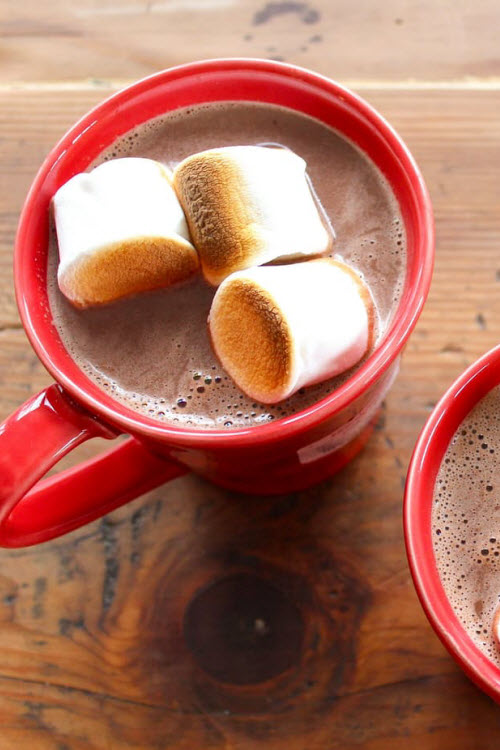 2. Nutella Hot Chocolate Recipe
This Nutella Hot Chocolate from The Kitchn can be spiked with optional liqueur to, you know, bring out the flavors of the Nutella.
To make, you'll need Nutella, milk, cinnamon and whipped cream or marshmallows to top. You also have the option to add bourbon, cacao rum, chocolate liqueur or Frangelico. For full recipe and instructions, visit The Kitchn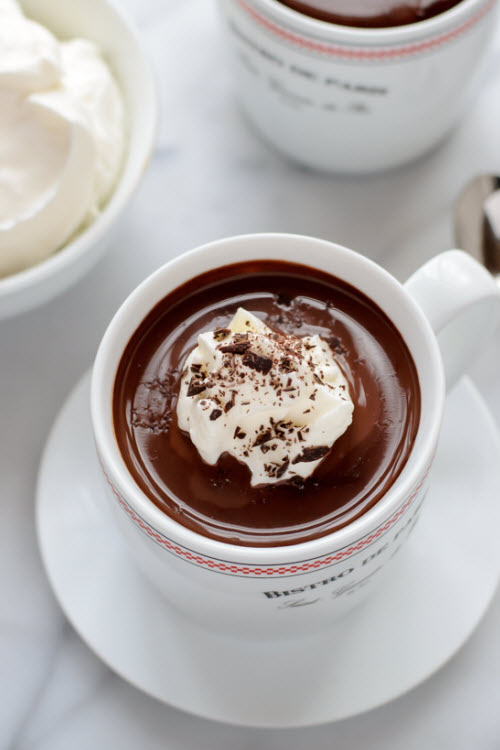 3. Dark Hot Chocolate Recipe
This Dark Hot Chocolate from Well Plated is reminiscent of the real French hot chocolate and is simply divine.
The ingredients are simple and include dark chocolate (at least 70%), milk, heavy cream, powdered sugar and whipped cream. There's also the option to kick it up a notch with a tiny bit of espresso powder. For full recipe and instructions, visit Well Plated.
Try one, try them all! And tell us which one you loved the most!