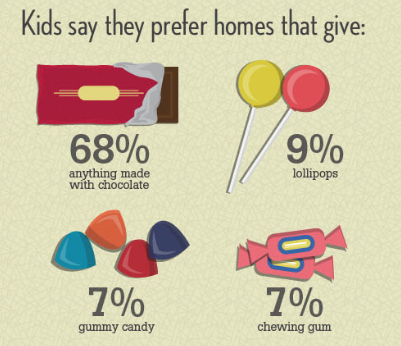 PersonalizationMall.com wanted to learn more about the candy that would be filling the adorable and popular treat bags that our customers keep talking about this Halloween, so they started doing some homework.
After looking through information from the U.S. Census Bureau and the National Confectioners Association, they compiled a list of fun facts about Halloween Candy Consumption that we thought you'd like. They wanted to know what type of candy kids like most, what types of candy kids were receiving, and what they do with it after they're done trick or treating.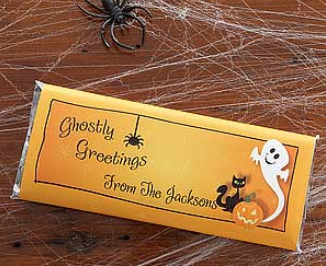 One of the interesting facts they found is that 68% of kids say they prefer homes that give out anything made with chocolate. As you can see by the above graphic, the next most popular candies are lollipops with 9% of the vote then gummy candy and chewing gum round out the bottom with 7% of the vote each.
So it looks like if you want to give out the best treats and not get any tricks, don't forget the chocolate this year!
If you've always wanted to be the "cool house" on the street that the kids always run to first, personalize the Ghostly Greetings Custom Candy Bar Wrappers for your treats and you'll be the talk of the neighborhood between kids and parents alike!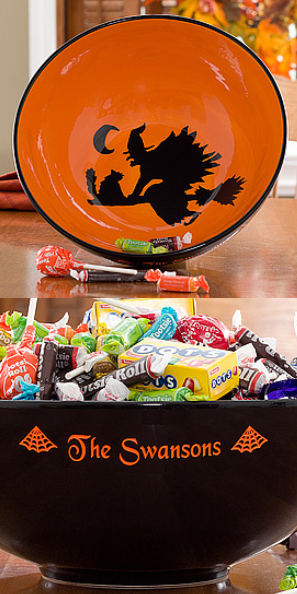 Also on the Halloween Candy Consumption site is the fun fact that 4 in 10 adults admit that they sneak treats from their own candy bowls. Well those parents wouldn't have to feel guilty about dipping into their own stash if they personalize our Halloween Candy Bowl because instead of kids being disappointed that it looks like there's no candy left, they'll be excited about the hidden design on the inside of the bowl (see picture)!
But the Halloween bowl doesn't have to just be for candy, you can use it all October long! You can host a Halloween party and use it as a punch bowl or to hold chips, or if you're planning on attending a party you can always give it as a hostess gift – the bowl would look beautiful just as a display piece because of the hidden design! The chic black and orange design makes it the perfect Halloween acessory no matter how you use it!
If you'd like to read more of the interesting candy facts, like how parents' least favorite goodie to take from their kids' trick-or-treat bags is licorice, click here to read them all!
And to see all the Halloween gifts that we have to offer, click here and to start shopping!
Happy Haunting!