We want to make sure that you have the most fun as possible when you head to your local St. Patrick's Day parade, so we have compiled a list of items for you to bring to ensure that you have a blast shaking your shamrocks this March 17!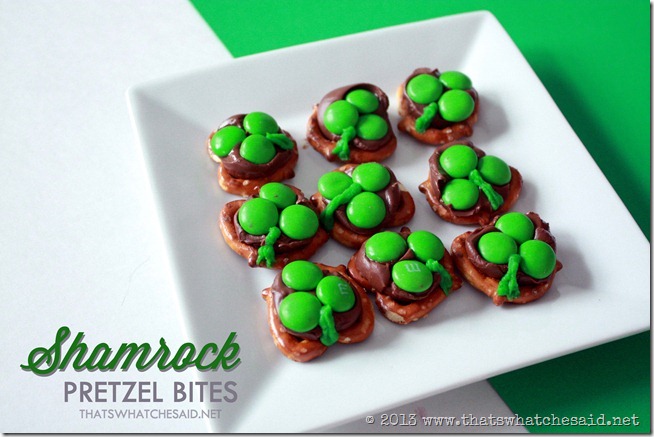 First on the list is, of course, food. These Shamrock Pretzel Bites are the perfect treat for you to bring with you to the parade. They're festive, fun, affordable, portable, and — best of all — easy to make!
Just place an unwrapped Hershey's Kiss on top of each of the pretzels and bake them for seven minutes at 200 F. When they're finished, take them out of the oven and place three green M&Ms on top of the melted chocolate right away. Once cooled, add a line of green frosting to each of the pretzels to create the shamrocks' stems. And there you have it — the perfect St. Patrick's Day parade snack!
Both adults and kids will love noshing on these while they watch the bagpipers and Irish dancers go by.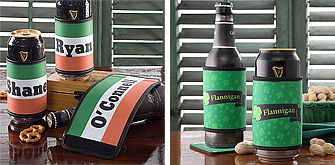 You'll need something to wash down the Shamrock Pretzel Bites, so be sure to bring a cooler of water, pop, beer, and/or whatever drinks you'd like. Just make sure to stay in tune with the St. Patrick's Day theme by wrapping them in the Irish Flag or Irish Pride Personalized Can & Bottle Wraps. The wraps feature Velcro tabs for easy closing and removal, plus rubber lining for a secure and snug fit. You'll be able to keep your drinks cold, your hands warm and, since you can personalize them with any name, other people's hands off your drink! You can create one for the kids to use for their pop and create one for the adults to wrap around their Guinness for this year's parade, and for many more to come.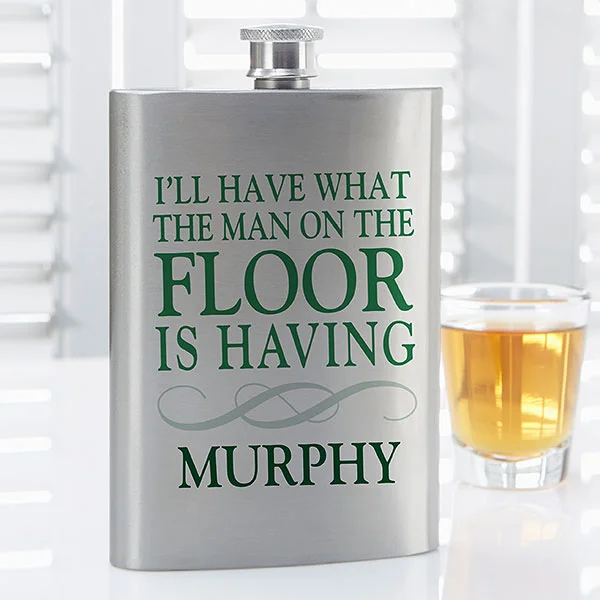 If you or some of the other adults prefer to enjoy Irish whisky or stronger spirits on St. Patrick's Day, then we have just the way for them to do it. The Irish Quotes Personalized Flask will carry up to 8 fluid ounces of your favorite beverage, so you can stay warm at the parade and toast your Irish heritage in style. The stainless steel flask is delicately hand etched with any name below the custom quote for a distinguished Irish look. This is another St. Patrick's Day accessory that you'll be able to enjoy year after year. The flask and can wraps also make great gift ideas for the host or hostess of the party you go to after the parade.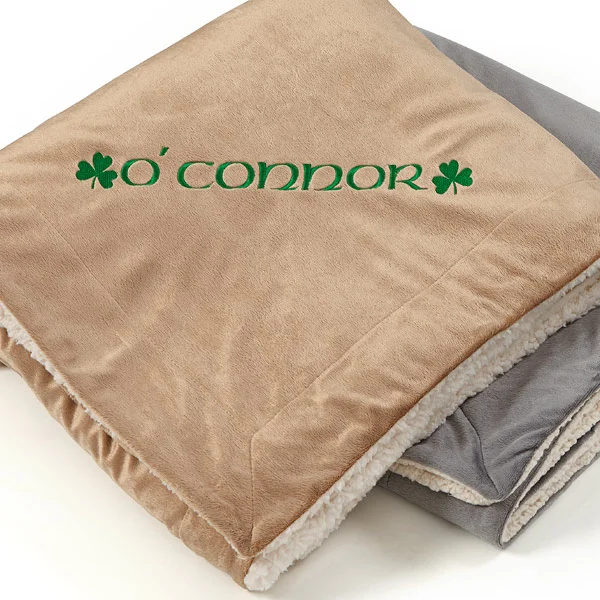 Depending on what part of the country you're from, it may be a little chilly on March 17, so you'll want to make sure you customize your own Irish Pride Embroidered Sherpa Blanket to keep you and your family warm as you wait for the parade to start. The super soft and comfortable faux lambswool sherpa features a simple yet distinctly Irish design that can be personalized with any family name. Head over to the parade location early and use the blanket as a space saver to secure your favorite location to watch from — since the blanket displays your name proudly, everyone will know which is "your spot."
If you check out St. Patrick's Day Gifts Store, you're sure to find even more awesome parade party accessories. We recommend personalizing a T-shirt or another article of clothing so everyone in the parade will be excited to walk by your section. Don't let your dog feel left out: They can show off their Irish pride too with the Lucky Dog Personalized Dog Bandana!
With all these awesome parade accessories, your group is sure to stand out from the crowd and have the time of their lives. You'll be having so much fun, you'll want to make sure you remember this fun holiday forever, which you can do with the Irish Blessing Personalized Picture Frame. You can personalize it with the name of your family and one of four traditional Irish blessings, or write your own special message.
Make sure to stay safe while you're having all that fun this St. Patrick's Day. Sláinte!