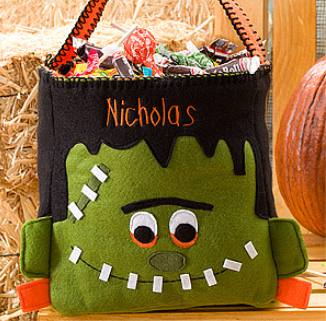 Halloween lands on a Monday this year which means your kids will be stuck in the classroom all day anxiously waiting for the bell to ring so they can head out and start their trick or treating. Just imagine how thrilled they'd be if you were to send them to school with a Halloween themed lunch to help get them through the day!
To start their day off right, surprise them by handing them a Freaky Frankie© Embroidered Trick or Treat Bag or one of PersonalizationMall.com's other popular treat bag designs with their lunch inside! They'll love that you switched up the usual boring brown bags and sent them to school with a lunch bag they can actually use! They'll be able to fill Frankie with the goodies they get from their Halloween party at school and then they can bring him home to use when they go trick-or-treating that night!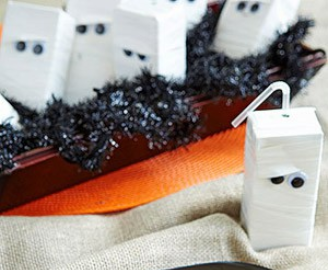 Now that you've wowed them with the actual lunch bag, it's time to find ways to bring some Halloween fun to what's inside! Put together their favorite sandwich and put it to the side for now, we're going to use the side items to carry the Halloween theme for this masterpiece from mom!
The first thing you grab should be their juice box, after all it should be in the bottom so it doesn't smash the sandwich! And thanks to Parents.com's post about "scary sippers," we have a way for you to transform their juice box into a mummy in 2 easy steps! Just pick up some white electrical tape from your local hardware store and wrap it around the juice box, remembering to leave a space open so your son or daughter can still bunch a hole with a straw. Then add a pair of googly-eyed stickers to the front and there you go! A mummy juice box!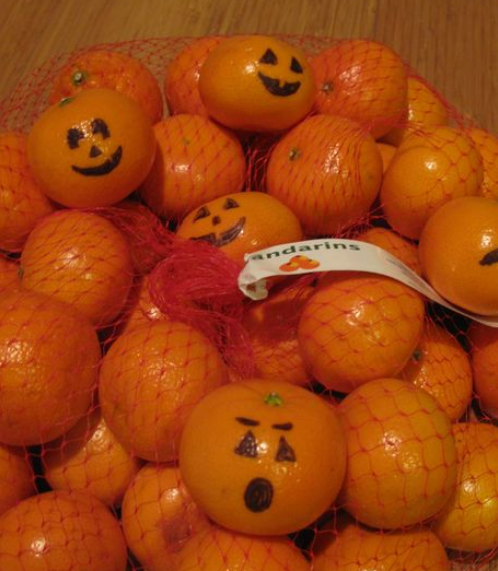 We couldn't plan a Halloween lunch without finding a way to incorporate a pumpkin which is why we were thrilled when we came across the Under Construction Blog that suggested coloring oranges or clementines with black marker to make the perfect freaky fruit! Your kids will love the jack-o-lantern in their lunch and you'll be happy knowing your were able to get some healthy fruit into their lunch on the day known for it's supply of sweets!
You can add your own personal touch to the fruit by creating a goofy face, scary face or even adding a note or a simple "Love, Mom" on the back! It's an easy tip that any mom can do, even if you aren't that crafty!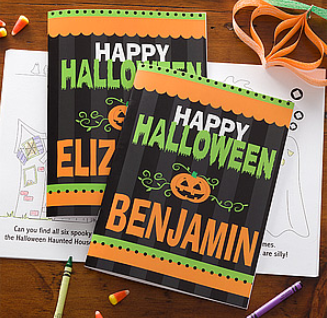 Speaking of crafty, we have the coolest surprise for you to add to your son or daughter's surprise Halloween lunch on October 31st … it's the Happy Halloween© Personalized Coloring Activity Book & Crayon Set!
Personalize the coloring book by going to the PersonalizationMall.com item page here and selecting one of four characters that most resembles your child, then type in their name and click the button that says "click to view your personalized item." There you can see how your child's name will be personalized on the cover and throughout the 24-page activity book!
The book includes an answer key for the games and puzzles and comes with a set of 24 Crayola® Crayons. Your kid will have a ball coloring and playing the games and activities with their friends during lunch or on the bus ride home, too!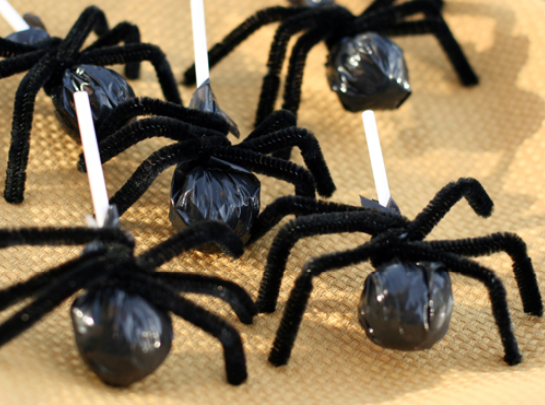 Finally, no lunch is complete without dessert! The spider suckers we saw were so creepy we had to include them! All you have to do is take a couple of black pipe cleaners, which you can get at any craft store, and twist them around the stick of a lollipop. Bend the pipe cleaners down at the end so it looks like they're actually walking on furry spider legs. Can you imagine the look on their faces when they see these spooky suckers crawling out of their lunch bag? They're sure to be a hit with your kids and their friends!
We hope these tips help bring some fun to your kids' Halloween lunch this year. Even if your child is having a classroom party, you could make any one of these items for the whole class! You'll be the talk of the cafeteria! We'd love to hear what you think of our tips, or if you have any tips of your own that you would like to share please do so by commenting below or by sending an email to us at social@pmall.com. We'd love to see pictures of how your lunches turned out, too!
Happy Halloween!