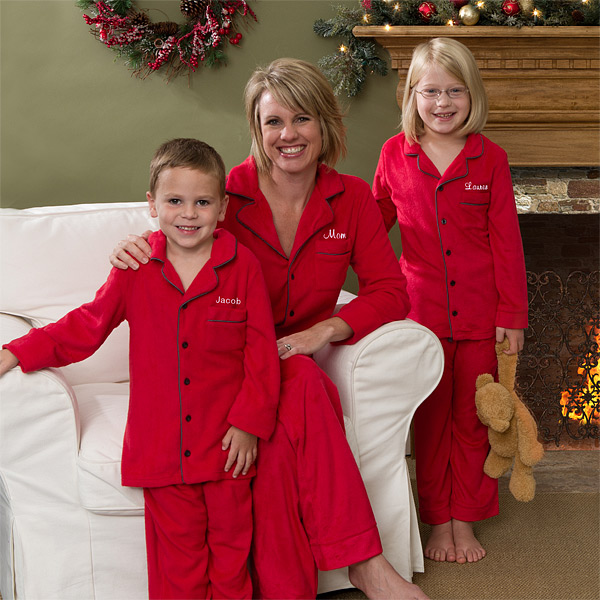 *Visit our 12 Days of Christmas Magic Page where you'll find even more fun ideas for Christmas!*
Christmas Eve is one of the most special days of the year and with it comes an abundance of excitement and anticipation, so much so that the evening seems to fly by and come to an end before you have a chance to revel in the magic.
Well, we've come up with some great ideas and new traditions that will not only help make your Christmas Eve more memorable, it will also give you and your family the chance to really "be in the moment" and savor every minute of this special night.
For starters, kick off the night with a new tradition by letting the kids open one present on Christmas Eve – new personalized pajamas! Our Holiday Cheer Embroidered Pajama Sets are the perfect PJs because they can be embroidered with any name in both adult and youth sizes so the entire family can match! The kids will love getting a chance to open a gift early and Mom will be happy because it ensures that the kids will be dressed in cute PJs for Christmas Morning pictures!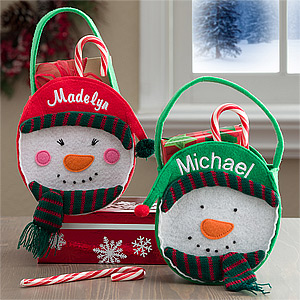 Once everyone is nice and cozy in their new personalized PJs, sit down as a family and read the popular Christmas book The Polar Express by Chris Van Allsburg to get everyone in the mood for the adventure you're about to surprise them with! When you've finished the book, announce that it's time for bed and escort the kids to their rooms.
On each of their beds, hide an Embroidered Snowman Mini Treat Bag under the covers. Choose a boy or girl treat bag design for each of your little ones and have it embroidered with their name.
Have a camera ready because you'll want to capture all of their giggles and screams as they discover their Christmas Eve surprises!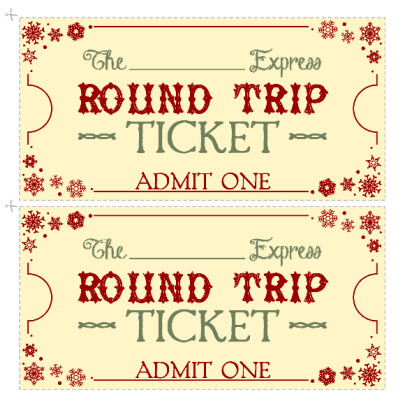 Inside each of the treat bags, include their favorite candy or snacks and most importantly – their special ticket for the "(Your Name Here) Express" (Click HERE for a free printable of our exclusive Express tickets (at left) that you can personalize with your own family name)!
Explain that they've just received a special ticket to go on a magical adventure and have them put on their coats and slippers and head the family car or van with their new treat bag and ticket.
When everyone is lined up, act as Conductor and punch a hole in each of their tickets before they climb into their seats.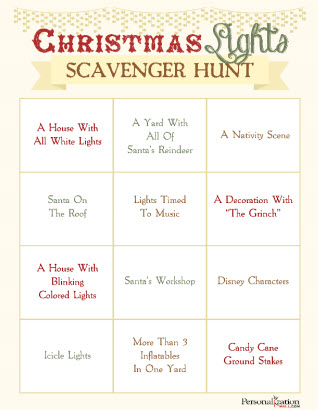 Once everyone is buckled in, hand them their Christmas Lights Scavenger Hunt List (Click HERE for a free printable of our exclusive Christmas Lights Scavenger Hunt List) and a crayon and set out on your Christmas Eve adventure!
Take them on a car ride past all of the best decorated houses in your area so they can find items from their scavenger hunt list.
They can snack on the goodies in their treat bags as they stare out the window in wonder of all the beautiful twinkling lights of the neighborhood.
You can all work together as a family to find everything on the list or make it a friendly competition and suggest that whoever finds all of the items first wins a prize or gets to open the first present on Christmas morning.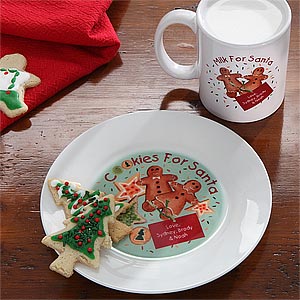 Once you've finished your magical adventure on the Family Express, it's time to make your way home. Before sending the kids off to bed, remind them to set out the special Cookies & Milk for Santa Plate and Mug that you can have personalized with their first names or any 3-line message. They'll love knowing that Santa knows exactly who the cookies are from and they'll head off to bed excited to wake up and see how many he ate!