What would Valentine's Day be without some treats from the heart?
There are all different types of chocolates, cakes and candies that are decorated with red and pink hearts this time of year … but have you ever seen a treat with a heart inside it?
We hadn't either until we saw this unique recipe from the "Made With Love, By Me" Blog, which teaches you how to bake a heart inside a cupcake!
As you can see from the picture, the inside of the cupcakes feature a bright hidden heart as soon as you cut into them. The recipe is really easy and doesn't require anything out of the ordinary with the exception of a heart-shaped cookie cutter.
These are the coolest Valentine's Day treats we've ever seen.
But a gift or treat is only as good as its presentation and we're excited to say that we've found the perfect way to decorate these hidden Valentine's Day treats!
We have two different Valentine's Day Cupcake Wrapper designs we know you'll love.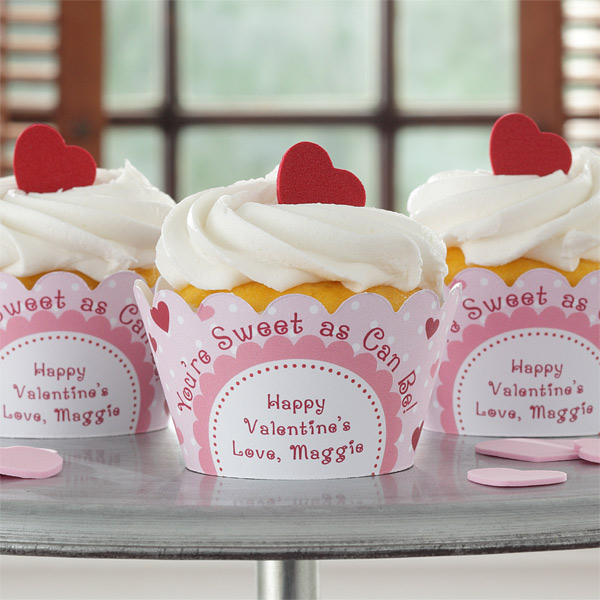 The first of our cute Valentine's Day wrappers are the Be My Sweet© Personalized Cupcake Wrappers, which are printed in a sweet pink and red design and finished with delightful, scalloped edging and feature any 3-line message you create. Your special lines of personalization will be displayed right under the word rainbow that says, "You're Sweet As Can Be."
Once your cupcakes have cooled from the oven, you'll slide the ends of the personalized wrapper together easily with the tab and then place the cupcakes inside for decorating that is just as easy as it is beautiful! The festive wrappers come in sets of 24 and are sold for just $19.95 per set. Bring a batch into work and impress your coworkers with your baking and one-of-a-kind presentation skills!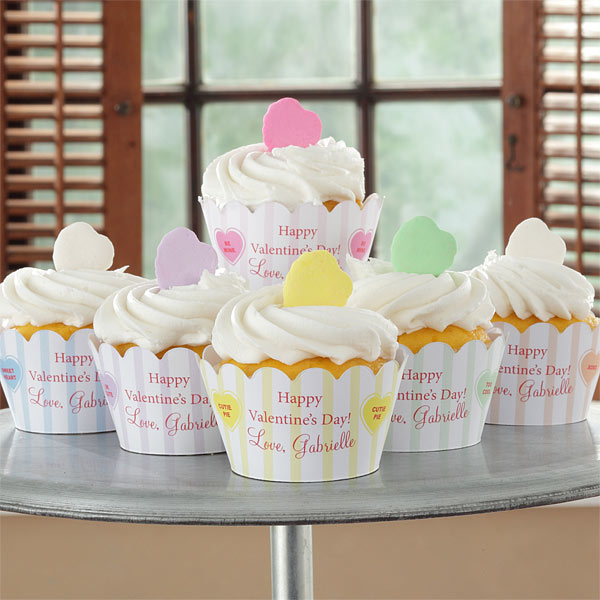 If you're looking for a more colorful Valentine's Day presentation, the Candy Hearts© Personalized Cupcake Wrappers are right up your alley! This cute design, which features any 1-line of personalization under a "Happy Valentine's Day" message, comes in 6 different colors! This colorful theme is also sold in a set of 24 wrappers for just $19.95.
The additional color options make these wrappers perfect for decorating cupcakes to bring in to your child's classroom party.
Personalize the wrappers with their teacher's name, such as "Miss Johnson's 5th Grade Valentine's Day Party" and watch as your son or daughter's classmates smile and gasp when they find the hidden heart inside your tasty Valentine's Day treats! When you bring them into the class party you'll earn some "Cool Mom" bonus points and create a fun and memorable moment that they will remember forever!
Head over to PersonalizationMall.com now to get started with personalizing your own set of cupcake wrappers and while you're there, check out all our personalized Valentine's Day Gifts!
Happy Gifting!