Find new ways to use wine corks in your wine themed wedding with these inexpensive, fun and unique DIY wedding projects.
Wine lovers rejoice! Wine themed weddings are all the rage these days and there are plenty of cool and unique ways to incorporate wine bottles, wine glasses, wine corks and other wine related items in your wedding decor that will make a stunning presentation and impress your guests.
From big picture items, like hosting your reception at a vineyard or a winery, all the way to the smallest details, like your wedding invitations, favors for your guests and table decor accents, the possibilities are endless. You can even add a wine theme to your wedding guestbook by having guests sign a wine barrel, wine crates, wine bottles or wine corks [ See our Wine Cork Wedding Guestbook Ideas to learn more. ]
DIY Wine Cork Wedding Ideas
Using recycled wine corks in new and creative ways will not only surprise and delight your guests, but it will help you tie in many details of your wine themed wedding. It's also a green, budget-friendly way to add unique elements to your wedding decor that are easy to do it yourself.
Today, we're sharing seven DIY projects for your wine themed wedding decor that are inexpensive, fun, unique and simply beautiful. If you come across other great ways to use wine corks in your wedding, please share them in the comments and we will update this list to include them.
And if wine is a wedding theme you're considering, start saving your wine corks now and get all of your friends and family to help contribute to the cause!
1. Wine Corks As Place Card Holders
Wine corks make the perfect little stands for place cards. All you have to do is cut a slit in the top or the side of the wine cork using an x-acto knife and tuck in your printed place cards.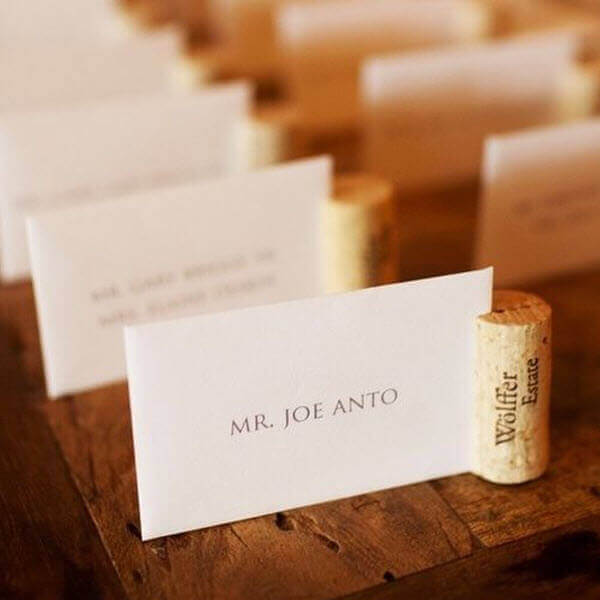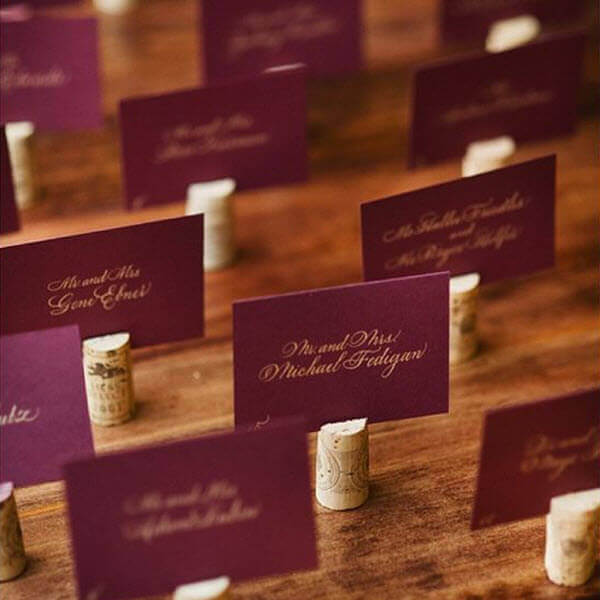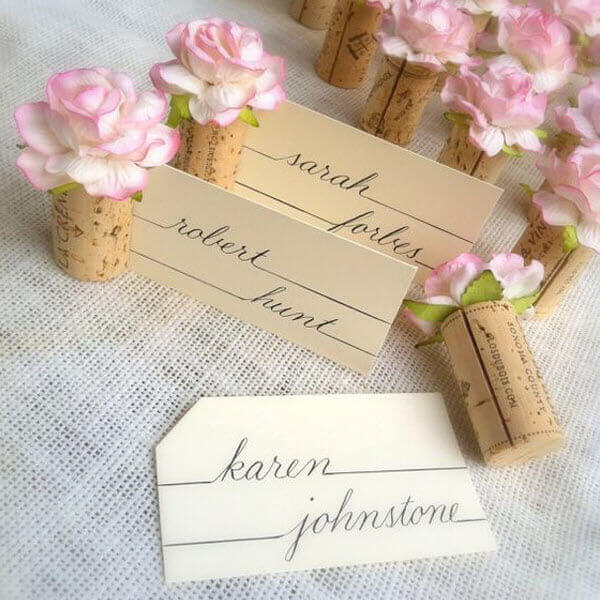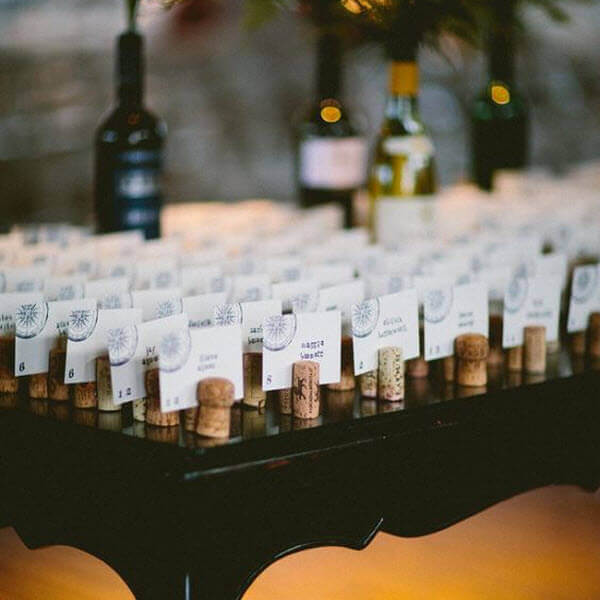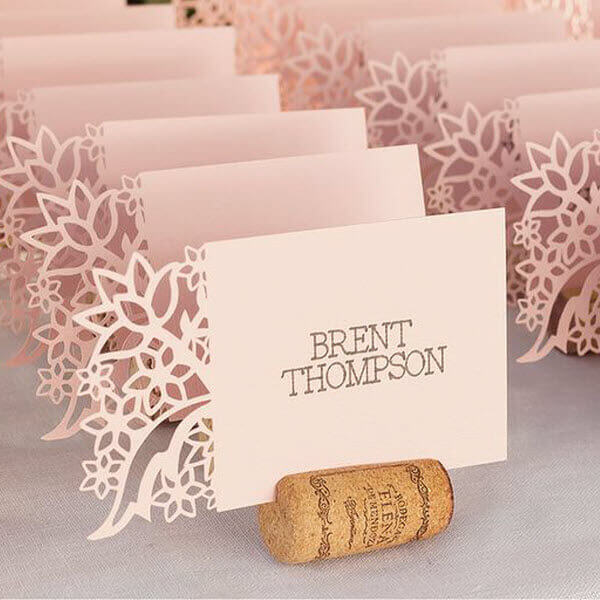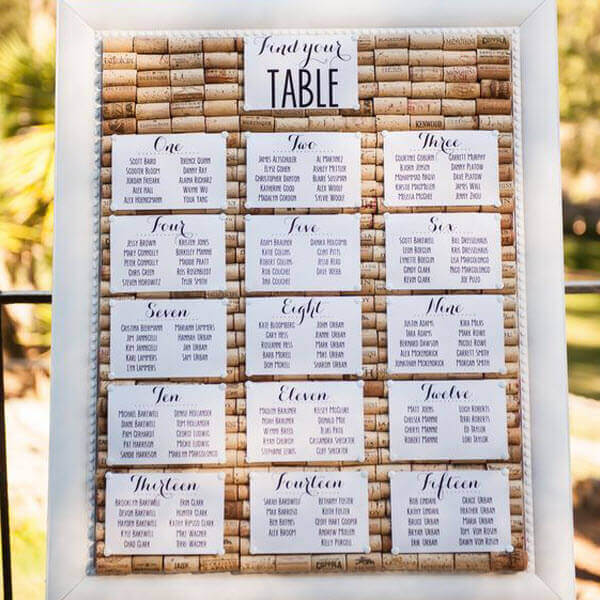 You can make them look clean, simple and elegant, or you can embellish the wine cork with rhinestones, glitter, ribbons, fabric flower, and more. You can also leave the wine corks as they are and focus instead on making the card more decorative. Use a stamp, print, or a pretty paper cutout to make the place cards stand out.
Your wine cork place cards will look stunning displayed together on a table and will be the first step to adding a wine element to your wedding décor. Another idea is to create a wine cork board listing all of the tables and where people should sit, instead of traditional place cards.
2. Wine Cork Wedding Centerpieces
If you thought wine cork place cards were an easy DIY, you'll be happy to know that table centerpieces utilizing wine corks are even easier to make. Along with tying your table décor to your wine theme, these ideas are easy on your wallet and will look beautiful.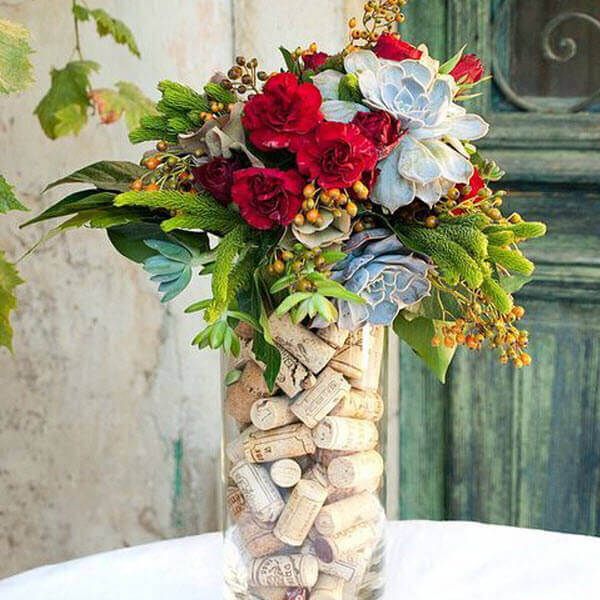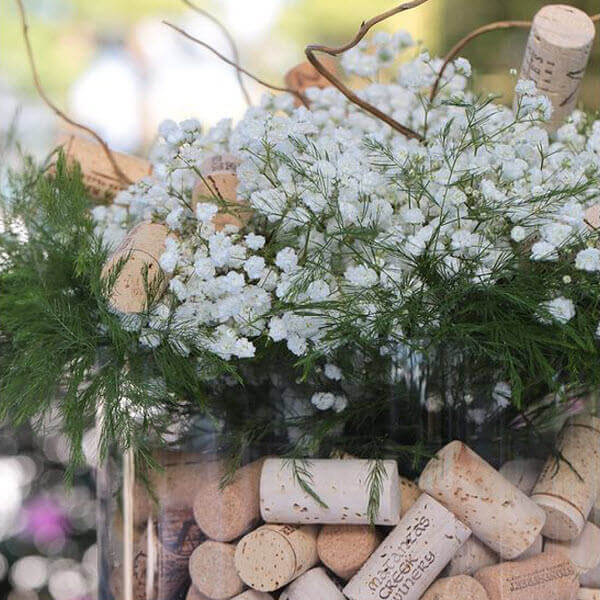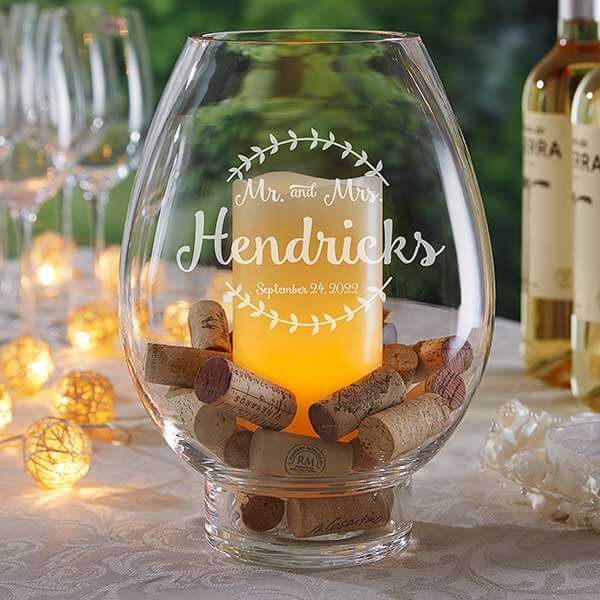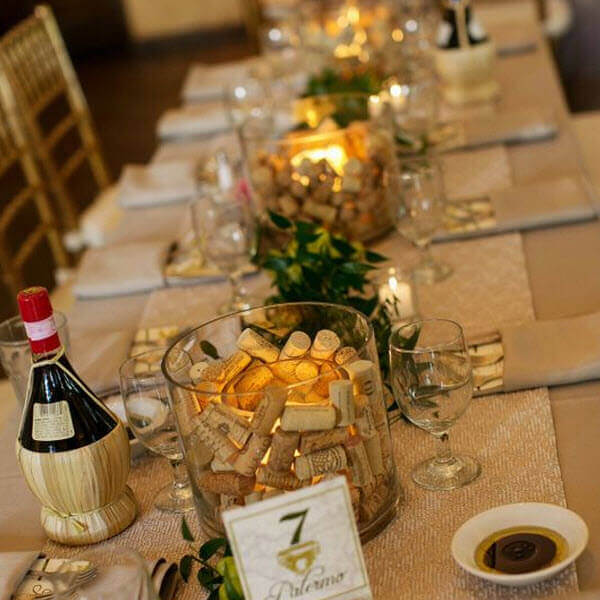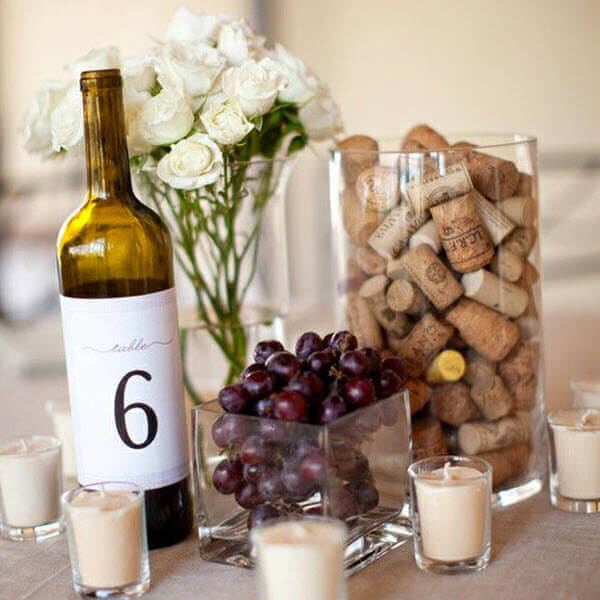 If you have your heart set on flowers for your centerpieces, you can easily incorporate wine corks inside of the clear glass vases or even among the flower arrangements themselves, as shown in our examples. You can also use candles instead of flowers for a beautiful, glowing effect. This engraved glass wedding hurricane candle holder is ideal for this type of presentation and will add a unique, personalized touch to your wedding décor.
But you can go simple as well with just a clear glass vase filled to the brim with recycled wine corks.
3. Wine Cork Table Numbers
Table numbers using wine corks are just as easy to make as place card holders. You can even take the very same approach by making a groove in the wine cork so that it hold up a card with the appropriate table number.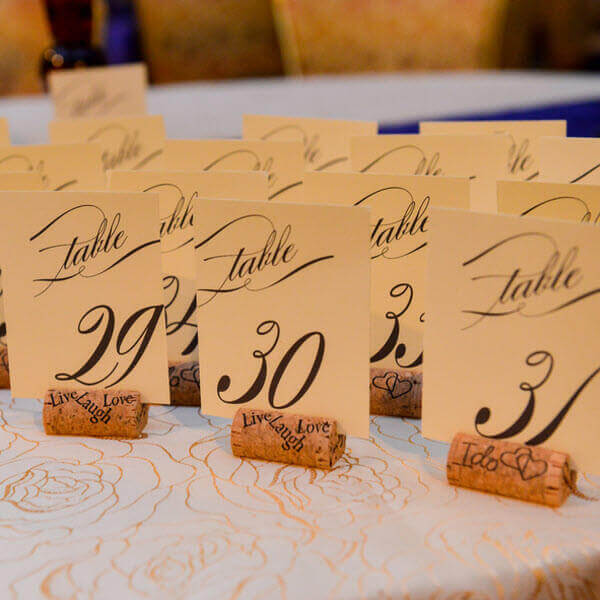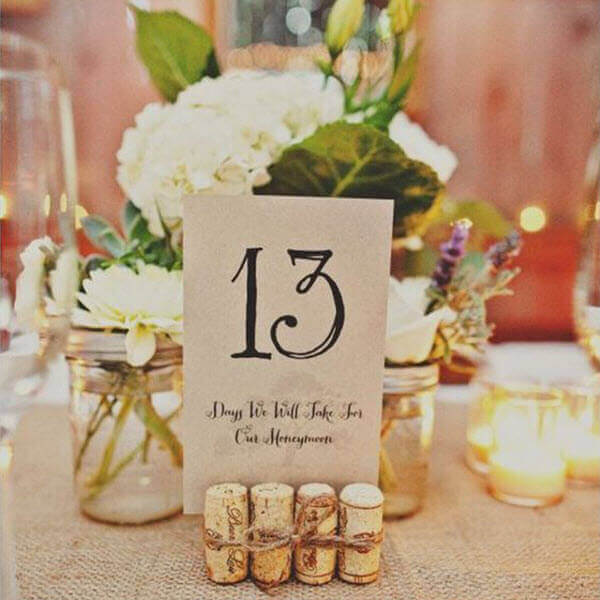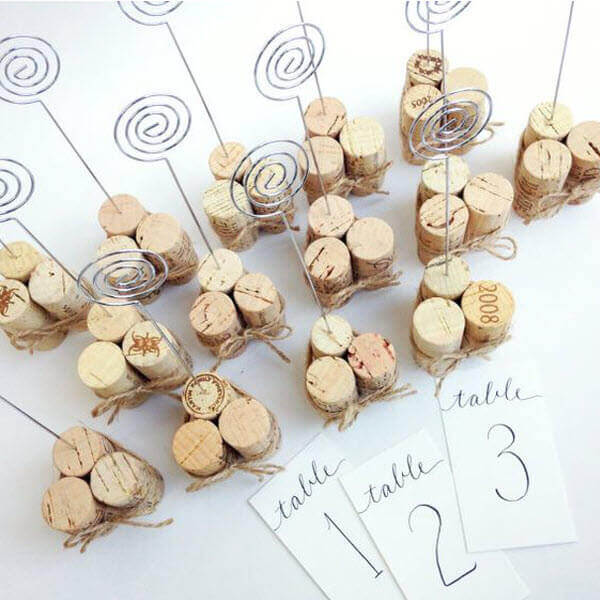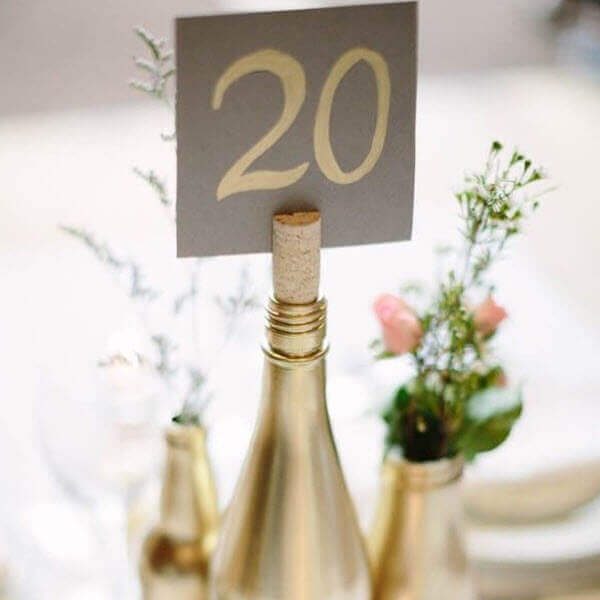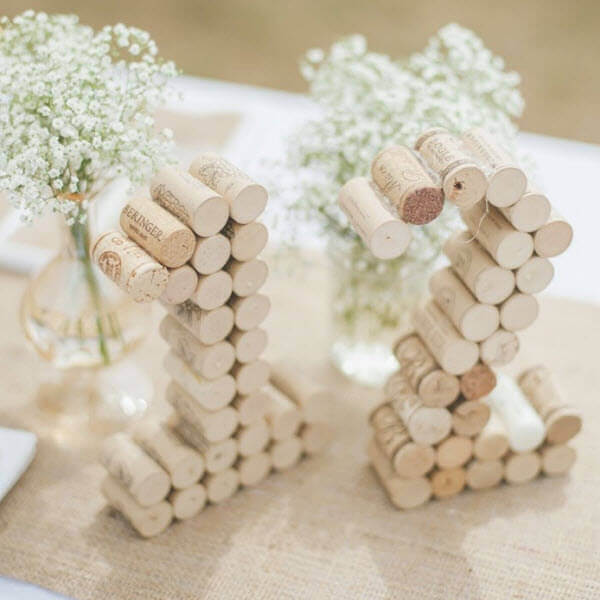 Of course, you can get more elaborate and design a card holder from multiple wine corks by gluing them together and tying them with a ribbon or twine, like in these examples. You can also use spiral wire card holders (available at craft stores) punched right into the wine works to hold up the table numbers.
Alternatively, you can use old wine bottles with the corks inside of them to hold the table number cards to make them more visible. And if you're really feeling creative you can glue multiple corks together with a hot glue gun to create impressive cork number sculptures.
4. Wine Cork Boutonnieres
If you want to take the wine theme even further, you can extend it to other details of your wedding, like boutonnieres. These gorgeous examples of wine cork boutonnieres are so unique and unexpected.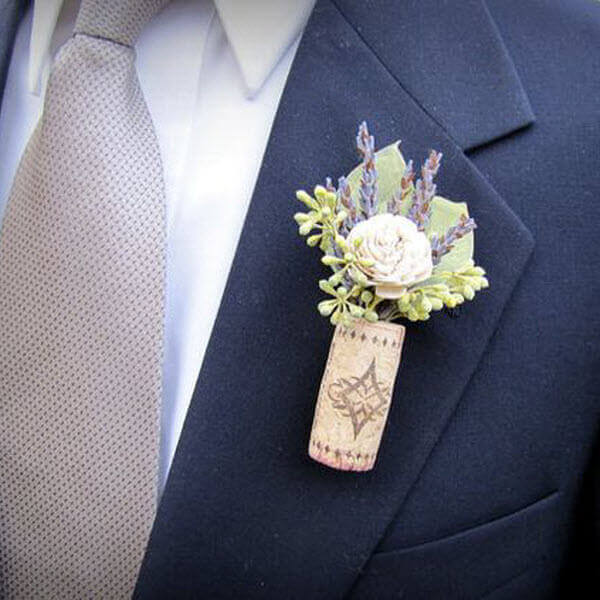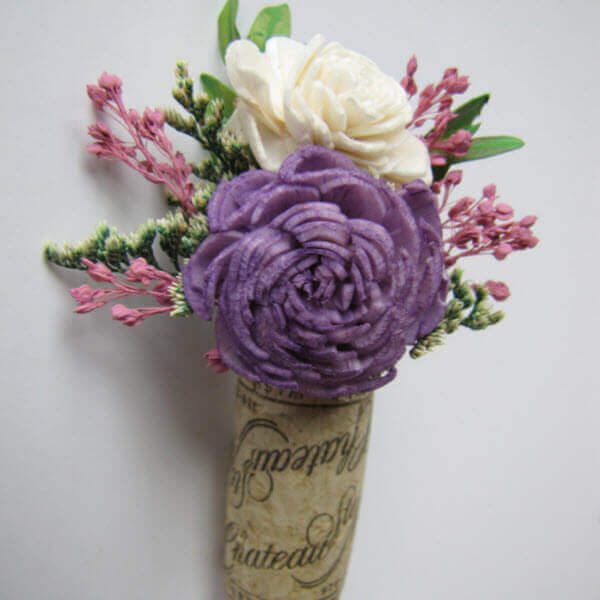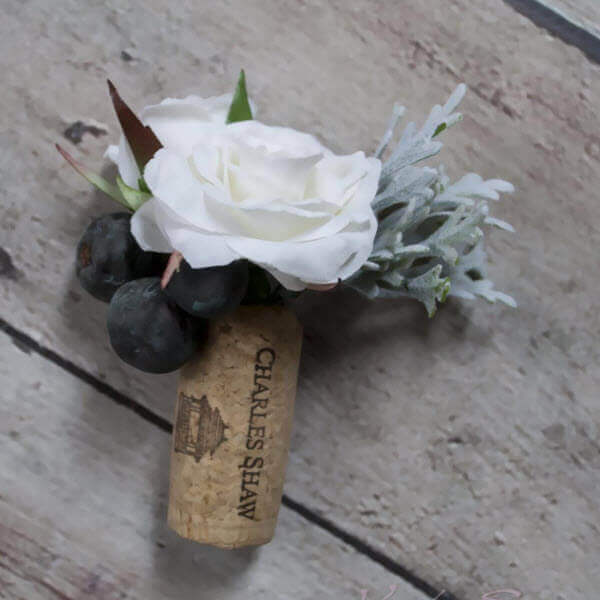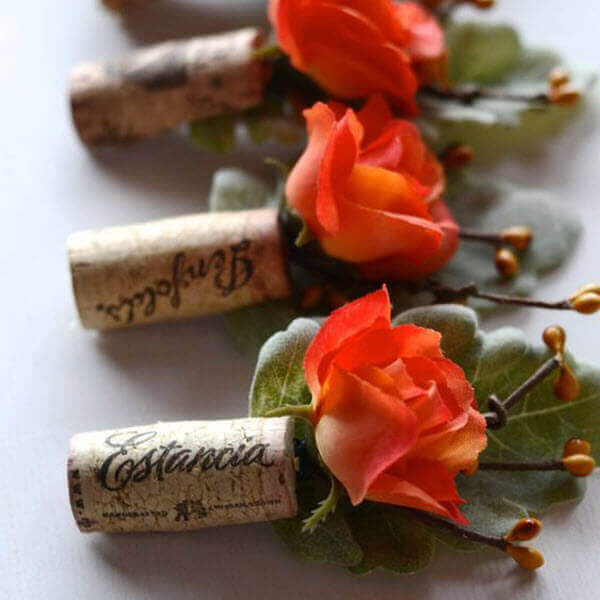 You can use real flowers, dried flowers, silk flowers along with succulents and even feathers, berries, foliage and other accents. This might be one of the more involved DIY wedding projects, especially if you're using fresh flowers. For those going the DIY route, we suggest checking out step-by-step tutorials and even videos on how to get them just right. It might also be wise to practice making them ahead of time so that you're not too stressed before the wedding.
And of course, you can always ask for help from friends and family or purchase ready-made wine cork boutonnieres.
5. Wine Cork Wedding Favors
With a little creativity, wine corks can also be turned into unique wedding favors for guests. Like wine cork keychains, wine cork photo holders, coasters and more.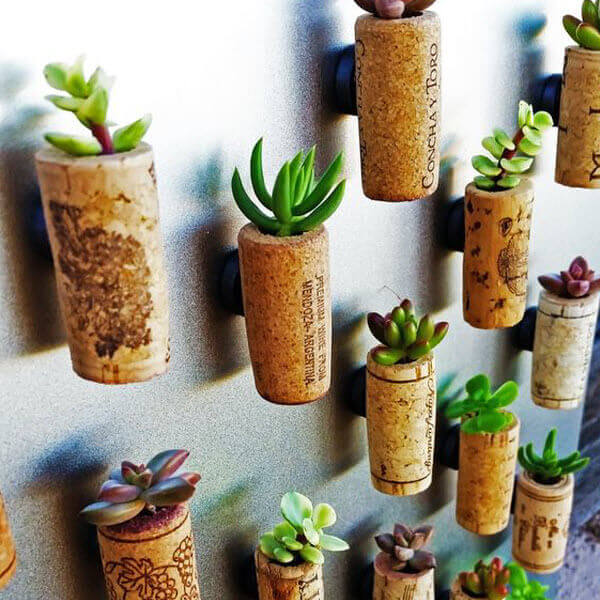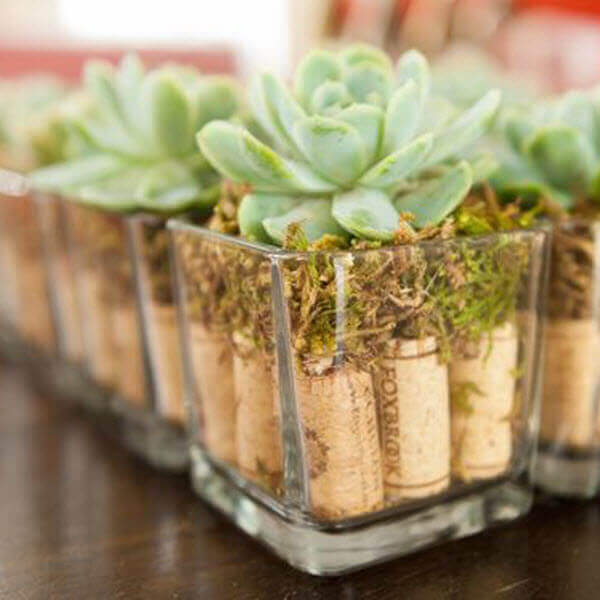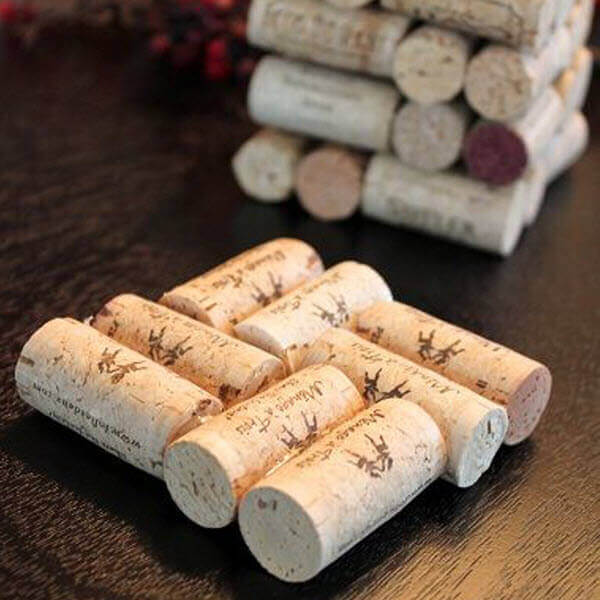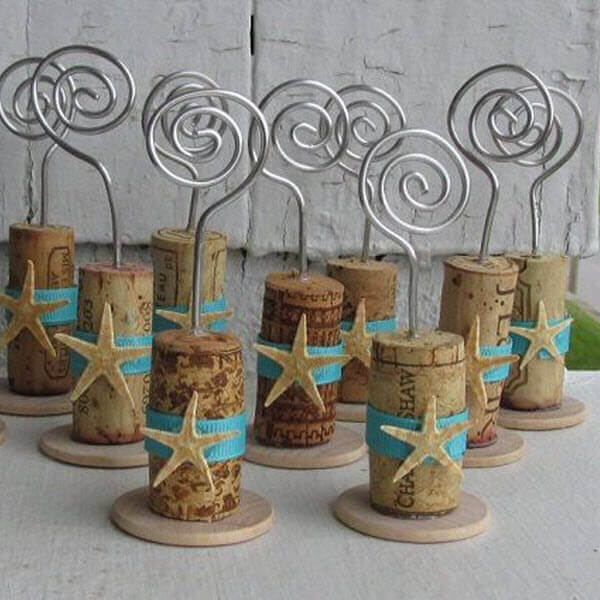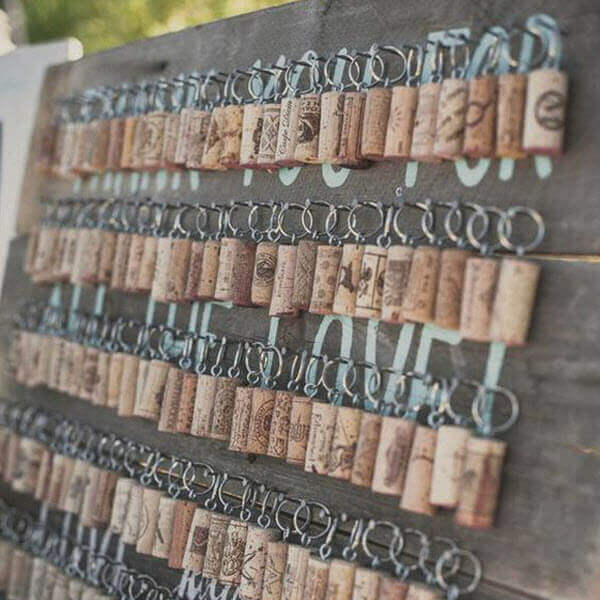 Find a concept you like and search for step-by-step instructions and even videos to help you along. Wedding and DIY blogs and sites like Pinterst have tons of inspiration, which will often come with helpful tips as well.
From easy DIY projects, to more elaborate creations, like wine cork succulent fridge magnets, you can easily incorporate the wine theme in your wedding favors. Our favorite design is so simple, yet so effective. A small square glass vase arranged with wine corks, moss and a pretty succulent.
6. Wine Cork Photo Props
Wine corks also make great photo props for your wine-themed wedding photography. You can use them to beautifully photograph your wedding rings and other personal accessories.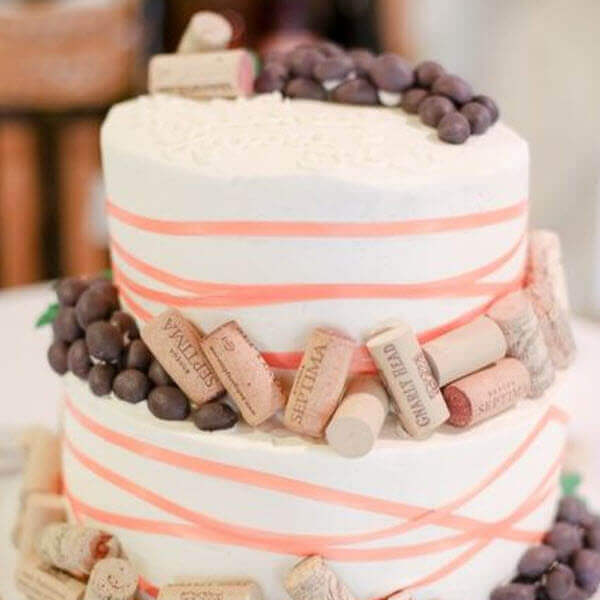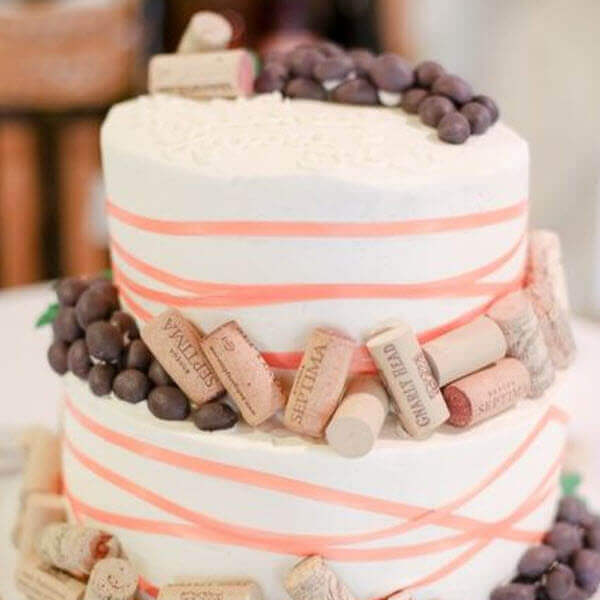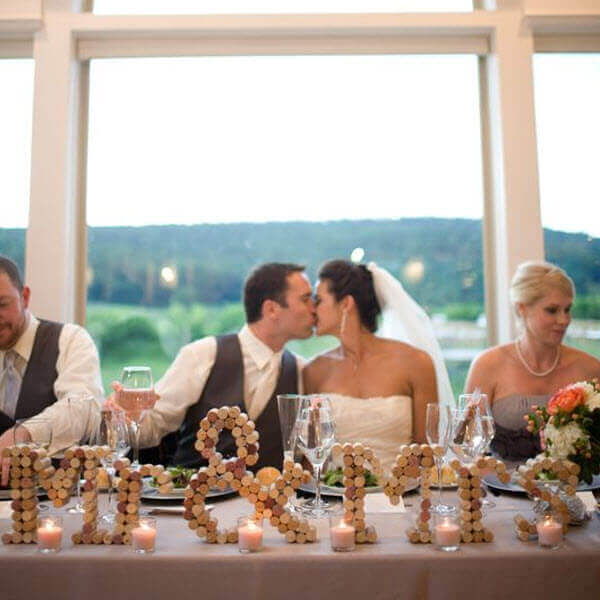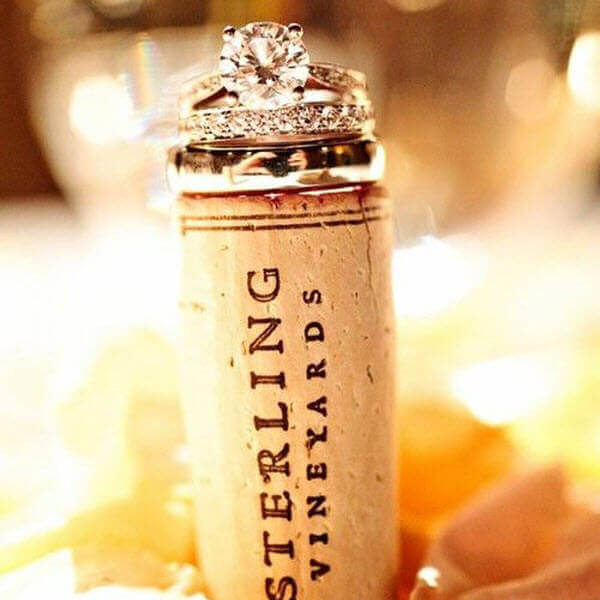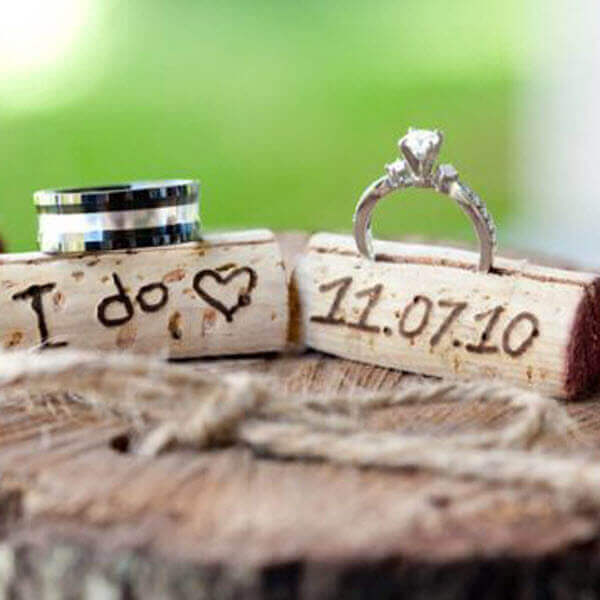 You can also create larger props that will also serve as wedding décor, like Mr. & Mrs. letters or your wedding date made entirely out of wine corks. Wine corks can also adorn your sweet table and even your wedding cake, like in this gorgeous example of a cake with wine corks and grapes as embellishments. Some couples have even gone as far as creating their wedding cake toppers out of wine corks — how creative!
7. Wine Corks As A Guestbook
Our final wine themed wedding idea is to use wine corks in lieu of a traditional guestbook. All you need is plenty of wine corks, a couple of Sharpies and a container for guests to put their signed wine corks in.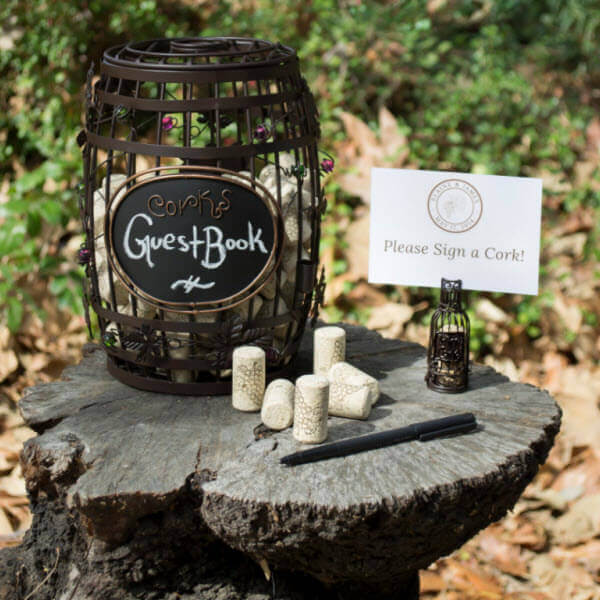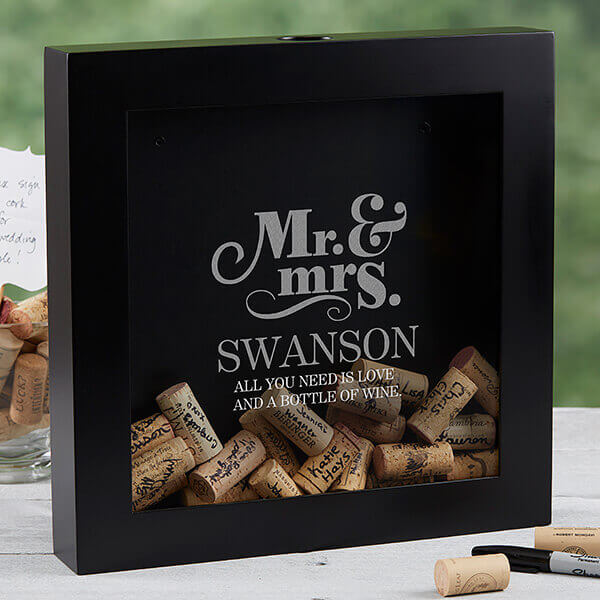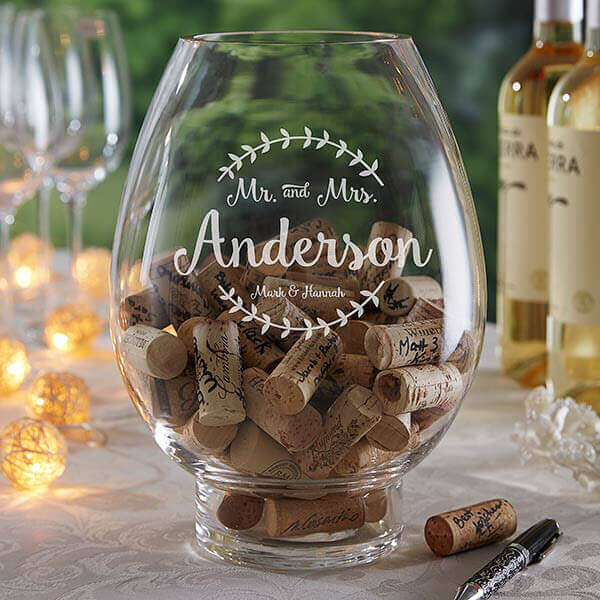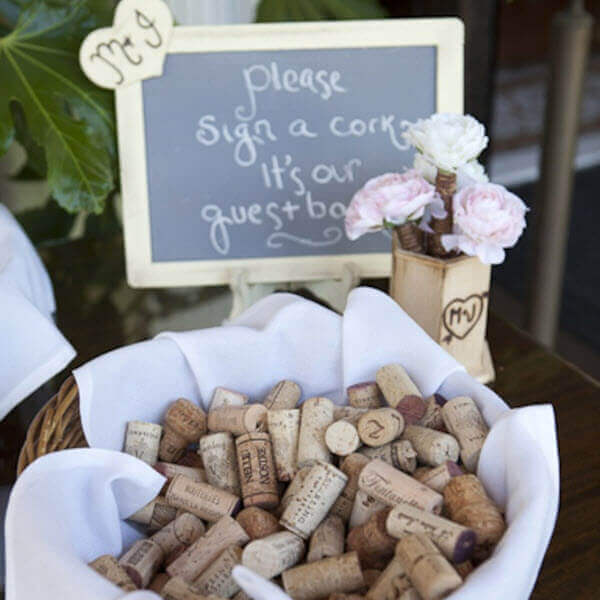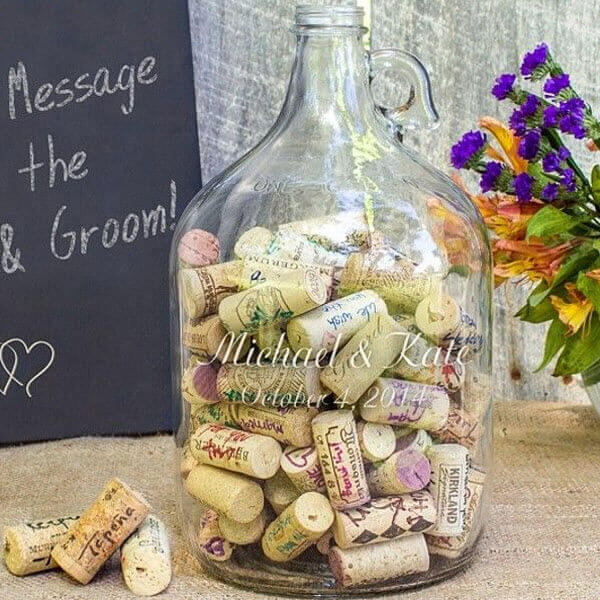 Some of our favorite wine cork wedding guestbooks include a personalized shadow box and an engraved glass hurricane vase (pictured above), both of which can feature your names, last name, wedding date or whatever text you choose to include.
Of course you can use any container you like, like this unique wine barrel cage, a big glass jug or simply a basket.
In a previous post we shared some ideas on what to do with all of the signed wine corks once your wedding is over. Check it out to get inspiration on how to beautifully display your wine cork wedding guestbook in unique and creative ways.
Share Your Wine Cork Wedding Ideas
What are your favorite wine cork wedding ideas? Share your best finds in the comments.
[ Cover photo by: Cheryl Joy Miner Photography ]