The events of the past few years have changed the way we plan and celebrate weddings. Here are the latest wedding trends for 2023 and beyond.
The events of the past few years have impacted the way we plan and celebrate weddings. And while certainly nobody wants to go back to the way things were, these "new normal" adaptations and protocols have sparked some highly interactive, experiential, and personalized wedding trends for 2023.
For example, this year, intentionality is in.
"This is certainly what we have been seeing," says Kathy Flynn, senior vice president, merchandising and creative at Personalization Mall. "People are getting a lot more creative and adding little personal touches to make it a more intimate experience for themselves and their guests."
Top 10 wedding trends for 2023
If you're looking for fresh ideas, inspiration, and a closer look at what is trending in weddings this year, here are the top 10 things to consider.
1. Personal expression
Many people who have had to put off their weddings until now are using the extra planning time to express their personalities, tastes, and interests in new and exciting ways, says Amy McNall, owner of Unmistakably You, a boutique wedding coordination service in London, Ontario.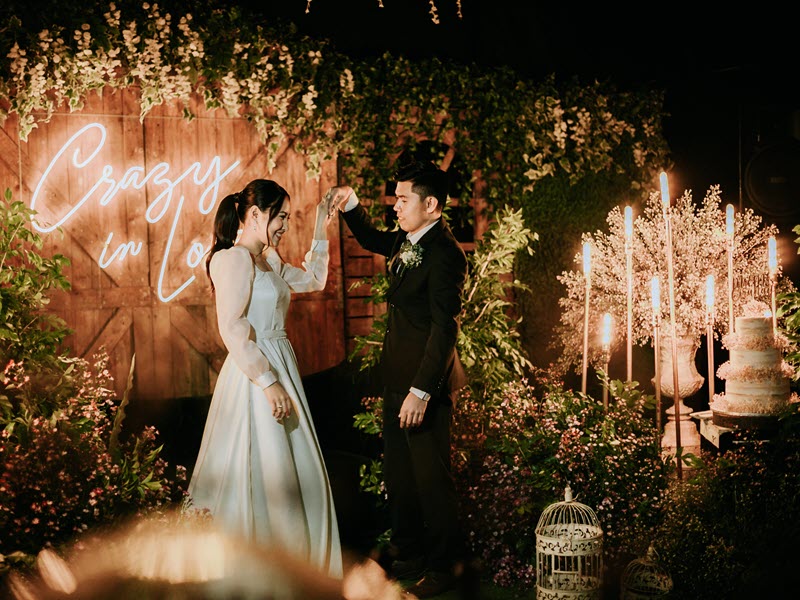 "I recently did a wedding where the bride, who is a huge Harry Potter fan, did an entire Hogsmeade-themed dessert table at the reception, with sorting hat cake pops, and cookies shaped in the crests of all four houses," McNall says. "It was so original and entertaining because she had all this extra time and energy to put into it."
2. Mindfulness
Many couples — namely this year's downsizers — are mindfully reevaluating what's important to them and which aspects of the wedding to highlight.
"With a smaller event, they can now afford to say yes to things they might have said no to before, so they're upgrading the experience with, say, an open bar for the entire evening or hiring a four-piece jazz band for the cocktail hour," says Samantha Joder, founder and head event planner of Kaleidoscope Events, which has offices in the Berkshires and Boston.
3. Timeless and classic
For some couples, 2023 will be a return to formality, with timeless and classic themes, vintage touches, and an elegant feel. Many couples are also incorporating their cultural traditions and honoring their heritage in creative ways.
"I see a lot more couples getting married in a church again, going back to a round bouquet with all white or bright bold flowers versus the whimsical look.
"With attire, we're seeing more black tie and cocktail attire versus the casual, laid-back, or business attire that was previously showing up at weddings," Joder says.
Sarah Humpula, planning and production manager at A Day in May Events in Traverse City, Michigan, which specializes in luxury destination weddings, notices similar wedding trends for 2023. "There's such an eagerness to celebrate, so it's a lot of black-tie events, more formality, and couples pulling out all the stops," Humpula says.
4. Original touches
In 2023, more couples are leaning toward brighter colors and bold patterns, including Pantone's color of the year, "Viva Magenta." The idea is to add an original touch, particularly when choosing wedding party attire, accessories, and decorative accents.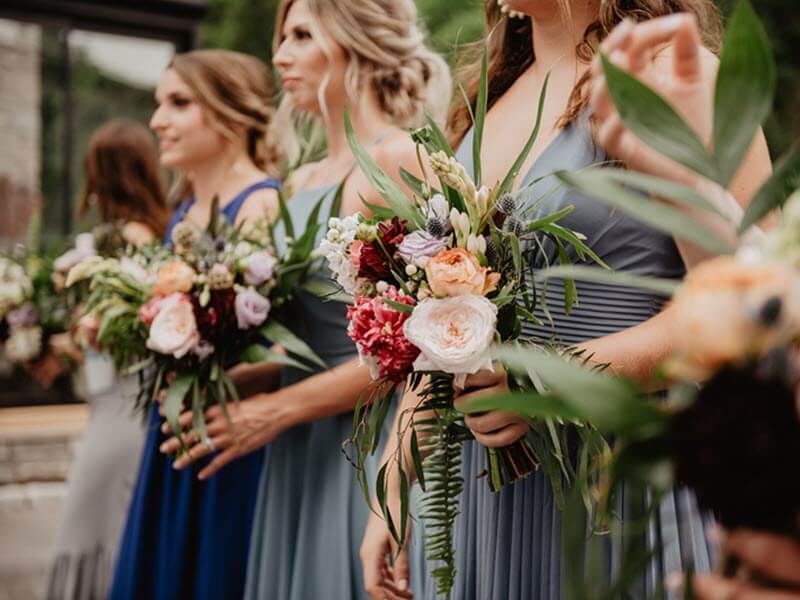 Bridal attire is following suit, with the recent trend toward mismatched bridesmaids dresses giving way to an even more relaxed look, sometimes with varying colors, patterns, and fabrics, such as velvet and satin. "Bridal gowns tend to be loose and flowing, reflecting a Boho look rather than structured A-line or ball gown-style dresses," McNall says.
Other bridal gowns — particularly those worn at formal weddings — are going in a different direction. "We're starting to see some great angles with bodices, as well as pockets, which are fun and practical and something brides are always looking for in a wedding dress. After all, why shouldn't the bride have a place to put her lipstick?" Humpula says.
Pops of bright colors, such as bright orange, yellow, and burgundy, are appearing in wedding attire for both guys and gals — and making their way to the reception décor and stationery. Tropical accents are also making a splash. "You see these bright greens, some vibrant birds of paradise, and bold corals, and even some black or black with mixed metals," Humpula says.
The sweater trend for bride and bridesmaids — popular in the mid-2000s — is being replaced with custom denim or leather jackets. "These are often personalized with names of the bride or bridesmaid embroidered on the back or something quirky associated with the couple or the wedding," Flynn says.
5. Guest experiences
Experiential and creative elements all take center stage at the reception in 2023. "Couples really want to honor their guests by wowing them and giving them an experience, so they may book headliner entertainment or fireworks displays as a surprise gift for their guests," Humpula says.
Food trucks are becoming increasingly common, especially at outdoor weddings, where there may not be access to kitchen facilities for plating. "Again, it's an experience for the guests, a little more interactive, a little off the beaten path, and it gives the couple an opportunity to incorporate more of their personal tastes instead of the standard beef and chicken options," McNall says.
While some couples still go for the traditional cake-cutting ceremony, others are opting for individualized dessert stations or more interactive dessert options, such as a Ben and Jerry's or Cookie Monster ice cream truck.
6. Interactive elements
These entertainment and experiential wedding ideas also extend into interactive elements for guests and couples to enjoy together.
In lieu of guest books, guests are marking their attendance and well wishes in more interactive and entertaining ways. Gift booths, photo booths, and Jenga games, with pieces guests can sign, are some popular options this year.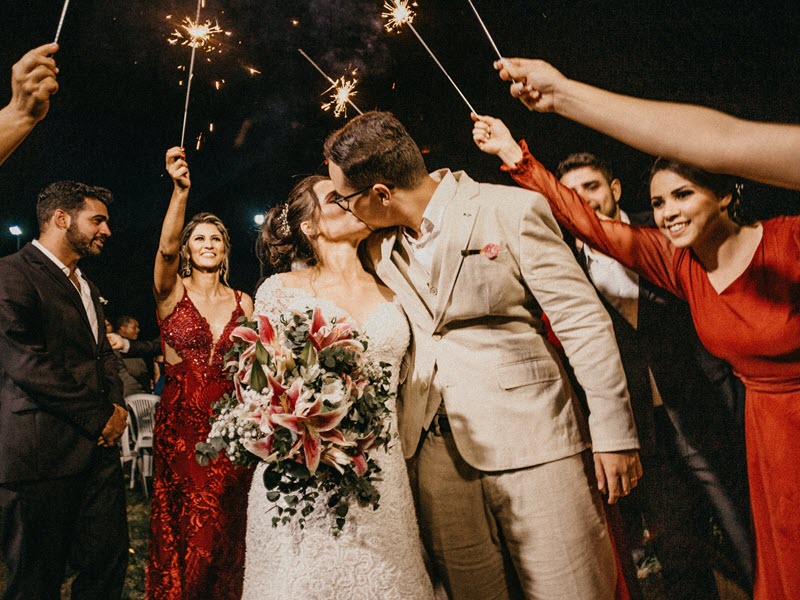 Couples and their wedding planners are also incorporating non-dancing elements into the entertainment. "DJs are finding ways to run table karaoke, trivia games, or music bingo," McNall says.
"I've also seen people hire artists to draw live caricatures during the cocktail hour or do an onsite painting of the ceremony or reception, so the bride and groom have a canvas with a scene of their wedding," she continues.
7. Outdoor venues
Whether a large, intricate, formal wedding or a smaller, scaled-back, casual one, the great outdoors is an increasingly popular venue for nuptials big and small.
"We were starting to see that already shortly before COVID, but now it's more prevalent," Joder says. "Having it in the backyard of your childhood home also adds a personal touch."
Backyards, vineyards, farms, beaches, woodlands, and estate homes are common sites — and tents are the new ballroom. "Barns are also turning into a very popular venue, and there's definitely a market for the rustic look these days," Flynn says.
8. Natural accents
In 2023, florals are appearing "au naturel," with a touch of whimsy. "We're seeing more natural elements like grasses and loose unstructured bouquets focused on texture and movement rather than on structure and a solid color palette," McNall says. And dried flowers are making an appearance as well. "Dried, bleached, or colored florals are definitely a trend," Humpula adds.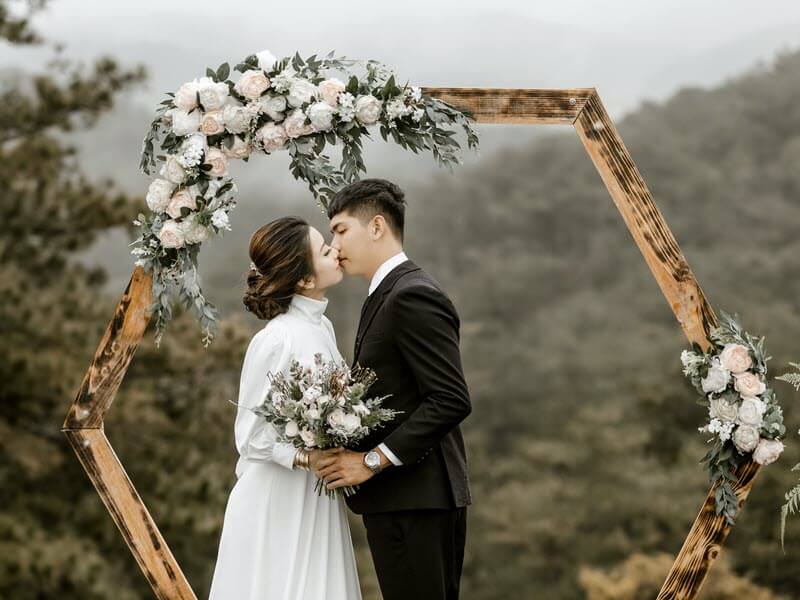 Bridal hair and make-up are also trending toward a natural, less-is-more attitude. "The focus is not on making the bride look like someone else for the day but as the best version of herself," Humpula says.
9. Symbolism and personalization
Practicality, personalization, and symbolism rule the day when it comes to welcoming and thanking guests with wedding favors and small gifts.
"Welcome bags are a trend that's really picked up speed," Joder says. Guest bags now include personalized items that represent the bride and groom and who they've become as a couple.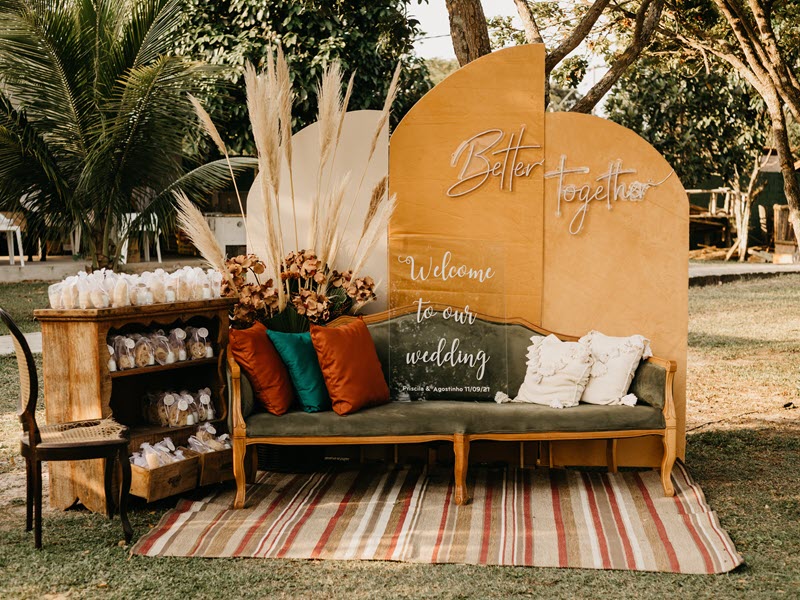 "It may be mints from Philadelphia, where the groom is from, or some Cape Cod chips, because the bride is from Cape Cod, or a sweet treat known to the city where they met and fell in love," Joder says. "These small touches make their wedding more authentic to who they are versus a cookie cutter wedding, and will be more memorable for years to come."
10. Intentionality
The same sentiment carries over into wedding favors, as well as gifts for the groomsmen and bridesmaids, parents of the bride and groom, and other close friends, family, and people helping out with the wedding.
"Couples are finding so many ways to bring in their own interests, culture, or favorite activities," McNall says. "I had one where the groom was a chef who had created his own spice blend and the couple got married on a farm that sold honey, so part of the favor was the spice blend and the other part was a little bottle of honey to symbolize that marriage is both sweet and salty."
With wedding trends for 2023 being so much about thought, originality, and meaning, nuptials this year are sure to be among the most memorable yet. And that's something to celebrate!