What's the best photo to put on your Christmas card? Here are some easy tips and advice on choosing just the right Christmas photo card to go with your family portraits.
If you're planning on handing out gorgeous Christmas photo cards this year, make sure that your family photo perfectly resembles everyone's personality. If you're known for being the funny family, try to avoid doing rigid or posed shots. If your Christmas cards always look classic, have your family continue the tradition.
Not sure which image to go with? Don't worry. At the end of the day, the perfect shot really depends on which kind of card you're personalizing this year. Find out which Christmas family portraits will look best in some of our most popular photo Christmas cards, so you can get started on customizing your holiday greetings today!
Photo Ornament Cards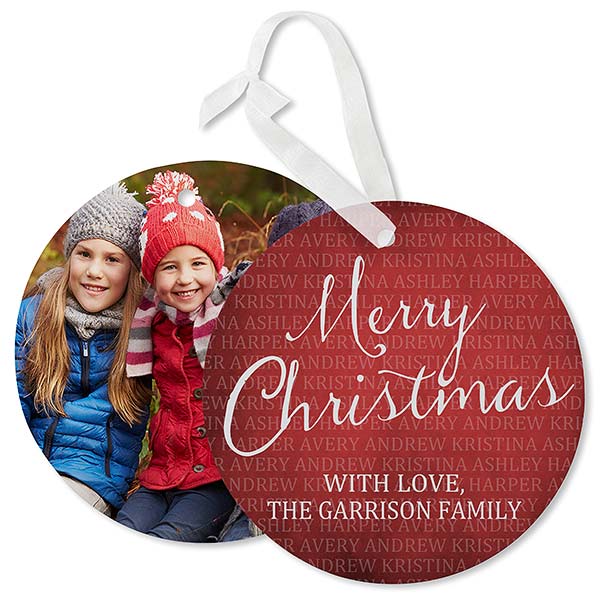 Our photo ornament cards are the perfect way to wish your loved ones a Merry Christmas. The best part? Your friends and family can see it every year when they hang it up on their tree!
Since this ornament card is circular, the best Christmas family photo to use should have everyone close together. Try to make everyone's faces the focal point of the image, rather than having a full body shot. That way, your loved ones can see how happy and grown up your kids have gotten this year.
Choose a greeting and a special message to include on the front of the card, add everyone's names to provide a beautiful and unique background, and you're done!
Modern Flat Photo Cards And Postcards

Our popular flat cards and postcards will work with any photos. They're a nice way to feature one or more horizontal or vertical photos with additional options, like custom edge cutouts and photos on the front and back of the card.
The Picture Perfect flat Christmas photo card can be personalized with your choice of four greetings and six color options. You can add a photo to the front and one on the back of the card and customize the text to your liking.
Three Panel Photo Cards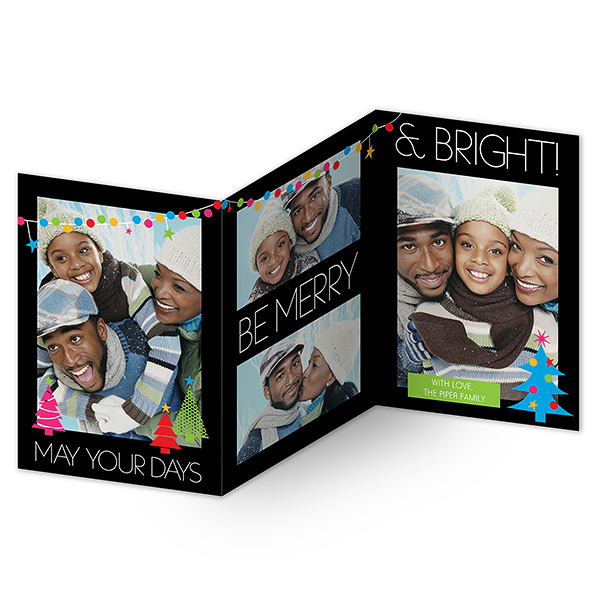 Can't decide on just one special photo? Our 3 panel photo cards are just what you need! You can include multiple photos to feature each individual family member or different family shots.
In this design you can add 4 unique photos to send off to your loved ones. Maybe you want a funny photo of just the kids, one of mom and dad, and two of the whole family together. Or, you can include four photos of the whole family in a variety of poses and funny faces. Whatever you choose, the unique 3 panel Christmas photo cards are sure to be a hit.
Classic Folded Christmas Photo Cards
If you're looking to create more simple Christmas photos, consider personalizing one of our folded Christmas photo cards. These classic cards can capture your family's Christmas spirit so well and they look extremely professional.
Any photo will work well for this card, especially a traditional photo of the family in front of your beautiful Christmas tree or fireplace. Simply upload your photo and choose a transparent greeting that will make the photo shine through. Pick out a special message for the inside of the card or create your own, and it's ready to go.
Pet Photo Christmas Cards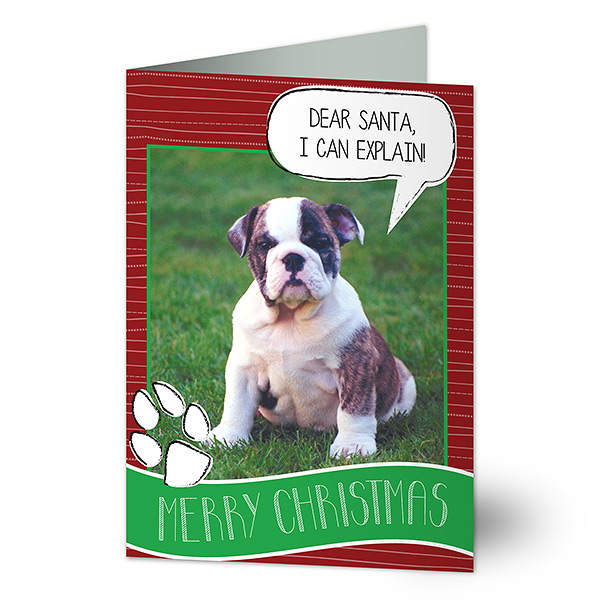 Make the family pet the star of the season with our adorable pet photo Christmas cards, featuring your favorite furry friends.
Personalizing this funny Christmas photo card is easy. Just choose a color theme, a paw print, your favorite greeting and upload your pet photo for the front of the card. You can include a special message for the inside of the card and they'll be ready to order!
Whichever photo Christmas card you choose this year, we'll help make the process fast and simple. Design your cards and include address labels or one of our popular return address stamps to your order for a complete Christmas card set. No matter which family portrait you take, your friends and family will be overjoyed to see your happy faces this Christmas!