Have you seen our Fan Photo Album on PersonalizationMall.com's Facebook Page? It's full of photos of personalized gifts that real PersonalizationMall.com customers have sent us or posted to our Facebook Page.
Click the link above to see fan photos of all different types of our personalized gifts and have fun flipping through all of them and finding inspiration for new ways to personalize the PMall gifts you've been eyeing!
We have a bunch of Halloween-themed fan photos, including this adorable photo of a PMall Fan in her Halloween costume next to her Freaky Frankie Embroidered Trick or Treat Bag! You definitely have to check out all of the cute photos of our younger fans with their Personalized Halloween Trick or Treat Bags – each one is more adorable than the next!
You'll love browsing through all of the photos our fans have shared with us – you won't believe how creative people can be! Our fans are great at coming up with clever ways to personalize gifts and even coming up with new ways to use our personalized gifts for a purpose we hadn't initially intended.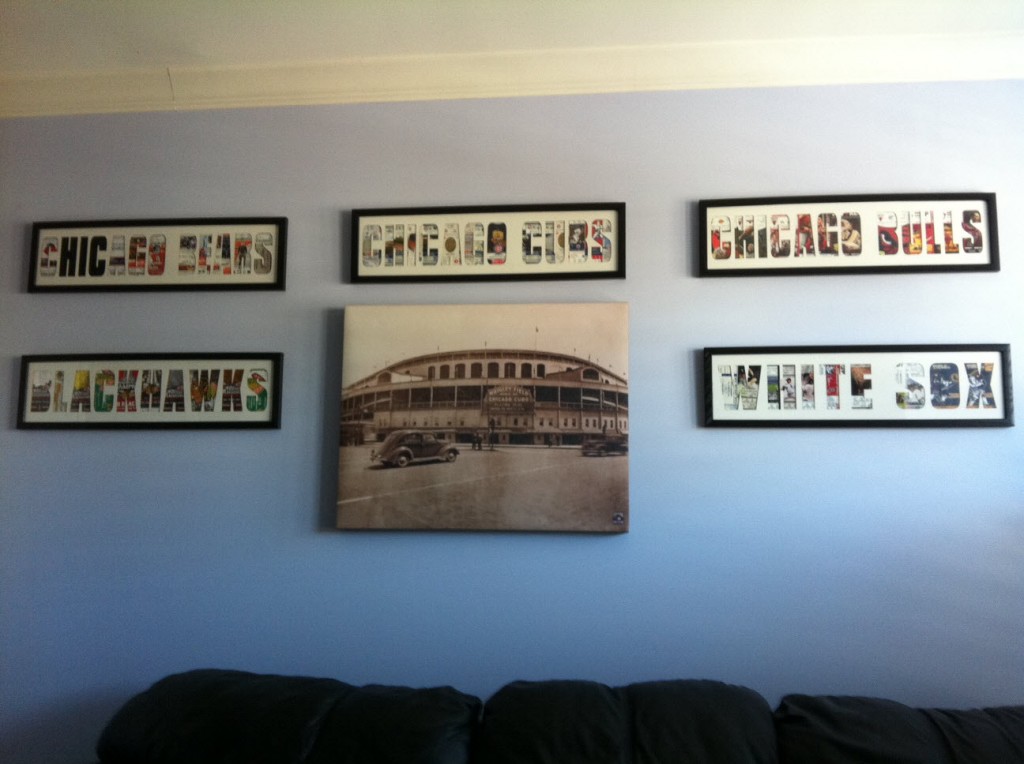 For example, we had a customer share a photo of the Making Memories Personalized Photo Collage Frame that is featured on our site as a great picture frame. Well instead of personalizing the frame with their family name and filling it with photos of their loved ones, they personalized a frame for each of their favorite Chicago sports teams and filled the frame with ticket stubs from the games they've attended (see photo at right)! Isn't that such a cool idea?
We love seeing how your personalized gifts turned out – we'd love it if you'd like to share your photos with us, as well! Post photos of your PMall Personalized Gifts to our Facebook Page or you can email them to us at social@pmall.com and we can post them on our Facebook Fan Page for you! You may even see them appear in the Fan Photo Album, too!
If you've personalized one of our Personalized Gifts in a unique way or if you have a creative way to personalize one of our gifts and you'd like to share it with us we would love it! Just send an email with your idea to the email address above.
Thank you and happy shopping!