Valentine's Day is just around the corner and we're sharing some adorable Valentine's Day printables that you can print out at home for free. You've already seen our fun Five Senses Gift printables, now feast your eyes on four new adorable Valentine printables that will make your Valentine's Day gifts much more special.
Our latest free printable includes four cute gift tags that say "I Love You A Latte," "I Like You A Latte," "You're Tea-Riffic" and "I'm Cocoa For You." They pair perfectly with custom mugs and make adorable additions to any coffee, tea or cocoa lover's gift!
I Love You A Latte Because You're Tea-Riffic!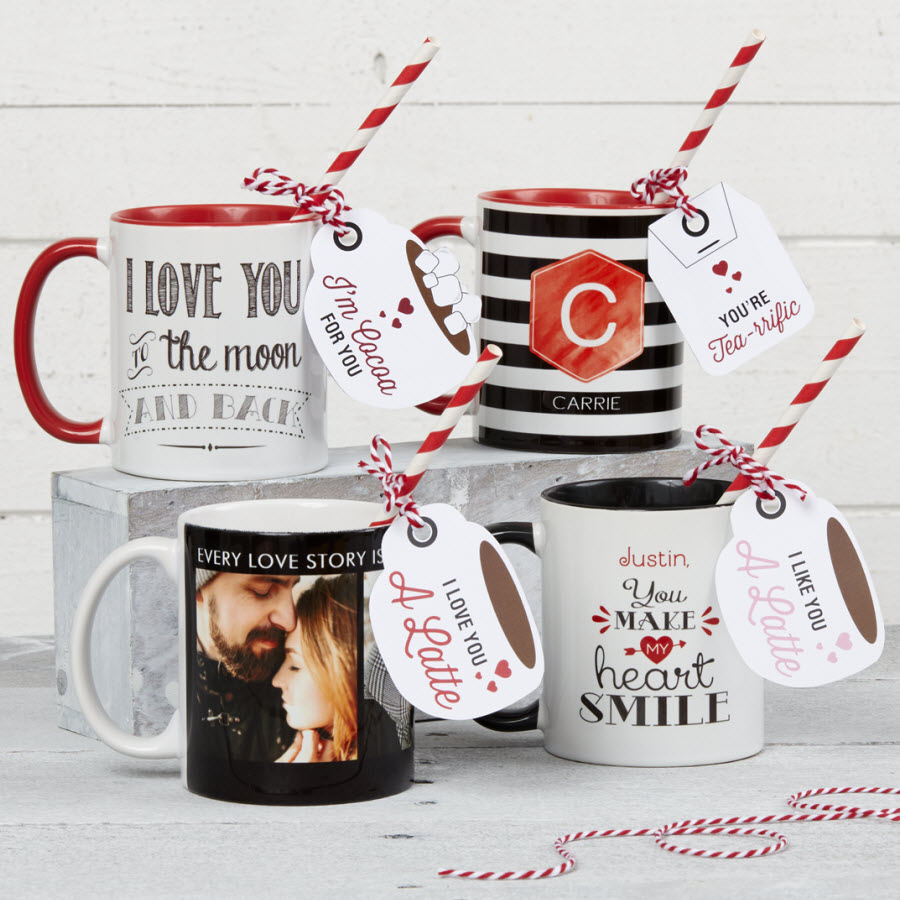 Custom mugs are the most versatile gift on the planet. They're inexpensive, yet always appreciated and they make great gifts no matter what the occasion. Even Valentine's Day can be the perfect time to gift your friends, family, coworkers, teachers and your sweetheart a new custom mug made just for them. Add a name, monogram, photos, a fun quote or a special message and you have a one-of-a-kind gift they'll use every day. And with hundreds of unique designs, you're sure to find a personalized mug that's right for everyone you love.
What can make a custom coffee mug gift even better?
You can pair it with a gift card to their favorite coffee shop or tea house, a bag of great coffee, tea or cocoa, or fill it to the brim with their favorite sweets. You can also download our brand new Valentine's Day printables and include adorable gift tags with fun and clever sayings for coffee lovers, tea connoisseurs and cocoa enthusiasts.

Download our free Valentine's Day printables so you can print and cut out these cute little tags and attach them to your custom coffee mugs, travel mugs, gift cards and more.