There are plenty of wonderful holiday traditions to celebrate with your kids throughout the year and Valentine's Day is the perfect time to show your love and appreciation for one another. If you haven't started your own Valentine's Day family tradition, here's one super simple idea from a creative mom of six, Kierste, of Simply Kierste Design Co: Love Buckets.
Kierste's idea isn't new (she blogged about it in 2011), but we simply love it. It's easy and yet it offers a way for everyone in the family to get involved in a caring, thoughtful and meaningful way. Kierste describes it perfectly:
"As parents, we're always looking for ways to strengthen the relationships we have with our kids, but also the ones that they have with each other. Knowing that they're loved and appreciated by every member of the family contributes to that feeling of safety and security."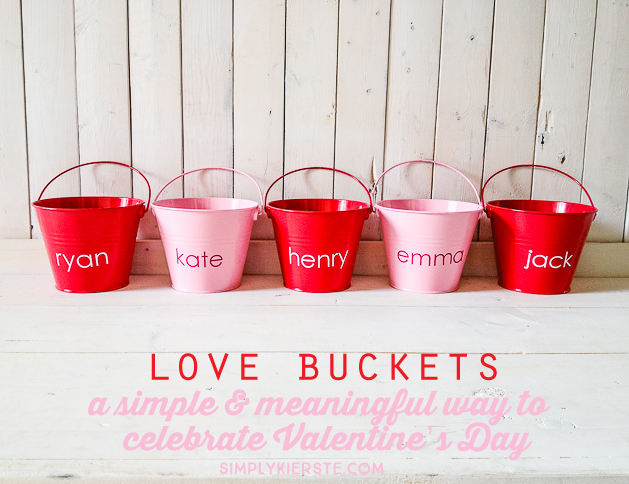 Sharing Love And Kindness With Love Buckets
So how do Love Buckets work?
Each member of the family gets a small container–a love bucket–with their name on it. Throughout the first two weeks of February every family member can contribute written notes or drawings (perfect for smaller kids!) to any of the love buckets.
"My kids really get excited about this-not only about leaving them for others, but seeing them pile up in their own bucket," Kierste wrote on her blog.
Then on Valentine's Day you sit down as a family and everyone gets to read their special notes and see their pictures from their own buckets. You can also add small treats and candy to the buckets so that opening them up is sweeter.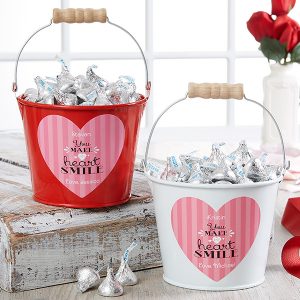 Kierste uses pink and red mini pails with the names of her kids expertly stenciled on each one, but you can easily use glass mason jars, cardboard boxes, paper bags, even bowls. It doesn't have to be fancy; what counts is what goes into the containers.
If you do want to make it official, you can get creative and even order one of our personalized mini buckets with cute wooden handles. We have a few designs and options available, both with a Valentine's Day theme and without.
However you choose to make this Valentine's tradition yours, make sure that the whole family has fun with it.
Kierste's family uses Love Buckets as a countdown to Valentine's Day and she says that this is "probably one of the best days of the entire year!" It truly is a wonderful way to celebrate Valentine's Day as a family and a great way to show each other that you love and care for one another. The special notes and pictures can also become great keepsakes that you can look back on once your kids are older.
Tell us about your favorite Valentine's Day family traditions!