We were so inspired by this beautiful photo from Pinterest that we had to put together a post for you! The couple looks stunning and we're loving their clever use of Scrabble letters to spell out "thank you" in this dreamy picture.
We LOVE the idea of planning a special photo on your wedding day that you can use later for your thank you notes. What a fun way to add your own personal style to your cards. With this idea, the bride and groom can be sure that they'll be able to get their personalities across so that when their family and friends open their card they'll smile and say "that's so them!"
Your wedding guests will get a kick out of seeing you both truly happy and that you were thinking of them on your Big Day … it's that extra personal touch that makes them feel special and lets them know just how appreciative you really are.
If you're a fan of this idea, head over to our "Everything Wedding" Pinterest Board – you'll find some other great "Thank You" photo ideas that we loved and hopefully they'll work as inspiration for your own photo ideas. Work with your photographer to come up with a cute photo concept that you both love and make sure to remember to bring any props you may need (signs, Scrabble letters, etc.) on the day of the wedding.
Wedding Photo Thank You Notes
Once you've recovered from the wedding and honeymoon and are ready to return to your normal, everyday life, it's time to get to those thank you notes. According to Emily Post, proper etiquette suggests that you send the cards within 3 months of the wedding (Click the above link for the dos and don'ts of thank you note etiquette).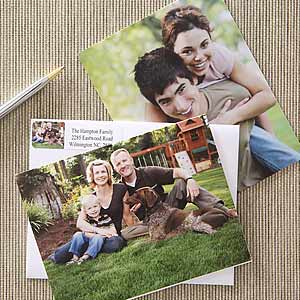 Start out by picking out your favorite "Thank You" photo – once you've decided on the winner use our "Just Us" Photo Note Cards & Envelopes to upload the photo and create your own personalized cards! These fold-over note cards can be personalized with a vertical or horizontal photo in your choice of full color or black and white. They're sold in sets of 24, which includes crisp, white envelopes for mailing. Each card measures 4 1/4″ x 5 1/2″ and is made from premium heavyweight photography card stock with a glossy finish on the front and a matte finish inside for handwritten messages. One set is usually sold for $24.95 however if you shop now through Sunday (Aug. 25th, 2013) during our Best-Selling Gifts Sale, you can personalize them for just $18.70. The more sets you buy, the more you save!
If you like the idea of adding a personal touch to your thank you notes but aren't sure of a way to incorporate a "thank you" sign in a photo, don't worry – we've got you covered.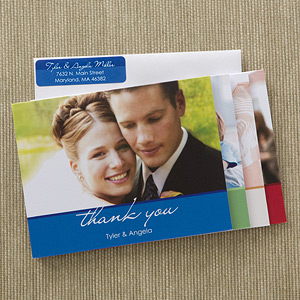 With our "Wedding Thank You" Photo Note Cards & Envelopes, all you have to do is pick out your favorite wedding photo (sans thank you sign) and our design will do the rest.
This wedding design theme features a colorful banner below your photo that displays "thank you" above both of your names in your choice of a beautiful block or script font. You get to choose from 8 different color options (Black, Cream, Navy, Red, Purple, Pink, Blue and Green) – a perfect way to incorporate your wedding colors one last time! These note cards are the same size and have the same finish as the "Just Us" Photo note cards. They are also sold in sets of 24, which includes the white mailing envelopes.
Custom Address Stamps Are All The Rage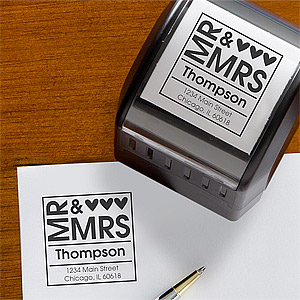 Before you head to the post office to send out your thank you notes, make sure you use the Mr. & Mrs. Self-Inking Return Address Stamper so that any wrong addresses can be returned to you. The stamp will also save you time writing out your address–or money on mailing labels. This personalized stamper is one of our most popular wedding gifts. Our Pinterest and Facebook fans go crazy over it! It can be personalized with your married last name and address in your choice of 5 ink colors: Black, Blue, Red, Purple and Green.
Brides everywhere love this stamp because it helps save tons of time and money – and it's so easy to use. Another bonus is that you aren't limited to using it just for your thank you notes, you'll be able to use your new personalized return address stamp for all of your future mail.
If you and your spouse have different last names, feel free to check out all of our Personalized Return Address Stamps – with all of our design styles you're sure to find one you love! If stamps aren't your style, feel free to browse through our Personalized Return Address Labels and pick a design you'll love sticking to your envelopes – they also help you save a lot of time.
Do you have any cute "thank you" photo ideas you'd like to share with us? We'd love to hear and see them! Share your ideas by commenting below or by emailing them to social@pmall.com.
We hope you found our tips helpful and we wish you good luck with writing out all your thank you notes … remember it helps to tackle a handful a day instead of trying to do them all in one sitting!