Did you know that you can personalize much more than gifts at Personalization Mall? Take a peek at the huge variety of unique, custom products and decor for your home and more ways to personalize than anywhere else.
Most people who have shopped with us, know Personalization Mall as the destination for unique, custom gifts for any occasion. We make birthdays, weddings, Mother's Day, Father's Day, Valentine's Day, Christmas and other gift giving occasions more special and memorable with personalized gifts that are thoughtful and well… personal.
And while we're well known for great gifts, many of our customers are not aware of everything else that we do. So today, we'd like to take the opportunity to share all of the unique ways that you can personalize much more than gifts at Personalization Mall.
To put it simply, we offer more products, more unique designs, and more ways to personalize than anyone else. Really! We can actually claim the title of the leader in personalization because no other personalization shop is able to offer everything that we offer today.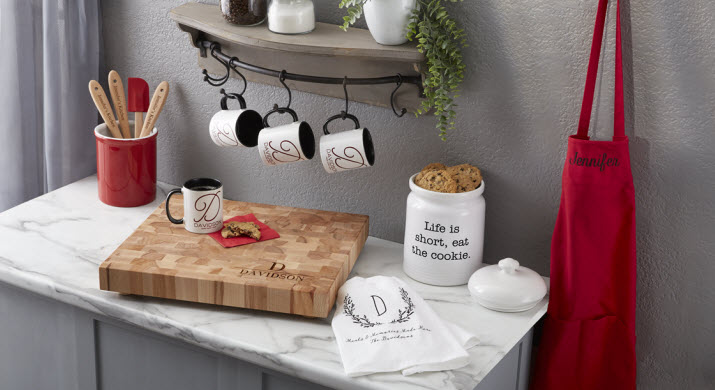 More Personalized Products
Since our humble beginnings in 1998, our goal is to provide our customers with the best shopping experience for customized products.
This means that we offer the widest selection of products for you to personalize. From heirloom quality keepsakes, jewelry, personalized clothing and apparel, desk and office products, toys, books and kids' items, pet accessories, luggage and travel items, to custom photo, stationery and home decor, you'll find a huge selection of items you can customize with names, monograms, photos, special messages and more.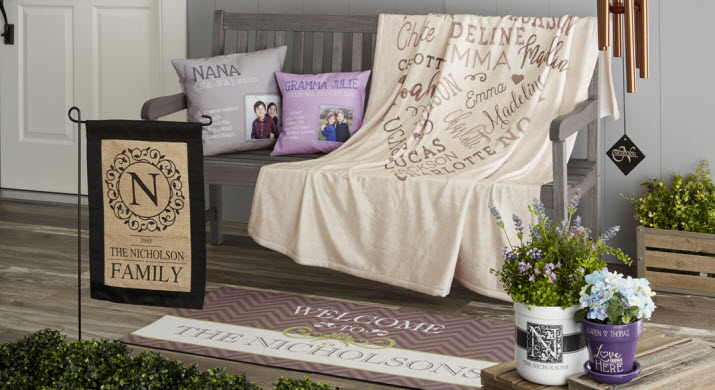 You can easily customize unique home decor and home accessories, including:
– Canvas prints, wood and slate signs and other wall art
– Bed and bath products, like blankets, pillows, towels and robes
– Kitchen items, like cutting boards, aprons, cookie jars, recipe boxes and more
– Bar accessories, including glassware, ice buckets, coasters and more
– Outdoor decor, like garden stones, garden flags, flower pots and doormats
– Shelf and mantel decor, candles, candle holders, vases, picture frames and more
Browse our personalized home decor store to learn more.
You can also easily shop for engraved gifts, monogrammed gifts, licensed brand gifts and custom stationery.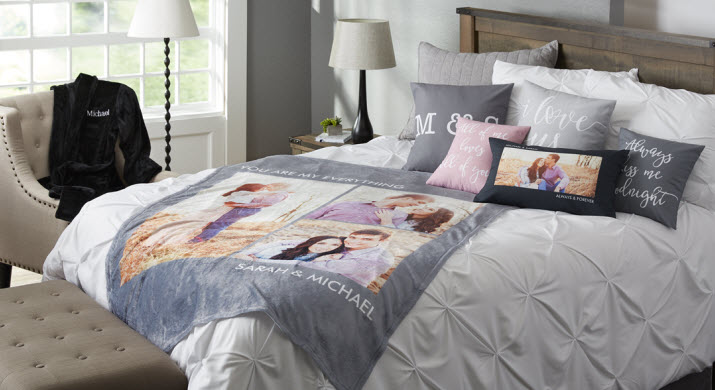 More Ways To Personalize
Our customer promise also means that we offer more personalization services than anyone else.
While some of our competitors focus on engraving, embroidery or custom printing, we do it all and much more. Our vast array of personalization options includes sublimation, 3D printing, rotary printing press, UV printing, stationary, canvas printing, laser engraving, sandblasting, embroidery, direct-to-garment printing, ceramic kiln firing, full-color glass printing, and more. Every year we add a new product process to our in-house personalization service based on market trends and customer feedback.
In addition, we also have an entirely separate corporate division where businesses big and small can personalize select products with their logos, taglines, text and more.
So go ahead, get creative and see all of the great ways that you can personalize your home and your life at Personalization Mall.