Make this year's holidays more memorable by capturing photos you can use for Christmas ornaments and special photo gifts for friends and family.
Well, here we are… the week of Christmas, and the holiday celebrations are in full gear! While it's a very busy time of year, be sure to savor the simple pleasures of the season, like the beauty of snowfall, the innocence of children, and the warm greetings that we share with everyone we meet!
Holiday gatherings are the perfect time to take photos of family and friends, so be sure to bring your camera everywhere you go. Here are a few tips to help make the most of this special time of year.
1. Be Candid
Some of the best photos are those captured when no one is looking, like that surprised face when opening a present or a group singing and dancing. Digital cameras make it easy to edit later, so snap away!
2. Get Down On Their Level
If you're shooting snapshots of children or pets, move to their eye level, so you capture the real energy and feelings of the moment.
3. Use Plain Backgrounds
Reducing the distractions in the background will make your subjects stand out more. The Christmas tree, fireplace mantel and other holiday decorations are also good options.
4. Move In Close
Get as close to your subjects as you can. Sometimes, people don't like to be photographed, so that's when your zoom feature comes in handy!
5. Take Vertical Photos
Often, people forget to turn their camera, but vertical shots can be more appropriate (and more interesting) with certain subjects.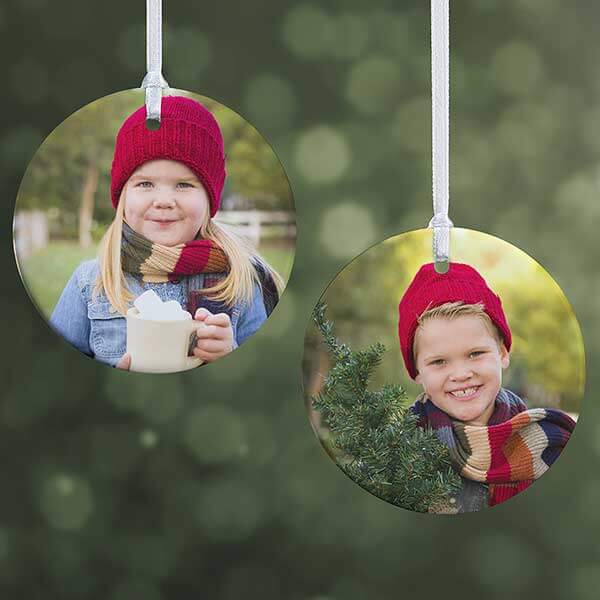 Today's photos will become tomorrow's keepsakes, especially with the great collection of photo gifts you can create in just minutes. One of our most popular options are custom photo ornaments you can hang on your Christmas tree year after year. From photo mugs to photo golf balls, we have something for everyone! Photo gifts always bring the brightest smiles!
Happy holidays & happy photo shooting!