Looking for creative and fun gift ideas? These custom sock designs for kids and adults are sure to knock your socks off!
Custom socks are all the rage these days and for all the right reasons! They make a fun, creative and practical gift that everyone will love. You can customize them with photos, names, funny messages and other custom details along with unique designs perfect for any occasion or recipient.
Custom printed socks make great funny birthday presents, adorable romantic gifts for Valentine's Day or anniversaries, and no-brainer Christmas stocking stuffers or Easter basket fillers. There are even custom sock designs that help you create unique gifts for Mother's Day, Father's Day, graduations, teachers and more. The possibilities are endless!
Check out some of these fun designs and see how you can make someone's day with personalized socks they'll love to wear and show off!
Custom Face Socks
Who wouldn't want to see their favorite smiling faces on their socks? These fun designs allow you to add anyone's photo to create custom face socks. The unique designs also let you customize colors, add names and and other details for a truly unique gift.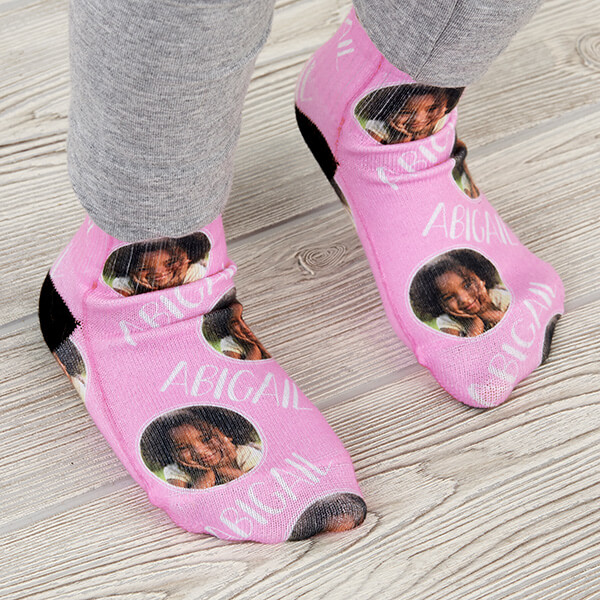 Custom Photo Socks
Have more photos than you know what to do with? Get creative and add your favorite pictures on custom photo socks for the whole family. These designs allow you to add multiple photos of people, places and things. Relive your road trip or family vacation or commemorate a special moment in your life with photo socks that tell a story.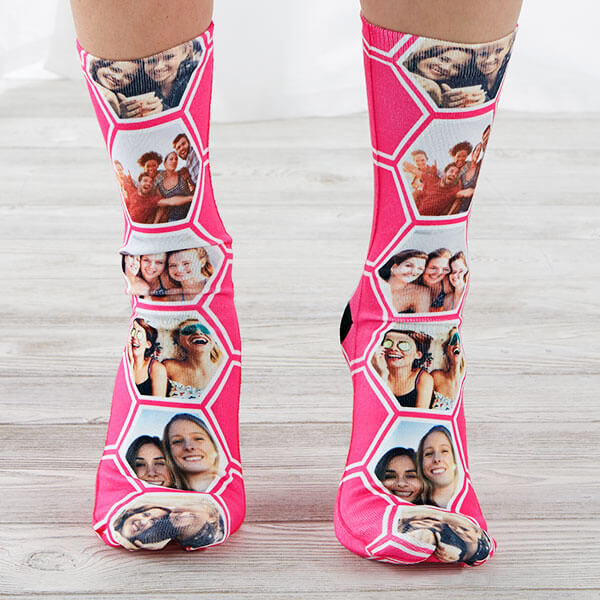 Custom Dog Socks
For serious dog lovers, these custom dog socks are the ideal gift to celebrate a new dog in the family, pet birthdays, National Dog Day (August 26th) and other special occasions. Customize with your dog or other pet photos, names, colors and more.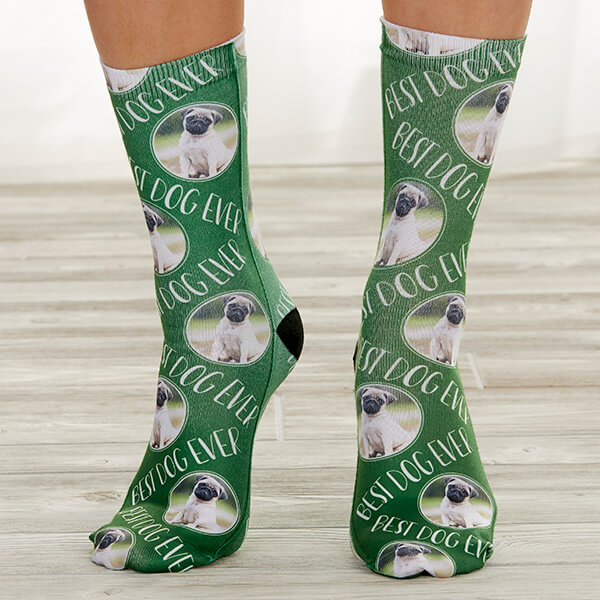 Custom Name Socks
Don't have great photos to work with? No problem. These custom socks are personalized with names in a variety of fun ways. Their names can be printed on the bottom of the socks, on top or throughout the design. Customize with their favorite colors and designs, like rainbow color name, coffee lover icons, candy corn and more.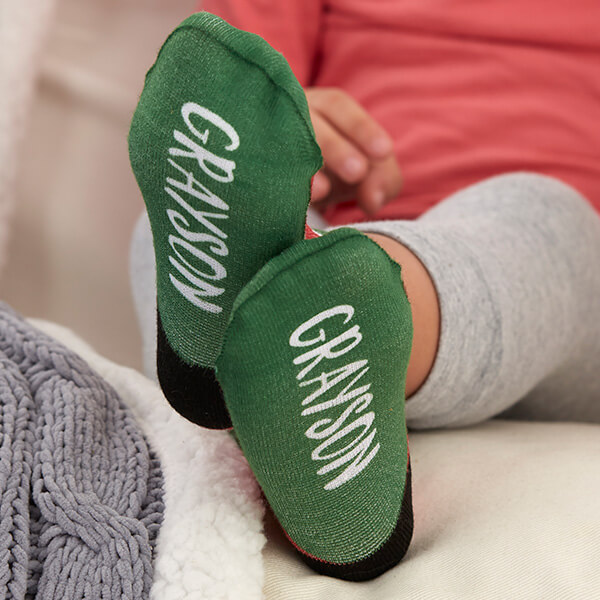 Custom Message Socks
Let your socks do the talking with custom messages and designs that say just the right thing. Show your awesome teacher or coach how much you appreciate their help and support with custom socks they'll adore. Share your love with your partner with the punny sole mates socks that feature your names. Or leave your loved ones a loving message they'll love to put on their feet.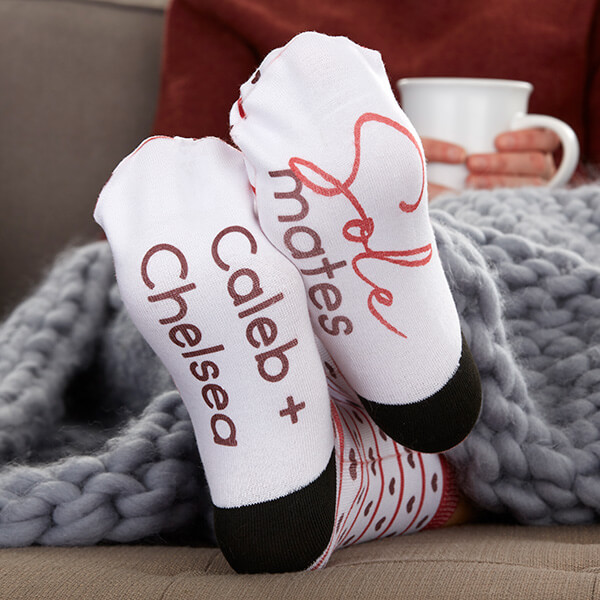 Custom Special Occasion Socks
Celebrate any special occasion with custom socks that also make great photo props! Customize designs for weddings, graduations, Mother's Day, Father's Day, Valentine's Day and more. Many designs offer the option to create matching sets so you can create unforgettable group photos to remember any special day.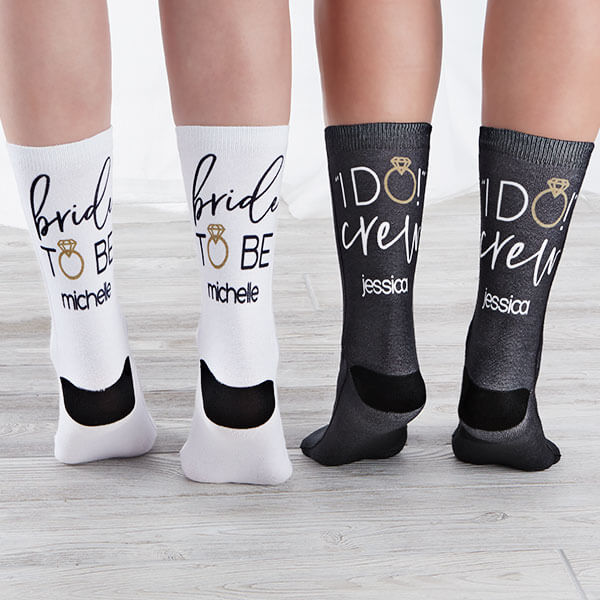 Custom Character Socks For Kids
Shopping for little ones? These adorable character designs are perfect for toddlers and kids (toddler sizes available now – kid sizes coming soon!). Make them feel special on birthdays and holidays with custom socks that have their names and fun characters, like adorable teddy bears, hedgehogs, sloths, bunnies, ducks, unicorns, Santa wearing sunglasses and more.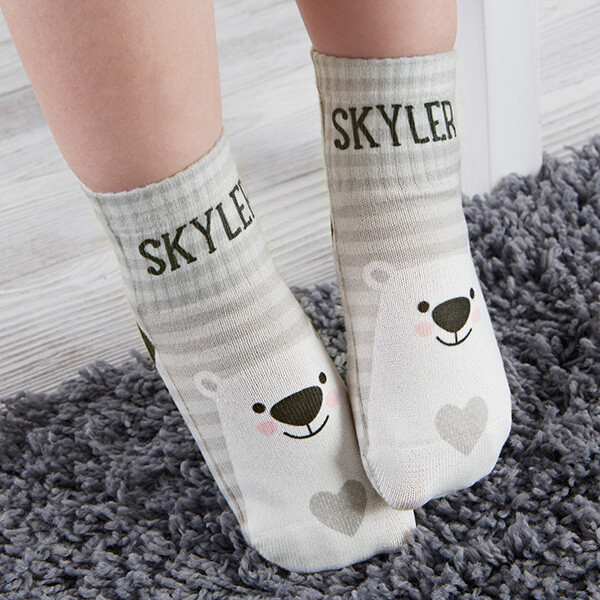 What Custom Socks Do You Want To See?
Love these custom socks? Well, we are just getting started! More designs, personalization options and sizes are coming soon. What custom socks would you like to see in our collection? Send us a message or leave a note in the comments below.