Our Personalized Valentine's Day Store is full of brand new romantic gifts to choose from, but our new "Love Quotes" Collection is stealing the show!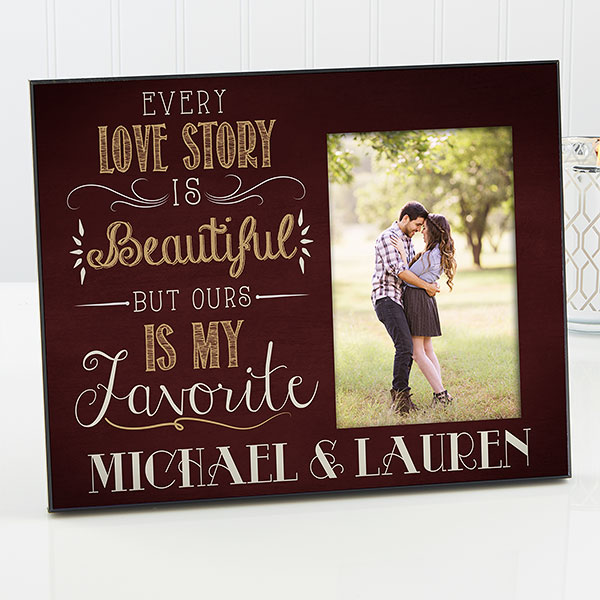 The "Love Story" Personalized Couple Picture Frame has become a big hit with fans and is already trending as our most popular Valentine's Day Gift. It features the beautiful quote, "Every love story is beautiful, but ours is my favorite," and comes in four colors to choose from: mahogany (pictured), taupe, slate blue, and charcoal. You can personalize it with any two names for a one-of-a-kind Valentine's Day gift your loved one will treasure forever.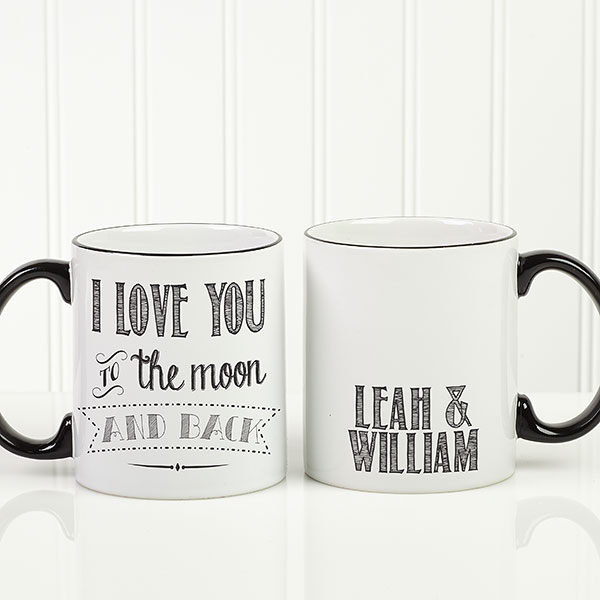 The picture frame isn't the only hot new gift in our "Love Quotes" Collection. Our fans are also loving the new "Love Quotes" Coffee Mug, which comes with your choice of eight love quotes and four color options: plum, cranberry, charcoal and chocolate.
Some of the most popular quotes our fans are choosing are "I love you to the moon and back," "Love was made for you and me," and "You are my Sunshine." All of the love quotes are so cute, it's hard to pick just one! You also get to choose from an 11 oz. mug in white or white with a black handle or a 15 oz. white mug. And don't forget to add both of your names for a personal touch!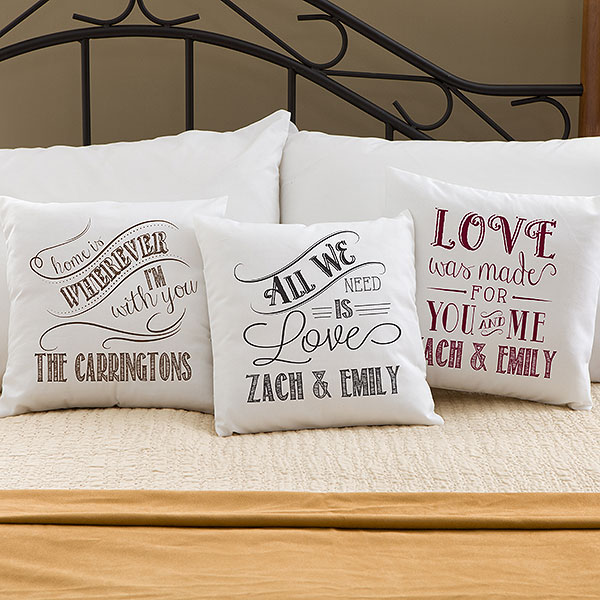 What's great about these new "Love Quotes" Personalized Gifts is that you can enjoy them year-round – not just on Valentine's Day! Like the new "Love Quotes" Throw Pillow, for instance. This is a great gift that you can leave out as a beautiful piece of décor all year long.
The pillows come with the same quote and color options as the mug: plum, cranberry, charcoal and chocolate. You can personalize it with both your names, or choose to use just your last name and you can both share the gift with each other next time you snuggle up to watch a movie.
The other quote options we haven't mentioned are, "All we need is love," "Believe in love," "You will forever be my always," and "home is wherever I'm with you."
Check out the rest of our "Love Quotes" Personalized Gift Collection to see all the different products that you can personalize with your favorite love quote, including a Personalized Keepsake, Candle, Photo Album and more.
Which love quote do you love?